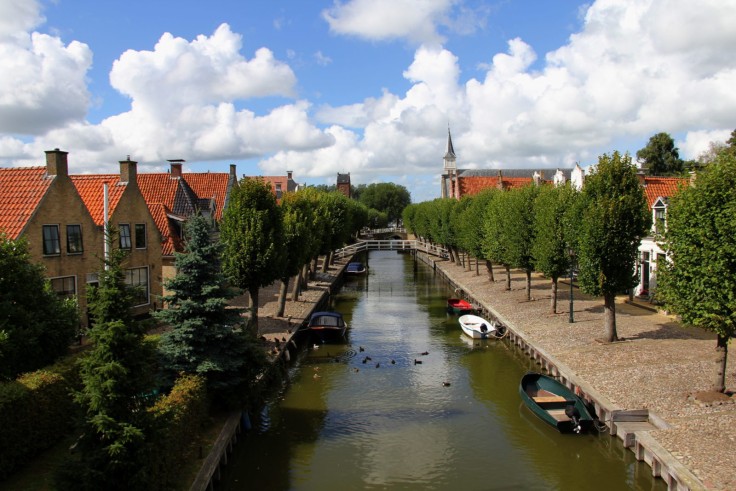 Bump up your shutter speed to capture fierljeppen, an entertaining Dutch sport that features people pole vaulting over waterways. Saturate your photos with the colorful costumes, elaborate parade floats, and joyous dancing at the Dutch Carnival held each winter. And while the Netherlands don't bring images of beaches to mind, photographers will find stunning coastlines on which to explore with camera in hand.
Tulips and windmills are likely already on your must-photograph list while on a bike tour of Holland —and they are worth the attention of your lens. But did you know the Netherlands offer so much more for those seeking photo ops?
Austin Adventures European Operations Manager Adam, who has lived in Holland for a decade, recommends these top 10 spots for grabbing memorable photos in the Netherlands.
10. The Dutch Seaside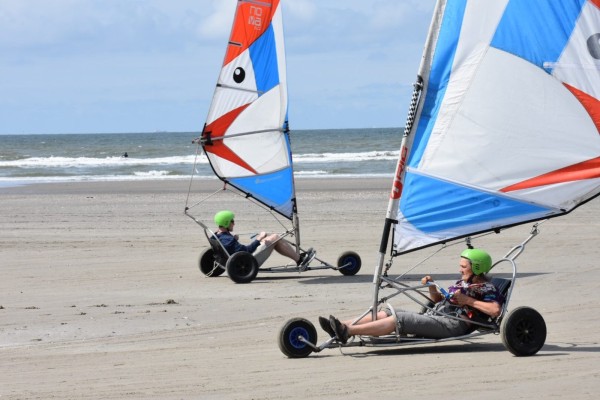 When one dreams of walking a beach, the Netherlands don't typically come to mind. However, the Dutch coastline is surprisingly stunning and lined with great beaches. From massive sand dunes to forgotten WWII structures, the Dutch coastline offers myriad photo ops for the hobbyist or professional who likes to experience the world through the lens of their camera.
9. Carnival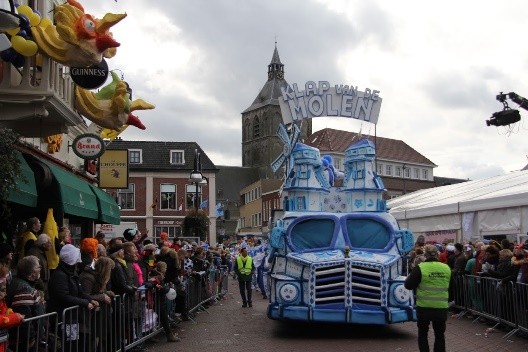 Every year the Dutch Carnival (or Mardi Gras) takes place each winter. The parades are legendary for their extravagant costumes and elaborate float designs. Not to mention, the party is usually all inclusive—family members of all ages are out celebrating and dressing up. Makeshift concerts break out on cobblestone streets, and people dance with joyous ecstasy on their faces, which makes for engaging, colorful photos.
8. De Hoge Veluwe National Park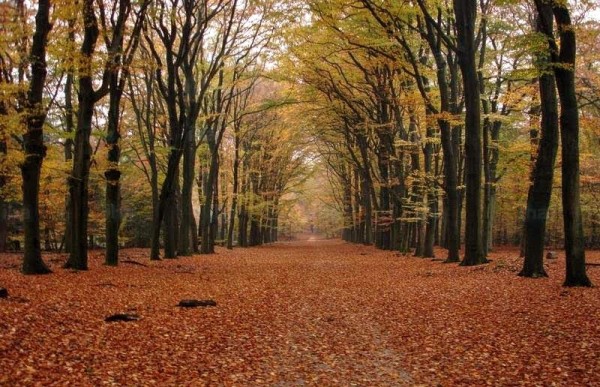 A former hunting ground turned national park, Netherlands' largest park showcases a famous art gallery housing masterpieces from Van Gogh and Rembrandt, a sculpture garden, and the renowned Jachthuis Sint Hubertus, one of the most iconic buildings in the country. The scenery is spectacular as well; with heather fields turning a magnificent shade of purple in the fall and large red deer roaming the grounds in the misty morning sunlight, you'll spend all day snapping photos in this iconic park.
7. Friesland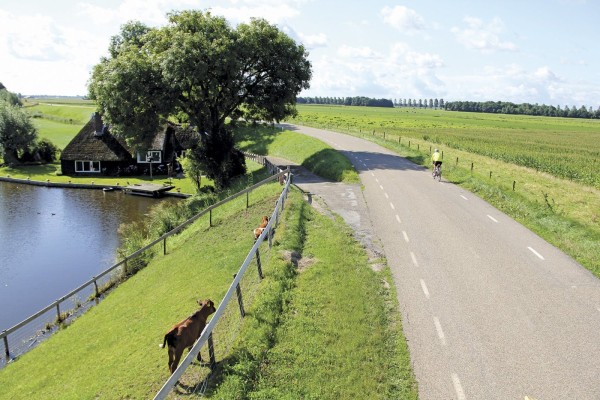 Friesland could be a country unto itself. The Friesians are amongst the heartiest and most rugged of the Dutch, speaking their own language and enjoying their own history and culture. With traditions such as fierljeppen, which is basically pole-vaulting over canals, as well as the 200-kilometer ice-skating race that takes place here each year, there's plenty of interesting subject matter on which to focus your gaze and your camera.
6. Markets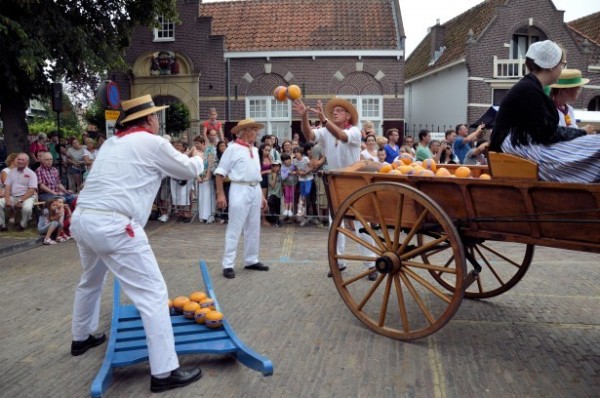 Dutch Market days are still aplenty. You can find cheese markets in Gouda or Edam, or antiques and books in Amsterdam or The Hague. You never know what treasures you'll find in one of the many markets this country has to offer, and the markets themselves are perfect places to hone your street photography skills, candidly capturing the vibrancy of what the Dutch may consider everyday life.
5. Canals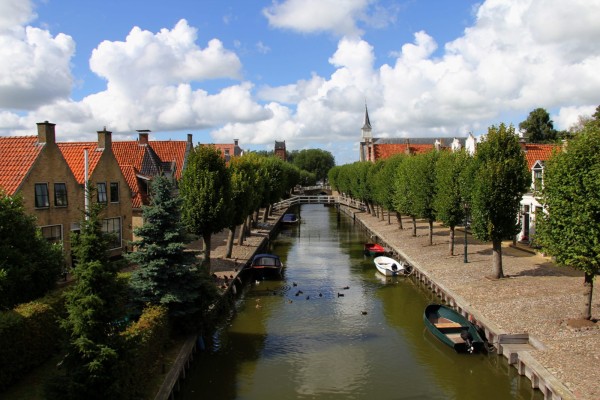 There are nearly 4,000 kilometers of canals crisscrossing the Netherlands, which means plenty of great photo ops. Whether you're in a city with cyclists and canal houses reflecting in the water or in the countryside with swans and castles accentuating these picturesque ribbons, there's a canal for every photographer.
4. Windmills
The classic icon of Holland, each windmill offers its own story and sheds its own light onto the Dutch culture. With close to 1,100 windmills still standing, it seems there are plenty of great opportunities to capture your own iconic windmill photo.
3. Tulips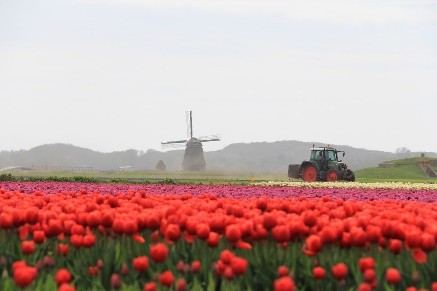 Another icon of Holland, the tulips and their bulb fields have slowly won me over. After a long winter of Dutch rain and gray skies, the burst of color onto the scene is a much welcome relief. If a tulip field features a windmill, it's an even harder snap to pass up—so don't! Feel free to go with the flow and capture this stunning season; you won't regret it. Cycle on well-marked bicycle paths along the Zuiderzee, past windmills, through forests and emerald green pastures, to remote hamlets and cobblestone villages.
2. Amsterdam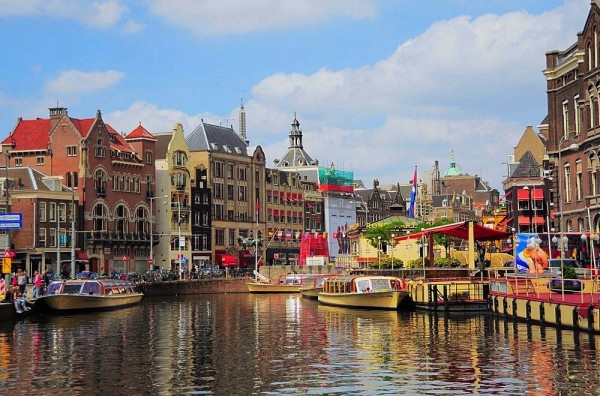 Amsterdam is a city that offers just about everything for the photographer. With its famous canals, canal houses, houseboats, red lights, coffee shops, cycling culture, museums, and cozy neighborhoods, it's hard not to fall in love with this place. There seems to always be something going on. Whether it's a celebration, a festival, a street performer, or a concert, Amsterdam is a truly unforgettable city and perhaps the most photogenic of them all.
1. Cyclists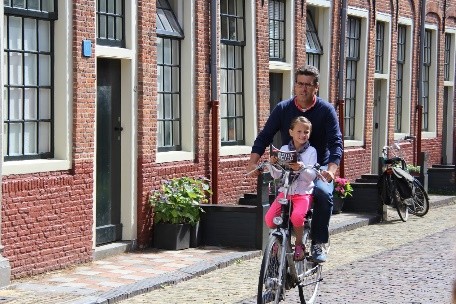 Reviewing my snapshots over the past decade, it seems it's the cyclist who is the subject of most of my photos. In a country set up to cycle, there's literally almost nowhere your bike can't tag along. Even cycling through the National Art Museum is no problem.
Bikes rule the Netherlands, and its swarms of cyclists have attracted my camera time and time again. I've even developed my own style of photography, which I do from the seat of my own bicycle. With a front facing backpack, I can quickly access my camera for those hard-to-believe moments you can only witness from the view of your own two wheels.
Feeling the shutter button itch? Austin Adventures offers adult and family tours in Holland from April through September. Hiking, biking, kayaking, and exploring a variety of historical and cultural sites will give you plenty of opportunity to capture this invigorating country in your lens.
Related Holland Bike Tours and Netherlands Vacation Packages:
- Netherlands Vacation & Cycling Adventure for Adults
- Netherlands Vacation & Cycling Adventure for Families