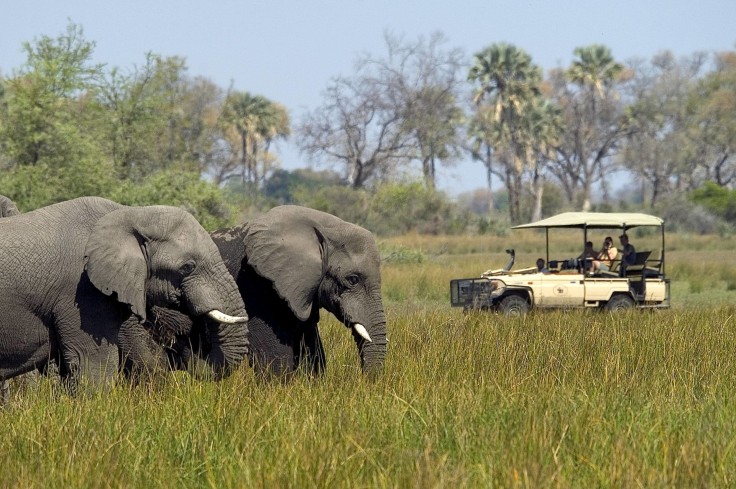 Well, I am in Botswana, and SO excited to be here!
To tell you the truth, before a few months ago I am not sure I could find Botswana (or the Okavango Delta) on a map, and now I don't want to leave!
We took a small jumper plane to Abu Camp, home to a family of elephants that have easily found a soft spot in my heart!
After we de-planed and made our way to the 4x4 waiting we were told we would go "meet" the elephants before making our way to camp. No problem! We cruised over the sandy and wet terrain until we came across a few more 4x4's waiting with a white-linen-dressed table packed with snacks in the middle of nowhere!
We jumped out, grabbed a drink, and turned around to see 3 elephants taking a mud bath about 100 feet away. Elephants are incredible! And it is so different to see them up close, wild, not in a zoo setting. The matriarch of the herd is named Cathy. Cathy is 52 years old this year, and you can feel her sense of calm. She knows she is the boss, and doesn't mind reminding you if you fall out of line. Her consists of Abu (son of the Camp's namesake), Shirheni, Paseka (who has a very special, heart-wrenching story), & the youngest, Wayrona, a precocious baby elephant that is still finding her feet.
Although the elephants are definitely the main attraction, I would be remiss not to talk about camp! I grew up camping in Montana, and let me tell you, camping means something very different on African safaris!
Although all the structures legally have to be able to be taken down and moved, they are full-on luxury! My room, I mean tent, has beautiful dark, hardwood floors, a writing table, a stocked complimentary mini bar, a huge bed with amazing linens, a full bathroom with a flushing loo, rain shower, sinks, safe, and a claw foot tub set up outside on a private deck overlooking the delta!
One wall of my tent is simply wall-to-wall screen sliding doors overlooking the delta, so you fall asleep to the view, and better yet, wake up to the sunrise and hippo sounds.
This place is remarkable!
Your Friendly Travel Expert,
Mindy Vanderhoof