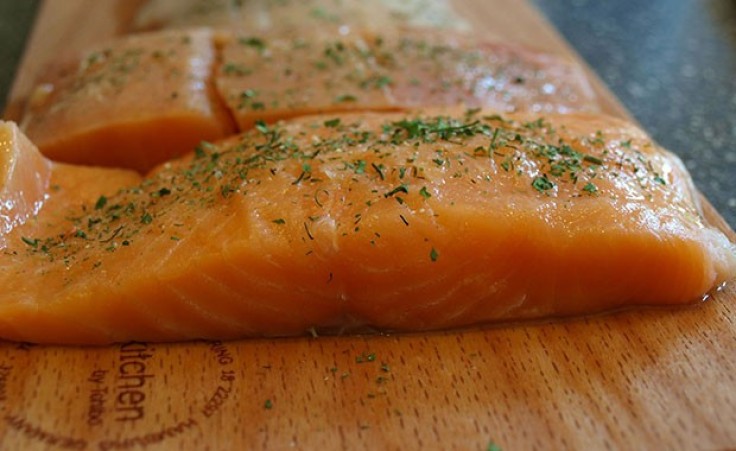 Raving for an adventure??
Enjoy an Alaska Vacation in your own kitchen!!
On this savory cooking excursion, enlighten your foodie senses with one of Alaska's most beloved dishes, Alaskan Salmon Marsala. This sensational recipe will take you straight to the shores of The Last Frontier… at least until you are able to pack your bags and explore Alaska in person. Made with Marsala wine, mushrooms, and fresh thyme, cook this delicious dish to delight your appetite and allow your mind to wander to Alaska.
SERVES 4 PREP TIME: 10 minutes COOK TIME: 20 minutes GEAR:
Large Heavy Saute Pan

Fish Turner or Spatula

Flat edged Wooden Spoon

Plate covered well with plastic wrap

Thermometer
INGREDIENTS: 4 Alaska Salmon fillets (4 to 6 oz. each) Kosher salt and cracked black pepper, to taste 1 cup flour 1/3 cup olive oil 1 cup Marsala wine 2 cups mushrooms, chopped. 2 cups low sodium chicken stock 2 teaspoons fresh thyme leaves, rough chopped 2 Tablespoons cold butter 4 fresh thyme sprigs, for garnish.
**PRO TIP**
Check your local farmers' market for wild foraged mushrooms, Morrells, Chanterelles, and trumpets, all taste great in this dish!
How to Prepare Alaskan Salmon Marsala:
Season Alaska Salmon fillets lightly with salt and pepper.
Place the flour on a plastic wrap-covered plate, season the flour with salt and pepper. Combine well.
Dust both sides of each salmon fillet with the seasoned flour, shaking off any excess flour.
Cleanup is easy with the plastic-wrapped plate. Heat the large sauté pan, add the olive oil, and then place each piece of salmon, skin side up, lightly into the hot pan.
Cook for 2 to 4 minutes, flip the fillets over with the fish spatula and cook until an internal temp of 130 degrees.
Remove fillets from the pan and set them aside.
Add the chopped mushrooms to the hot pan, stir well into the pan remnants with the flat-edged wooden spoon, season with salt and cracked pepper to taste, cook for about a minute.
Dry heat on mushrooms is a great way to pull out their earthy flavors.
Off the heat, carefully add the Marsala wine to the pan, it will flame on you if not careful.
Back on medium-high heat, Incorporate the mushrooms and Marsala, Scrape the bits off the bottom well. Add the stock and thyme, and let the liquid reduce by ½, about 6-8 minutes.
Place the salmon fillets into the pan, skin side down in the sauce. Spoon the sauce back over the fish for another 2-4 minutes, until the fillets are heated through to about 145 degrees.
Remove fish fillets to 4 serving plates. Return the pan to medium-low heat, add the cold butter and swirl until incorporated completely. The sauce will slightly thicken and have a luster shine. Taste for salt and pepper one last time.
Remove from heat and spoon the finished sauce over half of each Salmon fillet. This presentation is simple, shows the contrast of colors, and doesn't hide the beauty of fresh Alaskan salmon fillets. Garnish each plate with a thyme sprig.
Pairing- An Oregon Pinot Noir tastes great with the savory salmon and naturally brings out even more flavor from the mushroom. Also, the marsala is complemented by the jammy berry flavors found in a solid Pinot Noir.