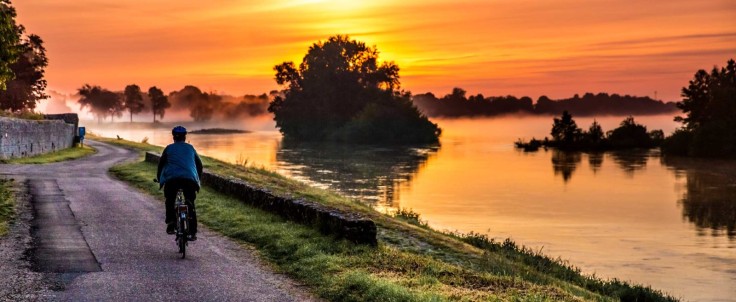 France is an incredible, jealousy-inspiring destination regardless of the season. Simply put, there's no bad time to touch down in this overachieving European staple famous for everything from world-class art to fine food and high fashion.
When is the best time to visit France?
Since France is blessed with four distinct seasons, it helps to know what to expect on our France adventures. If considering what the best month to visit France is understand that seasonal changes impact what you should pack, which wines you'll be drinking and whether or not you'll be able to tackle that high mountain pass without needing snow tires on your bike.
Without further ado, here's everything an adventurer needs to know about the best time to travel to France, by the seasons.
Or travelers often ask, "When is the best time to visit Paris?" Spring is the best time of year to visit the most popular destination in all of France: Paris.
It's in the warm months of April, May, and June that the Parisians are most welcoming. The sun is shining, cherry blossom season is in full swing, and the throngs of summer tourists haven't arrived yet. Temperatures are comfortable, ranging in the 50s and 60s most days, and while packing a rain jacket is a must, you're more likely to see ethereal rainbows over the Arc de Triomphe than the flooding Seine swallowing the Louvre.
While Paris thrives in the Spring, that certainly doesn't overshadow the beauty of the remainder of France. April marks the start of the famed Fountain Shows and Musical Gardens at Versailles.
It's also a good month for getting shoulder season deals in notoriously expensive places such as the French Riviera and Provence. A room at a luxury guesthouse in Saint-Tropez rents for $199/night in April versus a shocking $300+/night in the bountiful summer months.
Of course, you may want to avoid Cannes in May when half of Hollywood is in town for the International Film Festival and rates skyrocket.
What to bring to France in spring: A light rain jacket and a few layers for cooler evenings. Pack a pair of shorts and/or a summer dress in case you're blessed with a sunny day in the high 70s. And, should you find yourself in Cannes in May, make sure you have your camera ready!
According to KAYAK, February is the most affordable month to fly to France. It's not impossible to find roundtrip airfare from major American cities to Paris for around $300. Another perk to traveling in Winter is that you won't have to deal with summer or shoulder season crowds.
Warmer clothes will certainly be a necessity, especially if you're visiting alpine destinations like Chamonix, Grenoble, or Annecy, as the average high in January in the French Alps charts in the low 40s. However, much traffic to the Alps in Winter is composed of skiers, so cooler temperatures are water under the bridge.
In terms of events, France doesn't disappoint during winter either. Strasbourg – considered the French Christmas capital – has one of Europe's most enchanting holiday markets. This area is, in fact, where the tradition of decorating a Christmas tree was born. Parisian stores offer their largest discounts during January's city-wide "Les Soldes" promotion, and in February, Nice hosts one of the world's most spectacular carnaval celebrations.
What to bring to France in Winter: Plan on having plenty of cash for shopping, especially if you're hitting up the smaller stalls in the holiday markets. Don't expect to get by with a light jacket – unless you're vacationing in the Côte d'Azur where temperatures can get as high as 60 degrees in the cold months. If you're going skiing in the Alps, bring a travel camera such as a GoPro; you'll want to relive the thrilling runs for years to come.
Welcoming more than 90 million annual visitors, France is the most visited country in the world. Most of these visitors arrive during the summer months. In other words, don't expect to have a row to yourself on the train to Bordeaux or first dibs on the best bike at the rental shop in Annecy in July.
Still, the abounding popularity is rooted in good reasoning and is no excuse to write off Summer in France. After all, if you're a cyclist it doesn't get any more exciting than July's Tour de France. If you're a Francophile or simply love the idea of patriotism, France during Bastille Day (July 14) is an experience unparalleled by any other. If you perhaps want to say you've taken a dip in the Mediterranean, you'll find the most comfortable water temperatures (up to 75 degrees) during this time.
Summer days are long, boasting up to 16 hours of sunlight, and picnic season is in full swing. If you find yourself to be an avid people-watcher then this is the prime time to travel to France. You can observe from the comfort of your blanket while passing a baguette and charcuterie plate between your confidantes. The wine harvest often begins in late August, so there seems to be an air of anticipation about, especially in the Loire Valley and Burgundy.
If your goal is to interact with the locals, these months offer plenty of opportunities; every town or city has some sort of summer market, and many have night markets operating until sunset around 10:00 PM. If you prefer cooler temperatures, you might want to reconsider visiting the interior of France at this time as heat regularly exceeds 80 degrees. Instead, head to the coast where refreshing Atlantic breezes provide an atmosphere which is 10-20 degrees cooler.
During this peak tourism time, you can expect to pay higher prices on everything from transportation to food and accommodations. However, you may also expect businesses to be open for later hours and perhaps even extend their days of operation.
What to bring to France in Summer: A pair of comfortable shoes to wear sightseeing on cobblestone streets which are also stylish enough to wear for a night out on the town. Although July is the driest month in Nice, Marseilles, Montpelier, and Nantes, you may still want to bring a light rain jacket and/or a parasol.
Autumn in France officially begins on September 22nd. Temperatures during Fall can range dramatically from the high 80s to the low 50s. The monthly average in September is 63 degrees, so for the most part, you can expect weather to be quite mild.
Fashion week dominates Paris in late September, so those who find themselves drawn to glitz and glamour will gravitate towards the inner city in Fall. If the allure of high fashion doesn't hold any particular pull for you, your best bet is to wander through the secluded countryside during these months.
The Loire Valley is always beautiful, but it's especially alive during the fall months of September and October when wineries celebrate their grape harvests. In November, the temperatures generally chart in the 50s, cool enough to order red wine and crave a croque monsieur.
You'll also encounter fewer crowds as school is back in session and summer holidays are either fond memories or future plans. If you want to be the first to hit the slopes at famed French resorts like Tignes, Val d'Isere or Val Thorens, late November is your golden window of opportunity. Why not spend Thanksgiving devouring a foie gras come instead of a turkey coma for a change?
What to bring to Frace in Autumn: Leave your scarf at home in favor of an authentic French accessory. You can't go wrong with boots during the Fall, and France is no exception. While you may not be mistaken for a local, adopting native trends can go a long way towards making an adventure all the more memorable.
So, what are you waiting for? Let's plan your your trip to Europe and France together!