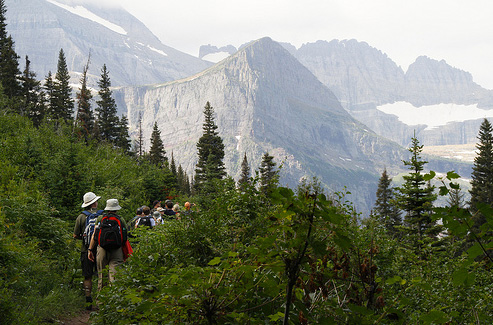 Four World-Famous Parks in One Trip!
Austin Adventures offers the most exciting adventure vacation packages for adventure lovers.
Go wild on Montana vacations and explore the Yellowstone National Park, Glacier National Park, Big Sky and Paradise valley; all on one trip!
Explore the picturesque backcountry of Yellowstone hiking through the stream side trails and along side vibrant flora and fauna of the park.
Watch grizzly bear playing around with its cubs in the forest and catch a glimpse of many other wild animals like wolves, bison, elk, bald eagle etc. Marvel at nature's wonders as you come across numerous mud pots, geysers, hot springs, cascading waterfalls and snow- capped mountains.
Raft in the white waters of Flatbed River and its various branches around Glacier National park and explore the spectacular scenery of the park and its nearby villages.
A large part of the river is quite mellower for the beginner rafters though that does not make it any less exciting. Visit the cowboy ranch with herds of buffalos and horses roaming around and relax on a hammock or go fishing in any nearby river. Big Sky is a huge attraction for skiing lovers.
Go for snowboarding and cross country skiing in snow capped mountain range spread over acres of land. Experience the mystic nature of awe- inspiring valleys like Paradise valley, Gallatin Valley and Flathead valley.
Stroll through the dense forests and look for many exotic species of birds on the trees.
And if all or none of these are your cup of tea, then sit back in front of the fire with a glass of wine and a fur blanket and look up at the stars through the biggest and clearest skies in the USA.
Whatever your hunger for adventure or relaxation, get yourself out there and explore the wonders of our nation. It's all taken care of by us!