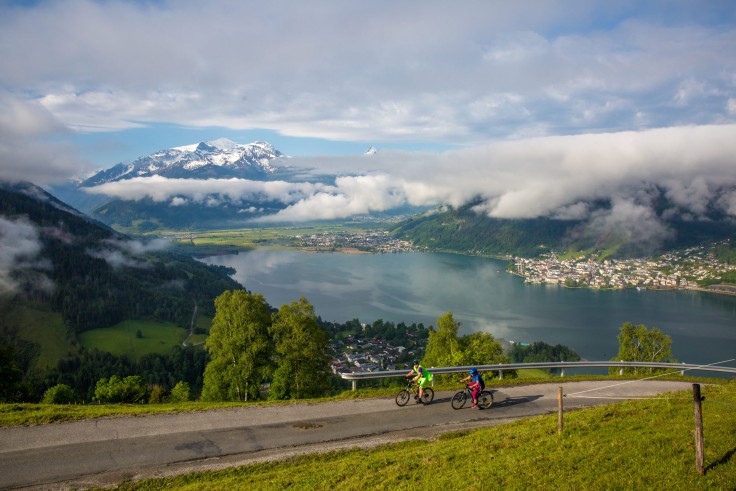 Cycling is truly a journey of the senses.
And there is no better place than Europe, where the villages, castles, cathedrals and museums are unrivaled and the reward of breezing along under your own power is an exhilarating experience.
What you see, what you feel, what you encounter is sharper and more relaxed, more complete, when the warm yellow sun, the lush green pastures, and the crystal blue lakes dissolve the tension of our everyday lives.
You see the details that are only a blur to most tourists. You meet the country folk - on bicycle just like you. You come to understand the tranquility of a pace of life that is no faster than the pumping of a pedal. Free of gas. Free of schedules and crowds!
But how to go about it?
Well, first you will need to decide whether you wish to do an organized Europe biking tour, or whether you prefer to do it on your own, or maybe something in between.
Here are your choices:
1) Sign up for a bicycle tour with a tour operator:
This is certainly the most convenient way to travel by bicycle, because everything has been taken care of. In effect, all you need to do is show up, pedal, enjoy, sightsee, eat, drink, sleep. When you are tired or don't want to climb a hill, the support van will help out. The multi-lingual guides share with you their local knowledge and passion. The group size will normally range between 8 and 20 participants.
2) Do it yourself:
This means a lot of preparation because you will need to bring your own bicycle (or rent one abroad), find your own route, arrange your own hotels, fix your own flats. You are likely to end up on roads which you would not have chosen, had you know the alternatives. Last but not least, you will have to carry your own luggage on your bicycle.
3) Do a self-guided trip:
In this case, an organization supplies you with a bicycle and maps. The hotel reservations are made on your behalf. Often, your luggage will be transported from one hotel to the next. However, there will be no support during the day (i.e. no sag-wagon, no repair service, no snacks, no water refills). There are no tour guides to share with you their stories. Nor will you experience the camaraderie with like-minded travelers as you would on a group bicycle tour. Traveling with a bicycling tour operator gives you the fullest experience, in terms of overall enjoyment and efficiency.
But how do you choose the bike tour operator that is right for you?
Here are some aspects you can consider asking/investigating regarding the tour operator(s):
1) What kind of hotels do they use?:
Do they openly list their hotels, or are they somewhat secretive about them? In general, two-star hotels are considered to be low-budget, whereas three to four-star hotels are quite comfortable. Five-star hotels are more difficult to find in the countryside. Checking the websites of the hotels will give you insight into the amenities.
2) What kind of bicycles do they use, and is the bike rental included in the trip price?:
Which brand? What type of bicycle (road bike, hybrid bike)? Unless you are planning to ride through very hilly terrain, a hybrid or touring bike will suffice. The medium-width tires make for a comfortable ride no matter what the road surface is, and a back-rack plus a front pannier facilitates you to carry your "day-stuff". Watch out for hidden costs, such as surcharges for the bicycle.
3) Do they operate their own trips?:
or do they simply act as a travel agent? Tour operators which run their own trip are closer to their product and therefore tend to do a better job because the "own" the product, feel responsible for it and constantly make adjustments based on direct feedback from their guests and guides.
4) Which meals are included?:
Usually, all breakfast, some lunches and most dinners are included in the trip price. What kind of restaurants do they use? Are the drinks during dinner included?
5) Which events are included in the trip price?
e.g. museums, castles, wine tasting.
6) What is the maximum group size?
Groups of 16 or over become a zoo, especially if the number of guides and support vans are kept to a minimum. This leads to the next question:
7) What is the guide to guest ratio?
i.e. how many guides are on the trip? With a ratio of 1 guide per 6 guests, you can be assured of perfect service. With a ratio of 1 guide per 10 guests or more, there is no way they can keep track of you and you practically end up on a self-guided trip.
8) Are there daily mileage choices?
Does everyone ride the same route or are there longer/hillier routes for avid cyclists and shorter/flatter routes for those who wish to "take it easy"?
9) Do you get route descriptions and maps?
Or do you always ride in one group? A detailed route description will give you the freedom to ride at your own pace and choose your own distance. Having a guide on a bike gives you the opportunity to simply follow. A good touring company can offer you both choices on the same trip.
10) Do they allow children on the trips?
Or do they offer separate family trips?
11) How long have they been in existence?
Have they just begun operating trips, or do they have decades of experience? Go for the latter, because nothing is as frustrating as being "misled" by people that don't exactly know what they are doing or where they are going.
12) What is the level of difficulty?
Are the trips rated? And what is your level of experience? Needless to say, this is all very subjective. See below for recommended regions and their expected ratings.
13) Has the trip already been confirmed?
Or is there a chance that it will be canceled due to insufficient demand?
14) And don't forget to read the small print:
What if you need to change the dates or cancel the trip? What about travel insurance?
15) What will the weather be like?
Naturally, no tour operator, no matter how upscale, can control the weather. But what they can do is offer the trip during the most agreeable months.
For example, be aware of companies that offer Italy during the (usually) grueling hot months of July and August. Nor do you want to plan a bike tour in Holland in October. And by November the days get very short no matter where you are in Europe.
Where will you go?
Last but not least, you need to decide where you would like to travel and what kind of terrain you are looking for. Easy destinations (flat or gently rolling) include the following:
Netherlands / Holland

Belgium / Flanders

Denmark

Loire Valley

Normandy

Mosel Valley between Trier and Koblenz (Germany)

Salzach Valley near Salzburg (Tauernradweg)
If you dont mind a few hills, you could consider:
Burgundy

Brittany

Provence

The "Romantic Road" in Germany

Lake Constance

South-Tyrol Adige Valley (Etsch) in
The intermediate cyclists will enjoy:
From Vienna to Prague (or the other way around)

Rioja wine region in Spain

Piedmont in Italy

South-West of Ireland (Kerry, Cork)

Dalmatian Islands in Croatia (between Split and Dubrovnik)
Avid cyclists will have a ball in:
Tuscany

Umbria

Sicily

Corsica

Slovenia

Pyrenees
Some last advice: if you have never been on a Europe biking tour and aren't sure which trip is right for you, why not start with an easy destination?
If you find out during the trip that you want more miles, your guide can always find them for you! Another piece of advice is that you will enjoy your vacation more if you plan several 20-mile rides during the weeks before your trip. It gets your body (especially your behind!) and mind in shape for the riding position.
Your friendly Europe expert, Ron Van Dijk