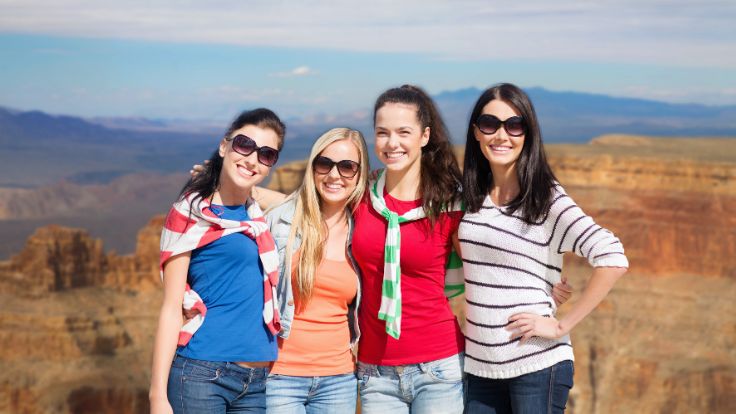 5 National Park Adventure Vacations For Teens
For families with teens who love to hike and explore the environment, consider visiting "America's Best Idea," which is the National Park system. Across the country, stunning landscapes have been set aside with protections, allowing us to share them with future generations. Take your teenager to feel the rumble of massive waterfalls, into the mountains to epic viewpoints, or through the desert to be awestruck by just how big the world can be. If you're looking for vacation options outside of the US, Canada has some of the most beautiful national parks in the world. And why stop there?! New Zealand's national parks are truly spectacular! Check out what a national park family vacation with your teen could look like, as we take inspiration from some of the most beautiful and protected natural landscapes in the world.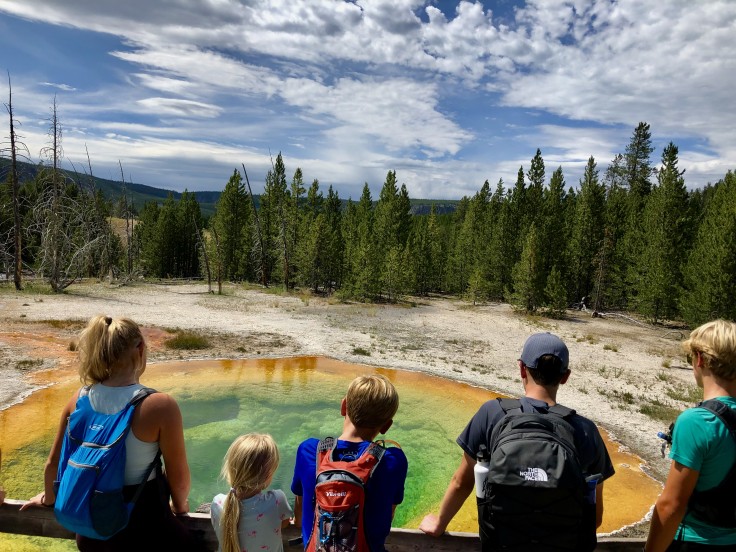 1. Yellowstone & Grand Teton National Parks
As the first one in the world, Yellowstone is a classic National Park with epic viewpoints, abundant wildlife that often causes traffic jams, and anticipation-building geothermal activity. While driving the grand loop around the park on a Yellowstone family vacation, see who can spot the most mammals or try to guess when the next geyser will erupt. Then, to experience snow-capped peaks and mountain vistas, head three hours south to Grand Teton National Park. Here, hiking will get you views of the mountains reflected in lakes or directly into the backcountry between the peaks.
While Yellowstone stretches into both Montana and Idaho, it is primarily in Wyoming along with Grand Teton. With much to do in the state, check our information on Wyoming family vacation for ideas of what might appeal to your family.
Things to Do
In Yellowstone National Park, you can feel the anticipation rise before Old Faithful erupts, followed by a boardwalk hike to see a rainbow of colors at Grand Prismatic Spring. You can watch water tumble down 308 feet at Lower Falls and get caught in stop-and-go traffic as bison leisurely cross the road through the Lamar or Haden Valleys.
In Grand Teton National Park, you can drive the 42-mile scenic road to see the full range of the Tetons, spot Grand Teton itself sitting proudly in the middle, kayak on Jenny lake, and hike to Leigh Lake. In winter, you can ski outside the park and cross-country ski on the snow-covered national park roads!

2. Grand Canyon National Park
It's a canyon, but it's far more than Grand - it's enormous! Standing on one of the rims, the Grand Canyon is so immense that it makes you and your problems feel tiny, which might be exactly what your teenager needs. To engage more deeply with the view, try doing several activities like hiking from viewpoint to viewpoint or even below the rim, learning about the million years of geology it took to form the canyon, or consider taking a multi-day rafting trip at the bottom of the canyon.
Things to Do
While it wouldn't take very long for a California Condor to fly across the Grand Canyon with a 9.5-foot wingspan, it takes over 3.5 hours to drive from the South Rim to the North Rim. With that in mind, you'll want to explore one or the other while on a Grand Canyon Family Vacation. The Desert View Drive follows the South Rim, allowing you to visit famous lookouts along the way, like Ooh Ahh Point and Yavapai Point. You can also bike along the 7-mile-long Hermit Road or dip below the rim on the Bright Angel Trail.
The North Rim sits at a higher elevation and has a different feel, surrounded by pine trees with only one central access point. Without any nearby cities, the North Rim is more difficult to access but is less crowded. You can still take in the views from Bright Angel Point and Point Imperial. Visiting the north rim might be a little easier if you're planning to visit other National Parks nearby, like Bryce and Zion…which leads us to our next suggestion.

3. Bryce Canyon and Zion National Parks
Dramatic red rock canyon and towering hoodoos. Only one and a half hours apart, Bryce and Zion National Parks complement each other well. In Zion, you can explore a dramatic valley with the winding Virgin River and hike to spectacular viewpoints, but this beauty is well-known, and the national park can be busy! If you tire of the crowds, escape to Bryce National Park, which tends to be quieter with cooler temps at higher elevations. And instead of looking up at canyon walls, you're looking down at centuries of erosion to create the unique towers called hoodoos.
While hiking in both of these national parks is fantastic, other exciting activities exist, such as learning to canyoneer a slot canyon and searching for bighorn sheep! Check out our Utah Family Vacation for more ideas.
Things to Do
Bryce Canyon and Zion National parks offer unique hiking that should not be missed! In Bryce Canyon, it's almost necessary to hike down into the canyon to truly understand the massive scale of the hoodoos. Check out the Navajo Loop as a starting point, and combine it with Queen's Garden or Peek-a-Boo Trail.
In Zion, there are two bucket-list trails not for the faint of heart. The Narrows trail leads you into the gorge created by the Virgin River with walls that are thousands of feet tall on either side. You'll be walking in the river for much of the trail, so think about renting water shoes and a hiking stick. There is a permit system to do the 16-mile through-hike, but it's just as fun to start at the bottom and hike for as long as you feel comfortable. The other significant hike is Angel's Landing, which leads you to a narrow peninsula thousands of feet above the valley floor. A permit system has also been recently introduced to slow the number of people attempting this hike, causing traffic jams on narrow sections. But if you'd like the views without such radical exposure to heights, consider the Overlook Trail.

4. Banff and Jasper National Parks
Talk about scenic -- Banff and Jasper National Parks in Canada feature incredible mountain views, hiking galore, canoeing on inky-blue lakes, and the potential for seeing wildlife like bears, moose, and elk. Both mountain towns with plenty to explore; Banff is only 1.5 hours away from Calgary and is more built up for tourism with restaurants, shopping, and hotels. Alternatively, Jasper is more remote, with a laid-back vibe and fewer crowds.
While technically across the border with a different currency and using the metric system, Canada has a lot in common with the United States, making it an excellent place for a teenager to ease into international travel. Check our detailed information to help you plan a Banff Family Vacation.
Things to Do
Banff and Jasper offer classic mountain activities, including hiking, biking, horseback riding, kayaking or canoeing, and simply taking in the scenery. Famous lakes in Banff include Lake Louise and Moraine Lake for bright blue waters with mountain backdrops. Whereas in Jasper, you can spot Spirit Island on Maligne Lake or paddle on Lake Edith, Annette, and Beauvert.
In winter, the two towns come alive with winter activities, from skiing and snowboarding to cross-country skiing and ice skating. One special thing to note is that Jasper is a night sky preserve, meaning you'll have a better chance of seeing the Aurora Borealis on these chilly winter nights.

5. New Zealand National Parks
The United States and Canada are not the only places with incredible natural scenery and protected lands in National Parks! New Zealand has 13 National Parks and 30,000 square kilometers of diverse environments to explore by foot, boat, car, or air. From the rugged snow-capped Southern Alps to the wild West Coast rainforests, the infamous glacier of Franz Josef, the famous granite peaks of Milford Sound, the tropical beaches of the north, and its rich indigenous history, our home country has it all. Three national parks are on the North Island, and 10 more are on the South Island. Here's a list of all the parks from north to south:
North Island: Tongariro, Whanganui, and Egmont.

South Island: Abel Tasman, Kahurangi, Nelson Lake, Paparoa, Arthur's Pass, Westland, Aoraki/Mt. Cook, Mt. Aspiring, Fiordland, and Rakiura.
For inspiration and route options, check out Active Adventures New Zealand Adventure Tours. The hardest part will be deciding which ones to visit!
Things to Do
With over 500 hiking trails on the South Island alone, there is no shortage of things to do in the country. A few of our favorite active adventures on the islands include the Tongariro Alpine Crossing through a magical volcanic land, kayaking the blue waters of Able Tasman, hiking to Hooker Lake at the base of Aoraki/Mount Cook, cruising amongst the tall mountains in Milford Sound, or take a scenic bike ride from the glaciers in the Southern Alps to the ocean on the other side of the island.
And for the extra adventurous, ten of the most popular and most scenic trails have been developed into multi-day "Great Walks" meandering through the New Zealand backcountry. There are huts and impressive backcountry facilities on each route, but be sure to book early to ensure you have a spot at each cabin. Even if you don't have time for a Great Walk, dipping into these trails is worthy!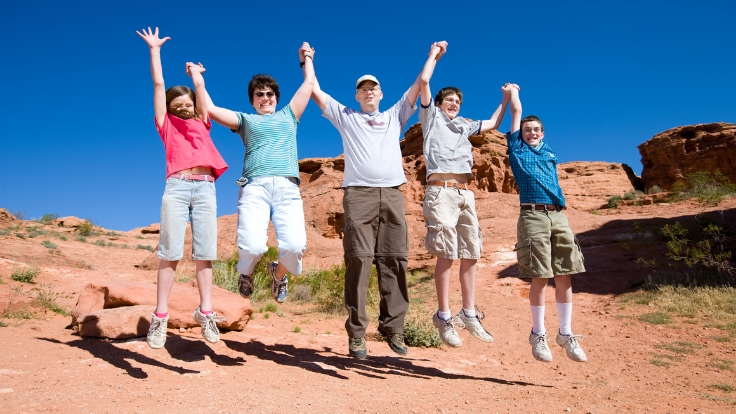 Let's Plan Your Family Adventure with Teens
Hopefully these vacation ideas will ignite and fan a sense of adventure in your teenager. National parks have spectacular landscapes, fascinating history, beautiful flora and unique fauna which are sure to spark interest and curiosity, to engage your teens. There will be plenty of amazing memories and "remember when" moments to look back on in the years to come. If you have any queries or would like some more inspiration on where to vacation with your teenagers, please get in touch and we'll help you plan that family adventure vacation, where the WHOLE family has the best time.