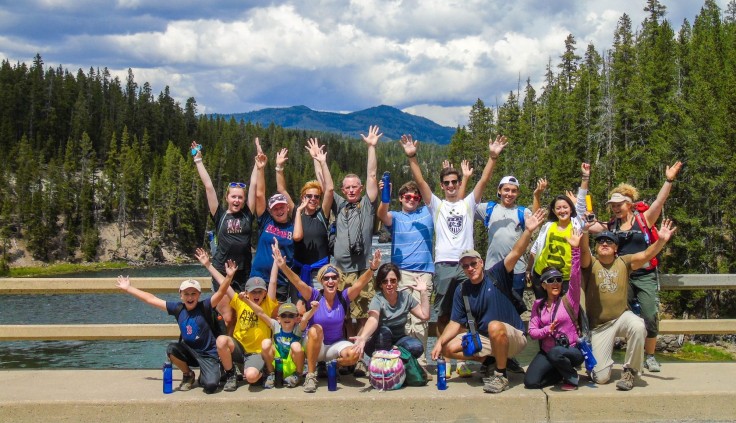 Plan a Trip to Yellowstone with Family
A family trip to Yellowstone National Park is a great way to spend quality time with your kids and indulge in loads of fun and entertainment. The journey through the park is an incredible experience for both adults and kids equally.
Why a Family Trip to Yellowstone is the Perfect Adventure
Breathing fresh mountain air while hiking into Yellowstone's backcountry is overwhelming. Before starting the hike, kids can participate in registering as "junior rangers." The whole family will never forget the excitement of watching geysers erupting right in front of everyone with splashing, steaming hot water spraying in all directions. Planning a family trip to Yellowstone is indeed a very exciting project for any family. The key aspect of an ideal adventure trip is a package that includes loads of fun activities, absolute safety for the family and a cozy retreat to settle down after a long and eventful day. There is all this and much more to look forward to on a Yellowstone National Park vacation. It is the world's first national park, and there is a lot to see and explore. As a favorite destination for millions of people from all over the world, visitors find the park a great way to connect with nature.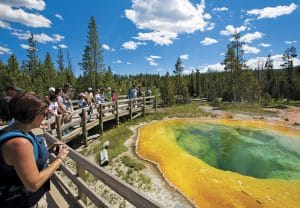 The park is dotted with numerous mud pots, geysers, beautiful lakes, and of course, no one will want to miss Old Faithful. Take the off track path into the forest, and discover wild animals like bison, wolf, grizzly bear, moose and elk just as they are in their natural abode. It is an amazing experience watching a mama bear cuddling and rolling with her babies, from a distance of course. Raft in the Yellowstone River. Play in the blue green waters of the lakes under thundering waterfalls. There are paths to hike that reach behind the waterfall so that you can jump in the water below. Just be careful not to allow the water current flow to sweep you away!
When Is the Best Time to Visit Yellowstone?
The best time to visit Yellowstone for families is in the summer when the kids are out of school. The park's wildlife is abundant especially in the early mornings. Sometimes it can get a little booked up though for activities and accommodations. Plan well in advance and consider all-inclusive Yellowstone vacation packages for an adventure the whole family will love!
Your Yellowstone Family Trip Awaits
Children love seeing their parents reveal a little of their own child-like revelry in nature while doing things outside of normal daily activities while back at home. The quality time spent with each other as a family is totally worthwhile, and an experience that will live on with your children forever.
Plan Your Yellowstone Family Vacation: