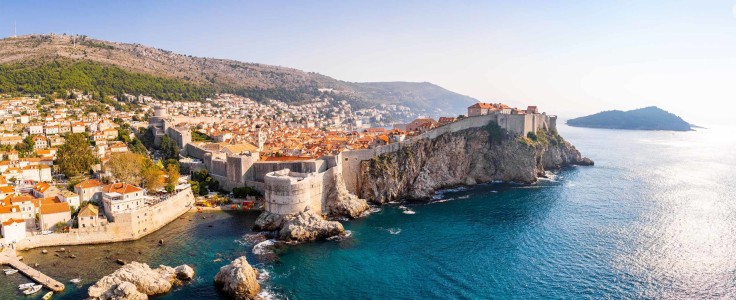 In a perfect world, a Croatia vacation would be an easy annual trip like going to the lake on Labor Day.
But because it's 5,000 miles (and a few time zones) away, it's often a once-in-a-lifetime trip. For that reason, it's essential to see and do the "musts" while you're there.
Much like you wouldn't go to Italy without trying pizza or gelato, you probably don't want to go to the Dalmatian Coast without doing these top 10 things to do in Croatia.
Of course, you don't need to do all of them to have a successful trip. And more importantly, they're certainly not the only things to do in this incredible country boasting the "pearl of the Adriatic."
Here is your list for the top ten things to do in Croatia for your next Adventure.
10 Things to do in Croatia
1. Visit "Little Venice"
Imagine a Venice where residents outnumber tourists and instead of dealing with the massive crowds at St. Mark's Basilica, you have the fortress church of St. Mary of Mercy all to yourself.
In other words, you're in Vrboska, affectionately referred to as Croatia's "Little Venice." There are no gondoliers here, but there are plenty of friendly fishermen to say "Dobar dan!" (hello) to.
2. Soak up the Sun in Hvar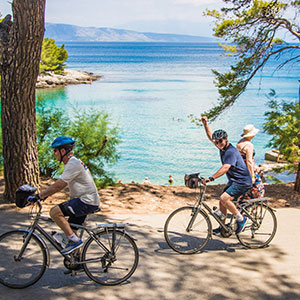 Hvar, pronounced Var, is the sunniest place in Croatia. Some sources even say it's the sunniest island in the Adriatic and one of the sunniest in all of Europe. According to a New York Times, Hvar averages 2,720 hours of sunlight a year. That's nearly 1000 more hours of sunlight than Paris, the City of Lights, gets!
Just don't forget the SPF if you visit one of the many beautiful beaches in Hvar or its neighboring archipelago, the Paklinski Islands.
Some of the best things to do in Hvar are the beaches and cycling tours.
3. Island hop by Sea Kayak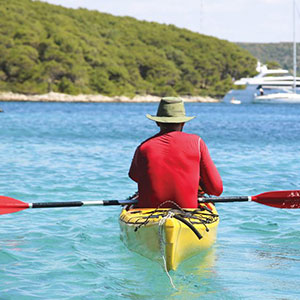 From the air, the Paklinski Islands almost look like they belong in Tahiti. But up close, you'll see these 16+ islands (depending on how you define an island) in a sea of blue and turquoise are covered with pine trees.
They actually get their name from the word paklina, a pine resin harvested on the islands. Only accessible by boat, the best way to experience them is by sea kayak. Don't forget snorkel gear as the scenery and life below the islands is just as stunning as what's above.
4. Yacht Shop in Hvar
If the Dalmatian Coast is Croatia's answer to France's French Riviera, then Hvar is its St. Tropez. It's a little more low-key and you might not see as many movie stars. When it comes to yacht shopping, it's best to find one big enough to hold your helicopter.
Of course, you can always look without buying, or chartering one (there are many charter companies in Hvar). Just stroll the harbor and imagine what you would buy, and what you would name her, if you could.
5. Go Behind the Scenes at a Local Restaurant and make Ćevapčići
Not many cooks – even those who have granite counter tops in their kitchens and fancy double ovens – can say they've made sausage from scratch. In Croatia, it's customary, and easy to do. For example, you can visit a local restaurant and take a Ćevapčići-making class.
If you haven't heard of Ćevapčići, don't worry. It's not a regional dish in North America the way it is in the Balkins. Simply put, it's a caseless sausage comprised of a mixture of freshly ground meat (lamb, beef or/or pork) and spices (heavy on the paprika).
6. Embrace Your Inner Wine And/Or Olive Connoisseur in Korčula
If you're a fan of white wine and/or olives, Korčula might best be described as temptation island.
This island in the Adriatic is famous in the region for its family-run wineries and olive groves. If you can visit during harvest season in the fall, you might even be able to help pick. (Also, if you're a fan of red wine, don't worry. There are a few reds produced on Korčula and plenty of it produced on the mainland.)
7. Swim in the Adriatic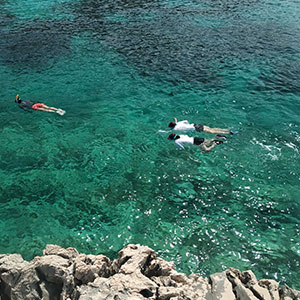 Croatia has one of the longest (approximately 3,600 miles) of coastline in all of Europe. Furthermore, the sea it fronts, the Mediterranean, is one of the most hospitable for swimmers.
The water is warmest in July, but it's possible to swim as early as May and as late as September if you're fine with 70-degrees. Another reason to swim while in Croatia? It's home to more than 1,000 islands so there are plenty of beaches and hidden bays to explore. Just remember that at some beaches in Croatia bathing suits are optional.
8. Feast on the Freshest Seafood
If you want to eat like a local or like Anthony Bourdain did when he visited Croatia the first time, order sardines or anchovies.
If oily fish aren't really your thing, opt for a brodetto. It's a traditional fisherman's stew featuring a variety of seafood. Of course, you also can't go wrong with squid – perhaps the country's unofficial national seafood. It's often served with black risotto, a novelty for us Americans but a menu staple in Croatia.
9. Take a Game of Thrones Tour in Dubrovnik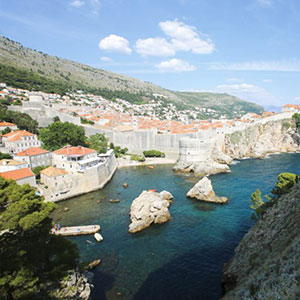 If you worship HBO's hit series, "Game of Thrones", you'll need to spend at least a day in Dubrovnik where a large part of it is filmed. Game of Thrones tours and attractions are super popular in Dubrovnik and very highly rated. Most Game of Thrones tours in Dubrovnik have a perfect 5-star rating from hundreds, if not thousands of reviews, on TripAdvisor.
10. Cheer on the National Team Alongside Football-Crazy Croats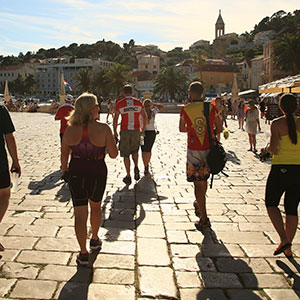 If you want to become friends with a Croat, throw them a bone by complimenting them on their recent World Cup performance. (If you want to become enemies with a Croat, say you're a fan of France's football team.)
Croatia's men's football team came second to France in the 2018 FIFA World Cup. Football is the country's national sport and the season lasts from March through November. If you happen to be in Croatia during a game, pop into the nearest bar and raise a glass whenever the red and white team gets the ball.
Ready to visit Croatia? We can plan your trip!
At Austin Adventures we have many set departures and trips you can join. Meet new friends, see the sights only guides can share, and experience Croatia at its best!
Related Croatia Vacations:
Croatia Dalmatian Coast Vacation for Adults Croatia Family Vacation of the Dalmatian Coast for Families.