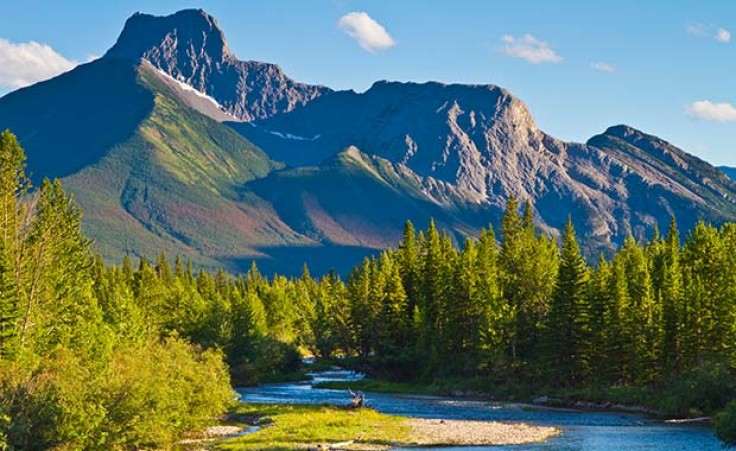 Nearly 100 countries -the U.S. included -have lands classified as a "National Park." This week we're paying tribute to the top 5 National Parks around the world.
National parks are designed to protect the natural heritage, history, beauty, and wildlife of millions of acres across the globe. Writer and historian Wallace Stegner once referred to our national park system as the "best idea we ever had." He may be right.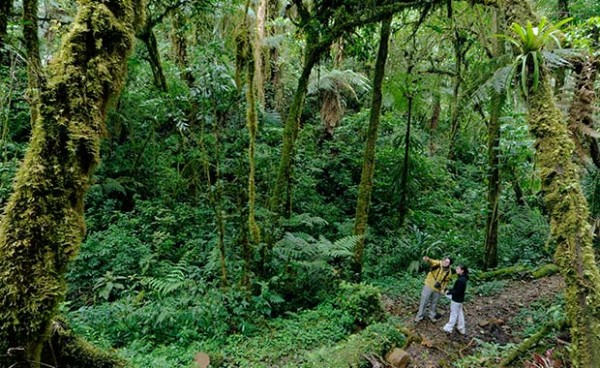 Costa Rica: Tortuguero National Park
Costa Rica is filled with more species of wildlife and flora than any other place on the planet. There is no shortage of things to see and do--in a country that is 1/4 designated national parks and wildlife ranges--and Tortuguero National Park is no exception. Tortuguero (literally translated to "Region of Turtles") is a thriving and active hotspot for adventure travelers.
Thundering waterfalls and lush treetop canopies make vivid backgrounds while zip lining, rappelling, and canoeing. Snorkeling tours reveal a colorful oasis of corals and tropical reef fish beneath the ocean's surface. Kayakers will find lush canals echoing with exotic birdsongs, and dappled with turtles and manatees.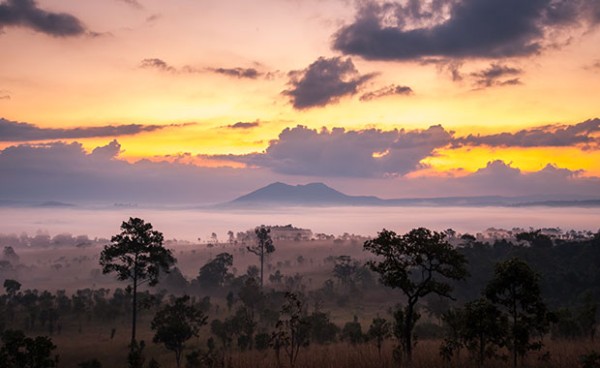 And for the extra adventurous, rafters will find one of the "Top 10 Rivers to Raft in the World," according to National Geographic, on the exhilarating class III-IV rapids of the Pacuare River. There is something for everyone at Torteguero National Park, and visitors will find comfort and relaxation awaiting them after a day of adventures, in a luxurious lodge or resort, or even poolside with a Jaguar Colada (a spin on the national drink–guaro cocktail--with passion fruit and coconut crème).
Couples will find a lot to love on a trip to Tortuguero National Park! Find out more about our adult-only trip to Costa Rica Tortuguero National Park--One of our most popular destinations for couples.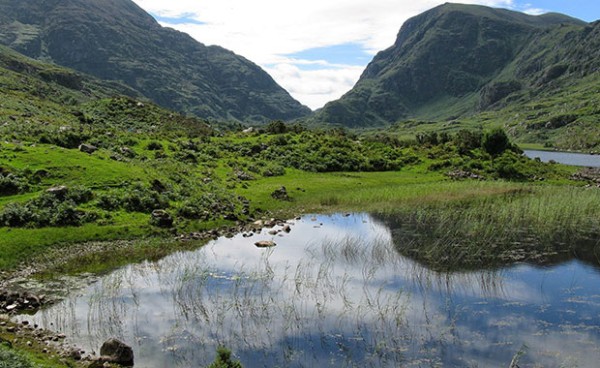 Ireland: Killarney National Park
Amid Ireland's largest area of ancient oak woods and the country's tallest mountain range--Purple Mountain--lies Killarney National Park. The core of this national park was donated to the state by Arthur Bourn Vincent in 1932 and designated a Unesco Biosphere Reserve in 1982. Killarney National Park has something for everyone.
Families looking for adventure will find many opportunities for hiking, biking, climbing, kayaking, and canoeing. Nature lover's will encounter white-tailed eagles and the last herd of native red deer, and even history buffs will have a chance to discover Ross Castle and Muckross House, just a couple of the well-preserved castles in the area.
Home to 26,000 acres of lush mountains, ancient forest, waterfalls, and quaint walkways, rivers, castles, estates, and bike trails, Killarney National Park truly has something for every traveler to enjoy.
Unwind and experience the enchantment of all things Irish on our trip to Ireland - Kerry County!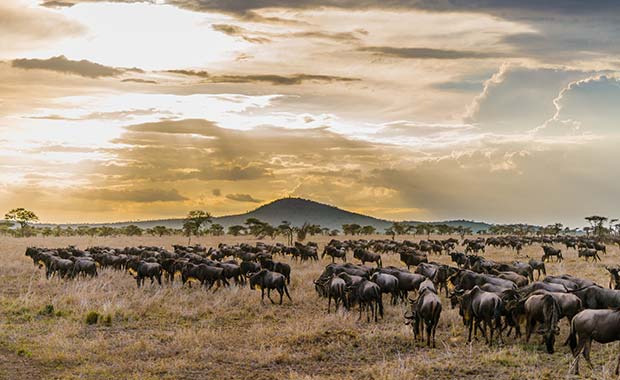 Africa: Serengeti National Park
The Serengeti National Park in Tanzania is 12,000 square miles of wild and open savannas, teeming with Africa's densest and most diverse population of birds—and it's most famous claim to fame: The largest mass mammalian migration in the world, with over a million wildebeest and about 200,000 zebras traveling south from the northern hills between November and December.
This mass migration is one of the greatest wildlife spectacles on Earth, making the Serengeti National Park one of the most well-known parks in the world for experiencing up-close-and-personal encounters with Africa's most iconic animals.
Baboons, lions, black rhinos, hyenas and giraffes are just a few other species visitors can expect to encounter on an adventure vacation to this well protected park. The cozy accommodations near the park serve a nice contrast to the ruggedness of the park, and travelers will find cozy comforts of fine wining, dining and relaxation in the evenings; a perfect end to an adventurous day in the wilds.
Families and couples will find a lot to explore on the Serengeti--find out more about our trip Tanzania--Best of the Serengeti to learn more!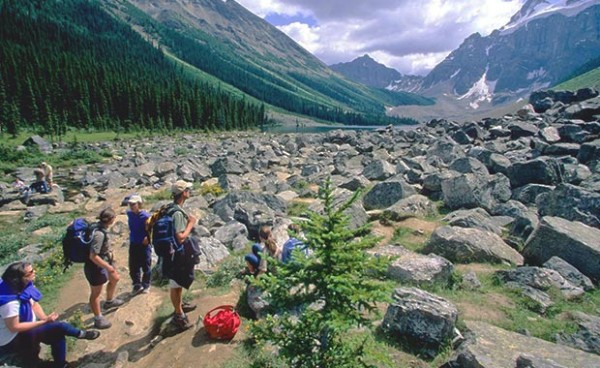 Canadian Rockies Pt1 - Banff National Park
One of the most stirring areas of the Canadian Rockies is the world-famous Banff National Park. Banff is Canada's third oldest park, established in 1885, and this protected and sublime wonderland offers its visitors an abundance of activities.
Adventure travelers can enjoy hiking past towering glaciers, backcountry skiing (or biking), river rafting and even horseback riding. Like many remote corners in the world, the Canadian Rockies is teeming with wildlife. Moose, elk, and bear are frequently spotted throughout the region, as well as Canada's national bird, the whiskey jack.
In fact, the whiskey jack, also known as the Canada Jay, can often be seen fluttering along the trail pestering hikers for handouts! The vast stretches of wilderness on display in Banff offer its visitors soul refreshing scenery of glaciers, lakes, valleys, and snow capped mountain peaks.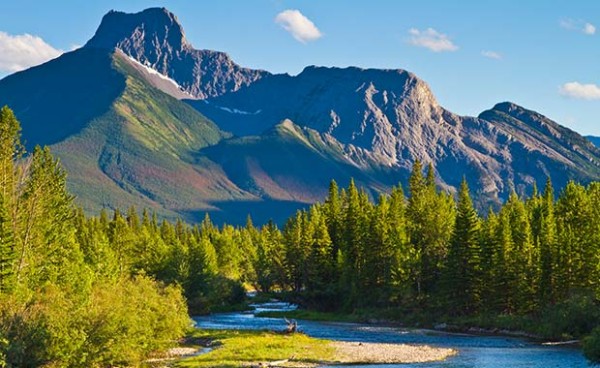 Canadian Rockies Pt2 - Jasper National Park
Jasper National Park is part of a network of provincial parks (including Banff National Park) that make up the Canadian Rockies. The Rocky Mountains connect Jasper and Banff National Parks making the drive between them one of the most scenic and famous drives in the world—known as the Icefields Parkway. Winding its way between the parks, over one hundred glaciers are visible from the road including the easily-accessible Athabasca Glacier.
Turquoise lakes, thundering waterfalls, and a plethora of hiking trails, picnic spots and campgrounds make this park easy to enjoy. Visitors regularly spot elk, bighorn sheep, moose and mountain goats and active travelers enjoy rafting the whitewater rapids, trekking across Athabasca Glacier, and hiking along the shores of Moraine Lake to Consolation Lake, with the vivid scenery of the snow-capped Rocky Mountains in view.
Visit both Banff and Jasper National Parks in our all-in-one Canadian Rockies Adventure -and experience the best each park as to offer in one tour.