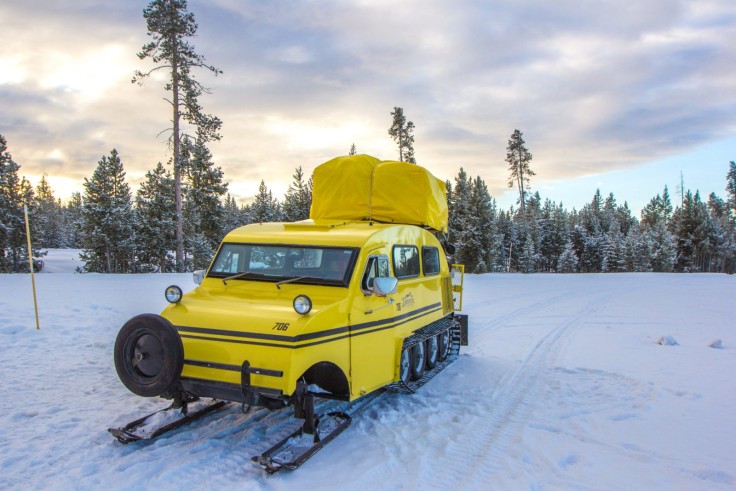 One year, 4.2 million people flooded the Park on their own or in a Yellowstone Tour group. Ninety-eight percent of those visitors arrived during the summer season, crowding around geysers and clogging roads. If there's a reason to skip the summer rush and visit Yellowstone in winter, the smaller crowd size might be it. Imagine seeing Old Faithful erupt without a thousand raised phones in your way. Here are ten more reasons why winter might be the best time of the year to visit Yellowstone.
1. Visit Yellowstone in Winter & see the park in a whole new way
Picture a blanket of glistening snow beneath a vibrant blue sky. Thick steam rolls off geysers in the distance as a herd of bison swipe snow away from buried grass with their giant heads. That's a vision of Yellowstone that very few people are lucky enough to see.
2. Soak in Mammoth's Boiling River
Let the snow come down in buckets while you lounge in Yellowstone's Boiling River, a hot-spring-fed creek near Mammoth. Water from the hot spring pours over the bank and into a natural eddy in the river, trapping the warmth. Make sure you bring a lot of layers, since the short walk in feels a lot longer when you hike out.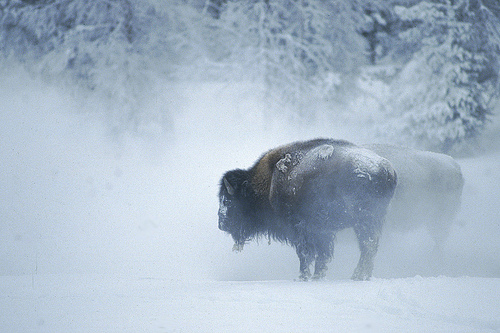 3. Ice skate in Mammoth village
Behind Mammoth Lodge lies a partially-hidden ice-skating rink. Rent skates at the hotel and glide through the crisp air with other visitors as well as rangers and their families. While not the most "Yellowstone" adventure, this tranquil pastime might end up making the best memories of your trip.
4. Ride in one of Yellowstones historic Snowcoaches
No doubt, the frigid temperatures scare some people away from taking a Yellowstone winter tour. However, there's nothing like being whisked away to Old Faithful inside a heated, comfortable snowcoach. The first snowcoach was patented in 1939 by J. Armand Bombardier (hence the Bombardier Snowbus), and were brought to Yellowstone in 1955. While the snowcoach fleet continues to be updated, a few of the original 1955 fleet are still on the road (er, snow). In fact, you may even have the chance to ride in one of the classics!
5. See frosted bison
That's right, frosted bison. There's something so comforting about watching Yellowstone's famous bison hanging out near a hot spring with a dusting of snow on their shaggy coats. Seeing these iconic creatures without the summer crowds is an incredible opportunity for the professional and casual photographer alike.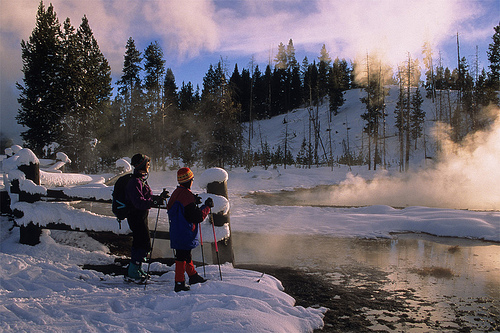 6. Snow Shoe the terrace loop at Mammoth Hot Springs
Don snowshoes and explore a whole hillside of hot springs. Boiling water rushes out of the mountain, building natural terraces of shimmering orange and yellow. Beyond the terraces, you can snowshoe through a forest of lodgepole pine seeking new springs by following the steam rising through the trees. Mammoth is often the first stop on a Yellowstone winter trip. Let it set the tone for the rest of your adventure.
7. Cross Country Ski around the Old Faithful boardwalks
Turn your vacation into a multisport adventure by strapping on cross-country skis. Marvel as Old Faithful erupts into a glittering fountain. Then glide almost effortlessly through the Upper Geyser Basin checking out incredible features like Castle, Beehive, and Riverside Geysers. Stop at Morning Glory Pool for its legendary colors and a dose of solitude.
8. Ranger-led activities never stop
Ranger-led activities are a great way to explore Yellowstone. Learn about Yellowstone's natural, cultural, and scenic wonders during their nightly fireside programs, or accompany them outdoors on a snowshoe discovery.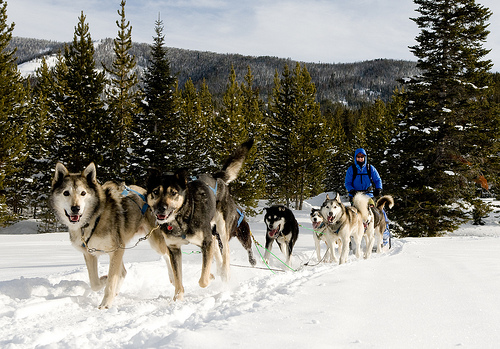 9. Dogsled the Paradise Valley
Experience the towering mountains and wide-open spaces of the Paradise Valley with a sled and eight friendly huskies. Feel the powder brushing your face as the dogs pull you through one of the most magical winter landscapes in the lower 48.
10. Chico Hot Springs in the winter
There's no better way to end your trip than a night at Chico Hot Springs. Relax in the naturally heated waters of the hot springs, and follow up your soak by indulging in one of Montana's best dinners in Chico's world-class dining room.
Visit Yellowstone in Winter on these tours and more:
Montana and Yellowstone Winter Tour: Adult only trip to explore Yellowstone's in winter by snowcoach, skate, snowshoe and dogsled Explore More Yellowstone Tours