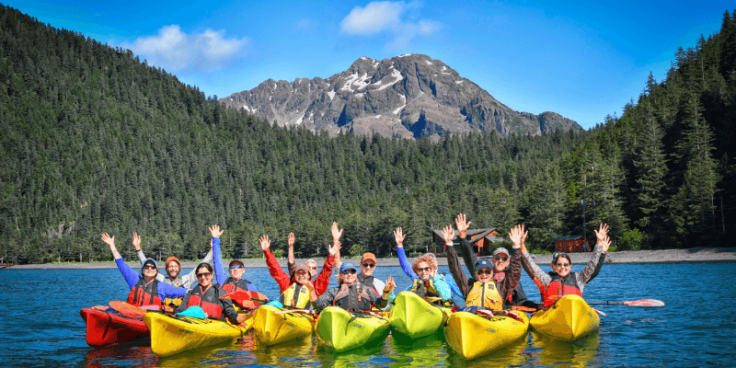 The city of Anchorage and the nature surrounding it are not separate from one another. Instead, the mountain views, wildlife, and outdoor activities steps away from downtown make it authentically 'Alaskan' while also housing 40% of the state's population. You could see a moose on your way to the largest historical museum in the state or catch the Aurora Borealis after having a glacier-water brewed beer with dinner. The intermingling of nature and urban life makes Anchorage unique and absolutely worth a visit! In the summer, you can stay up late to see the midnight sun and pack your days with endless outdoor activities.
Near Anchorage, there are trails to be hiked, fjords to be cruised, and glaciers to be marveled. There is endless nature to explore with activities by land, air, and water. While in winter, snow activities rule with a possible nightly showing of the Northern Lights. Hit the slopes on skis, ride on a snowmachine, or feel the speed from a pack of dogs while trying your hand at mushing. Looking to get out of the cold, the Anchorage Museum and Alaska Native Heritage Center will keep you engaged while learning about the multiple histories of Alaska. Regardless of the time of year, there are plenty of things to do in Anchorage, and here is a list to prove it.
Activities and Day Trips in Anchorage
If you want to do something in Alaska, you can find it in or around Anchorage. It is a natural jumping-off point for the rest of the state and has many activities from hiking to fishing available right downtown. Look below for different outdoor-focused activities, from flightseeing and glacier viewing to dog sledding and skiing. If it isn't available in town, it's only a short flight, boat ride, train ride, or drive away.
Flightseeing Tours
See more of Alaska and go where cars cannot! Before there was a significant network of paved roads, there were landing strips. For decades, Aviation was a lifeline to rural Alaska ("the bush") and an integral part of the state's history and development. Today, the aviation spirit continues with six times as many pilots per capita as the rest of the United States. Whether in a small plane or helicopter, these pilots are proud to share breathtaking views of national parks, glaciers, and wildlife with visitors. Some flightseeing tours will have you land on lakes and water, while on others, you can land on snowy glaciers.
Hiking
Take a stroll in Alaska's nature right from your hotel or a short drive away by utilizing the vast trail networks around Anchorage. A popular day hike worth the crowds is Flattop, where you will be treated to a view of the Chugach Mountains to the west, Denali to the North, and sweeping views of the city below. You will need a car to get to the trailhead or use the Flattop shuttle. You can hike to explore glaciers during a day hike from Anchorage. The Byron Glacier, where you can discover glacier caves, is only about 55 miles from Anchorage and is one of the easiest glacier hikes in the state. We take a walk on the Byron Glacier with a hand-packed lunch during our Kenai Fjords National Park tour. You can hike across the frozen Portage Lake in late winter to get up close to the Portage Glacier. In town, check out the 12-mile Coastal Trail that is mostly flat, or head over to Kincaid Park with its 80 miles of trails with hills.
Day Cruises in Anchorage
Instead of walking or ice climbing on a glacier, a more relaxed way to get up close and personal with these icy behemoths is by taking a day cruise. Easily arranged out of Anchorage, you can take a scenic drive to hop on a smaller sightseeing boat to glide through the glacial waters. Depending on where you are going, there's a good chance you'll see wildlife - whales, bald eagles, and more. Popular destinations include Prince William Sound, where you could explore the Esther Passage and College Fjord; Kenai Fjords National Park with incredible landscapes and wildlife galore; and the nearby Portage Lake, where you can see the Portage Glacier.
Kayaking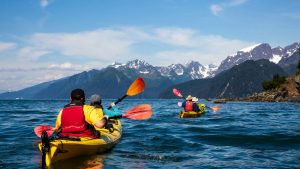 The modern name "kayak" is derived from the ancient Aleutian "iqyak," meaning "man-boat" or "hunters-boat." The technology is as old as 4,000 years, and although the exact inventor is unknown, the Indigenous people of Alaska have used sea kayaks for centuries. Originally made from animal skin stretched over a wooden frame, modern-day kayaks are much easier to maneuver and glide across the water. Beginners should go with a guide to ensure safety and an enjoyable experience. Quieter areas of the Cook Inlet offer Anchorage skyline views and a small population of beluga whales. Then there's Eklutna Lake, about an hour northeast of the city limits. With typically calm waters, you can kayak across the 13 km lake and rent a bike for the return trip.
Alaskan Railroad
From Seward to Fairbanks, the Alaska Railroad has 470 miles to explore, and Anchorage is a key departure point. With spacious, comfortable seats, you can enjoy the view through large windows. The scenic views are worth the ride, but if you would like even more adventure, you can combine a rail trip with a scenic cruise, flightseeing, wildlife conservation, or river float. We take the scenic route on the Alaska Railroad from Anchorage to Seward during our Alaska Kenai Fjord Family Vacation before cruising and hiking the fjords. On the train, everyone gets to keep an eye out for moose.
Jeep & ATV Tours
Get into the Anchorage backcountry quickly by taking a jeep or all-terrain vehicle (ATV) for a wild ride. Those down for an adventure can see more of Alaskan nature while having the thrills of uneven paths. Here is the difference between Jeep and ATV tours: Jeep Tours: Most of the time, you are the passenger, with a professional guide at the wheel and calling out points of interest on dirt roads. ATV Tours: With these trips, you are off-road: dirt roads, gravel bars, stream crossings, and even to a glacier. After detailed instructions on operating a four-wheel, all-terrain vehicle, you can drive yourself!
Whitewater Rafting

Take advantage of Alaska's endless glacial melt by taking a lazy river float or adrenaline-filled whitewater rafting excursion. Working in concert with the water and recreating how gold miners used to navigate the vast country, you can choose your level of adventure with two types of rafting trips:
Whitewater rafting: Sometimes calm, sometimes a bumpy rollercoaster of rapids. With experienced guides, even first-timers will be white-knuckling while whooping and hollering down the river. We go whitewater rafting on mild Class II rapids on the Kenai River during our Kenai Fjord and Denali National Park National Parks Tour.
Scenic Floats: Silent and mellow, you can also relax and let the water take you downstream through the pristine Alaska wilderness. Your main job on a scenic float is to spot wildlife in the surrounding trees and nature.
Fishing & Fishing Charters
As one of "America's Best Fishing Cities," Anchorage has access to rivers, lakes, and saltwater. Anglers can pursue salmon, rainbow trout, Dolly Varden, arctic grayling, and more near downtown. Enormous halibut, trophy trout, and all five species of Pacific salmon are within a day's drive or fly-out fishing trip. Consider a fishing charter, where guides provide private transportation to remote stretches of river or out on the open ocean, logistics, and fishing expertise. Some even offer packing and shipping, so sending what you caught home is a breeze.
Snowmobile Tours (Winter)
Visiting Anchorage in winter doesn't necessarily mean staying indoors. An exciting way to explore Alaska's frozen outdoors is to rent a snowmobile (or, snowmachine as some locals say) or go on a snowmobile tour. Choose from guided tours with experienced drivers or venture at your own pace on the numerous trails around Anchorage. Guided tours can accommodate all levels and are typically available from November to May.
Dog Sledding (Winter)
Easily one of the most adorable winter activities in Anchorage and all of Alaska is dog sledding (also called dog mushing). Without widespread roads to connect locations, a surprisingly quick way to get around was through dog mushing. Sometimes still used as transportation today, dog mushing has also been named Alaska's official sport. By going on a tour, you can help the dogs do what they love most - to run. Operators provide warm boots and parkas and often allow riders to mush.
Downhill Skiing/Snowboarding at Alyeska Resort in Girdwood (Winter)
There are not many places where you can ski with a view of the ocean, but you can in Alaska! Only 45 minutes from downtown Anchorage, Alyeska Resort offers world-class skiing with views of the Turnagain Arm. The elevation change up the mountain is noticeable, with the top of the mountain receiving 650 inches of snow each year with snow cannons going off each winter morning. The base of the mountain gets 208 inches of snow, where you can grab a cup of coffee or post-ski drinks.
Don't ski or snowboard? You can still high-five your pals on the mountain by taking the Aerial Tram. At the tram stop, you can take in the views from the snow or head inside for fine dining with a spectacular view at the Seven Glaciers Restaurant. You didn't hear it from us, but there is a not-so-secret drink offered at the restaurant called "The Fizz," which is only available in winter. The ingredients remain a secret, but we can guess there is a high alcohol content due to the strict two-drink limit.
Look for the Northern Lights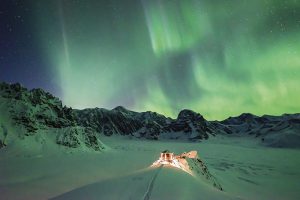 Alaska is Aurora Borealis territory. You can see the glowing green ethereal swoops of the Northern Lights from almost anywhere in the state under the right conditions. They are easily faded by light, so you will have the best chance at seeing the Aurora by visiting Alaska in winter and using local expertise. The Northern Lights can sometimes be tough to spot with the lights from Anchorage. Luckily, there are tours where you can get a little further away from the city with a wide-open view of the dark sky. Or, if you would like to take a luxury route in your Aurora hunting, you can charter a flight to take you further north or take a Northern Lights cruise.
Things To Do in Anchorage

With 41 percent of the state's population, Anchorage is the cultural soul of Alaska. You can get an excellent introduction to the 10,000 years of human history at the Anchorage Museum and celebrate native cultures through song, dance, and demonstrations at the Alaska Native Heritage Center. Anchorage also houses the most artists and performers. Nightlife, performing arts, and family entertainment thrive amid inspiring surroundings. Enjoy live music at local breweries or laugh alongside locals at an evening comedy show. The ways to experience culture in Anchorage are as varied as the landscape.
Anchorage Museum
Right downtown, the Anchorage Museum tells the story of the north—from Alaska's history, art, and culture to the wonder and challenges of living in Alaska. To provide context to the many histories of Alaska, from native cultures to the gold rush, the Anchorage Museum has extensive and immersive exhibitions, making it the largest museum in the state. Families should make extra time to visit the Discovery Center - an 11,000-square-foot section with 80 kid-friendly exhibits to explore the north's environments through science. Consider purchasing the Alaska Cultural Pass, which allows access to the Anchorage Museum and Alaska Native Heritage Center, with a free shuttle between the two.
Alaska Native Heritage Center
The Alaska Native Heritage Center promotes the active observance of Alaska Native culture and traditions. The cultural education center offers song, dance, and artistic demonstrations that celebrate Alaska's 11 main nations: Aleut, Alutiiq, Athabascan, Eyak, Haida, Inupiaq/St. Lawrence Island Yupik, Tlingit, Tsimshian, and Yup'ik/Cup'ik. Wander through six life-size village sites or take part in an immersive educational program to better understand Alaska's rich and diverse cultures.
Tony Knowles Coastal Trail
For a family-friendly way to get fresh air while in Anchorage, take a stroll on the 11-mile Tony Knowles Coastal Trail. Winding its way from the downtown area, this paved path is perfect for biking, rollerblading, and even cross-country skiing. Keep an eye out for beluga whales in the Cook Inlet during summer, while winter trailblazers can see if there are any moose in Kincaid Park.
Alaska Zoo
See Alaska's wildlife up close at the Alaska Zoo, which has the widest variety of animals native to the state. Beginning in 1969 with one baby elephant named Annabelle that was won in a contest, the Alaska Zoo now has 100 animals across 25 acres of the Anchorage hillside. It focuses on wildlife conservation and animal rehabilitation.
Breweries, Food, and Restaurants in Anchorage
When in Alaska, take advantage of the clean, clear Alaskan water and foods only found in the far north by seeking out local breweries and restaurants in Anchorage. You won't have a tough time finding a good beer in Anchorage with local brewers touting the quality of Alaska's water. As for menus, look for restaurants utilizing king crab, halibut, and wild salmon.



Fairs and Festivals in Anchorage
Anchorage's most famous festivals are authentically 'Alaskan.' They embrace nature, snow, and competitive sport, which spices up every season. In the summer, try your hand at fishing for the largest salmon in the country's only urban fishing derby, and visit the Anchorage Market to find your souvenirs to bring home. In winter, the town does not shut down. Quite the opposite, winter is when some of the most rambunctious events occur, like the infamous "Fur Rondy." No matter what time of year you visit, keep an eye out for Anchorage's unforgettable gatherings.
Slam'n Salm'n Derby
The Slam'n Salm'n Derby attracts people from around the country to try to catch the largest salmon from right in the middle of Anchorage. Over 10 days, anglers pull on their waders, grab their fishing rods, and head over to Ship Creek to win prizes and money. Visitors can rent gear from local fishing supply stores or simply walk to the creek to watch some "reel" action. The Derby typically occurs in June and is open to locals and visitors.
Fur Rendezvous Festival
Dating back to 1936, before Alaska was even a state, the Fur Rendezvous Festival is a 3-day celebration at the end of February or early March when miners and trappers would return to Anchorage. Although some sporting events have changed over the years, you can still see the sporting spirit in popular activities like racing homemade outhouses on skis or outrunning reindeer Pamplona-style. Locally known as Fur Rondy, the festival also features sculptures, crafts, and activities related to the native culture. Truly Alaskan, the Fur Rendezvous Festival is not to be missed if you're in Anchorage in late winter.
Anchorage Market
The Anchorage Market is Alaska's largest open-air market, which runs from mid-May to mid-September every Friday, Saturday, and Sunday. With over 100 vendors, the Anchorage Market is a favorite spot for locals and visitors to shop for everything from clothes to artwork, eat local food, and enjoy live entertainment. It is the perfect place to buy Alaskan-made items, gifts, and souvenirs.
Anchorage International Film Festival
Get warm indoors, grab some popcorn, and take advantage of the shortest time of the year by going to the Anchorage International Film Festival. Held in early December, the film festival brings filmmakers from all over the world to participate in workshops, screenings, and plenty of celebratory parties. Check the schedule in the weeks leading up to the festival to see if any of the 100+ films pique your interest.
Anchorage First Fridays
On the first Friday of each month, participating galleries in Anchorage display works by local artists. Art lovers can wander from shop to shop, socialize, meet local artists, and try local hors d'oeuvres. Look for a map of participating Anchorage Galleries and special programming at the Anchorage Museum a few days before each first Friday.
Iditarod Sled Dog Race (Ceremonial Start)
If you're around on the first Saturday of March, you can witness the start of Alaska's most iconic winter races. The Iditarod is an endurance test that takes mushers and their team of dogs across 1,000 miles from Anchorage to the town of Nome. Visitors and locals can closely look at the teams from the start line or somewhere along the route's 11 miles through town.
Where to Stay in Anchorage
With wide open spaces in the far north, it's not surprising that cities like Anchorage are stretched and spaced out with distinct neighborhoods. Most travelers stay downtown, where there is easy access to history, museums, and all the requisite shops and restaurants. It also has the most luxurious options for accommodations. Alternatively, the neighborhood of Midtown has affordable hotels and convenient shopping malls. In southeast Anchorage, the neighborhood of Hillside is aptly named for its access to trails and peaks of Chugach State Park. Or consider the Turnagain neighborhood for the best views for spotting seaplanes, access to the Tony Knowles Coastal Trail, and near the airport!
Whichever neighborhood you decide to call "home base," we recommend booking well in advance, especially in the summer months. July to August is the peak season and Anchorage sees throngs of people heading north to Denali National Park and south to Kenai Fjords National Park. Although there's plenty of space for you and your activities, you don't want to be caught without accommodations at the crossroads.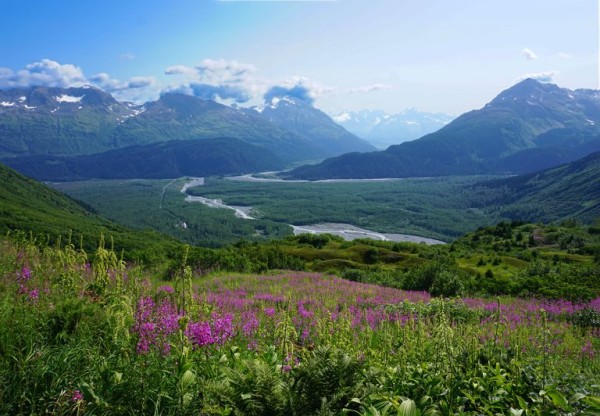 Best time to Visit Anchorage, Alaska
With the midnight sun in summer, the midnight sun in winter, and plenty of outdoor activities every season, the best time to visit Anchorage will depend on your favorite activities! June to August is the busiest time of year, with long days to pack in the adventures. Trails are open, and trains are running, with Anchorage at the center of everything. It is also the warmest time, but don't expect swimsuit weather! High hover around the low 70's (21°C). If you are willing to wear a few more layers, winter in Anchorage can be magical. With snow sports galore, fewer visitors, lower hotel prices, and the potential to see the Northern Lights, Anchorage always has something to do. Pack gloves, beanies, scarves, and your best wool socks because the average high in winter is 23°F (-5°C). Shoulder season can be the trickiest time to visit Anchorage but sees the fewest crowds. Temperatures vary wildly but are considered "wintery" to those living in the southern United States. One benefit to the shoulder season is that the Auroras can be highly active around the equinoxes. Bring layers for the chilly nights while looking at the sky and boots for the rainy fall or muddy spring.
How to Plan Your Alaska Vacation
Whether you're coming for calving glaciers, wildlife sightings, adrenaline-filled outdoor adventures, or to discover the cultural history and learn what it took for Alaska's first people to survive, you don't have to choose in Anchorage. With a dash of everything, Anchorage is a great place to start or use as your home base to explore the wilds of Alaska. To prove that we think it's so great, we start our trips here! But with so much to do, be sure to book an extra couple of days before or after your trip to have a chance to soak up the midnight sun or Aurora Borealis in Anchorage.