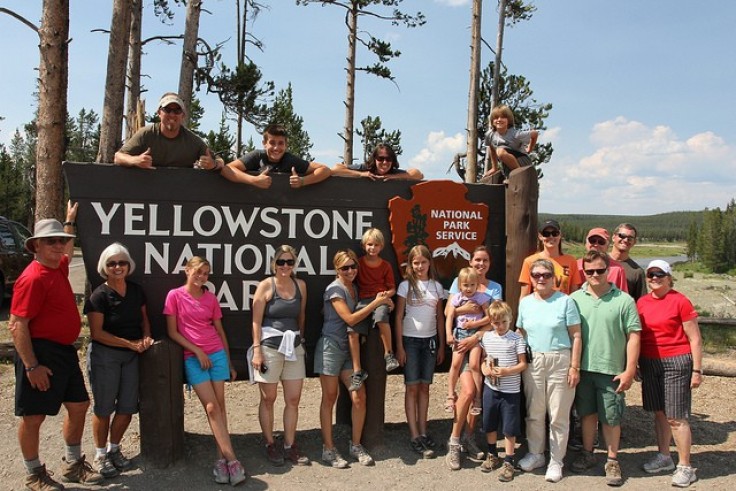 One of the best parts about traveling with Austin Adventures, based in Billings, MT, is that it sits just a few short hours from our world's first national park: Yellowstone, and we have been operating in our "backyard" for over 30 years.
With our close location, connections and local knowledge, we feature five amazing vacations that revolve around Yellowstone National Park
Because these adventures feature Yellowstone National Park, I'm sure you can imagine the number of questions our sales team receives on what the differences are between the trips. While your adventure travel consultant can go into much more detail, below is at least a start in differentiating between these adventures.
Host City and General Route
Let's start with figuring out which trip begins where.
Our Yellowstone and Big Sky itineraries follow a big loop, beginning and ending in beautiful Bozeman, MT - a mountainous college town with a western attitude.
Both of these itineraries follow nearly the same route - heading south on Highway 191 through the Gallatin Canyon towards the town of Big Sky, entering Yellowstone through the West Entrance (West Yellowstone), exiting the Park through the North Entrance (Gardiner) and heading back to Bozeman through aptly named Paradise Valley.
Our Yellowstone vacation (as you can imagine) spends more time inside Yellowstone National Park (4 days), while our Big Sky trip spends more time outside the park in Gallatin Canyon and Paradise Valley and two days in Yellowstone.
Our Yellowstone & Grand Teton Adventure begins in Jackson, WY - home of the classic cowboy.
Upon pick-up, you'll spend half a day exploring Grand Teton National Park (yes, you get to visit two national parks on this itinerary!) before heading north towards the South Entrance of Yellowstone National Park.
If you picture the road system of Yellowstone as a figure-8 loop, we'll spend the next several days touring around the lower loop before exiting out of the South Entrance once again, driving south towards the Tetons. Upon arriving in Jackson Hole, you'll spend the last half of your trip exploring Grand Teton National Park and the "playground" surrounding the town of Jackson.
The Yellowstone, Glacier & Grand Teton Adventure combines three of our most iconic national parks over an eight day itinerary offering a taste of each of these parks. This trip runs in two directions (Jackson to Whitefish or Whitefish to Jackson) but either way you will have time to explore each of the parks. In Grand Teton, you will float down the snake river through the heart of the park. In Yellowstone enjoy the beauty of both Old Faithful and the Grand Canyon of Yellowstone. Hike the famed Highline Trail in Glacier National Park and between each of these adventures in the parks you will also get the chance to do some horseback riding and kayaking.
Our Yellowstone in Winter trip is a unique opportunity to see the park like few do with two nights at Old Faithful Snow Lodge traveling there by private snow-coach. The winter is a perfect time for wildlife viewing, as well as getting out into the wilderness on snowshoes and walking the boardwalks as the thermal features power their way through the frozen surroundings.
Featured Activities
We'd like to think that we have chosen the perfect activities to represent the areas we're touring during our Yellowstone Vacations. While all three itineraries feature some of the same activities (even done in the same places at times), there are a few differences between them that we will highlight by activity below:
Hiking
All three of our Yellowstone vacations feature some sort of hiking. Most days, a hike will range from a quick and easy boardwalk loop to a moderate 3-6 miles with some elevation gain and loss.
Often, your group will embark on several hikes in one day, showcasing completely different areas and natural features. We offer a variety of out-and-back, loops, and point-to-point treks. (Note that our adult departures may offer more difficult hikes, depending on the group's abilities).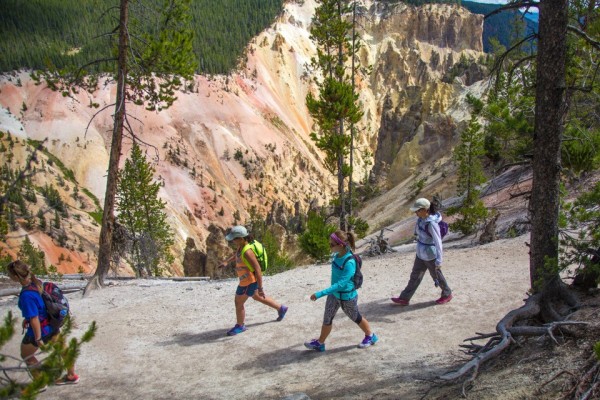 Biking
Just our Yellowstone & Grand Teton Adventure features biking. Our three bike rides provide an opportunity to see the five peaks of the Cathedral Range at a leisurely pace while also exploring other regions of the park including Mormon Row.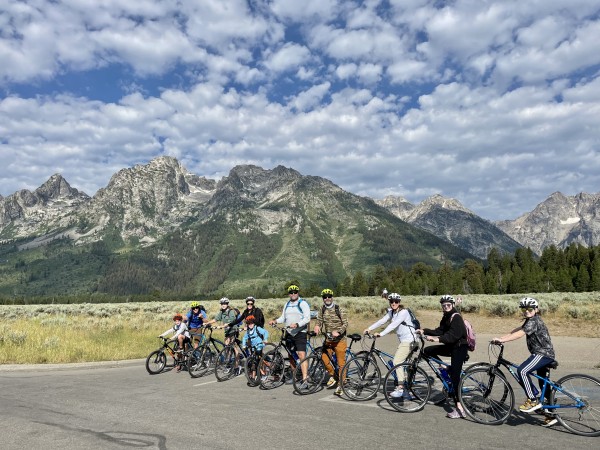 Horseback Riding
Both our Yellowstone and Big Sky vacations feature the same horseback ride in Paradise Valley at Flying Diamond Ranch.
We've been working with the same ranch for over 20 years and our fourth generation ranchers will share with you many stories of the livelihood of a rancher from running an elk hunting camp in the fall to birthing cattle in the spring and everything in between.
This ride is perfect for a beginner rider, although we do caution that this is no pony ring ride at the county fair. You'll be riding the horses uphill for about an hour to take in views of Paradise Valley, Gallatin National Forest, and the Davis Family's ranch land.
After a short break to stretch your legs at the top, you'll head back down a different way to see the valley and your surroundings from a new angle. It truly doesn't get much better than this classic Montana ride!
On the Yellowstone, Glacier & Grand Teton Adventure you will be led by seasoned wranglers at 320 Guest Ranch who will guide you along well-maintained, yet peaceful trails to enjoy a leisurely paced ride through the pristine wilderness, while taking in the postcard-perfect views in Gallatin National Forest.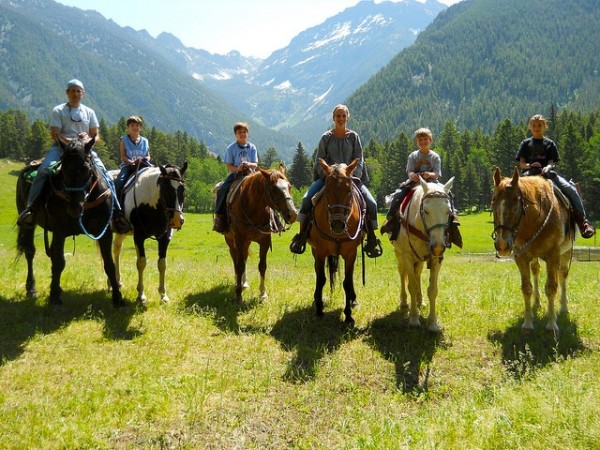 Rafting
Our Yellowstone and Big Sky both feature a raft trip down an 8 mile stretch of the famous Yellowstone River on easy going class II and III rapids.
This is the perfect raft trip for families or beginner rafters and will definitely get you wet! With opportunities to swim in a few spots, you can learn for yourself just how cold a Montana snowmelt river really is (don't worry, you can always wear a wetsuit, although on a hot day, you won't need one!).
Our Yellowstone & Grand Teton Adventure itinerary features an 8 mile trip down the Snake River on smaller rafts, guaranteeing you'll get wet no matter where you sit! On both the Yellowstone and the Snake, you'll use inflatable, self-bailing rafts that come with guides who have been trained in river safety techniques. This adventure along with the Yellowstone, Glacier & Grand Teton Adventure feature an epic float trip higher up the Snake River in the heart of the park offering fantastic views of the Teton Range.

Wildlife
While only our Yellowstone vacation features an entire early morning dedicated to wildlife viewing, there's a high chance on any of these itineraries that you'll spot grizzly or black bears, wolves, coyotes, foxes, deer, elk, pronghorn, moose, bison, bald eagles, osprey, and much more!
Both Yellowstone and Grand Teton National Parks (and the entire 20-million-acre Greater Yellowstone Ecosystem!) are meccas for wildlife watching. Your best chances to spot your favorite animals are at dawn and dusk when the wildlife are most active, but there's also a lot of luck involved and if you keep a watchful eye out at all times (when pedaling your bike, hiking or riding in the van) there's a good chance you'll spot some pretty neat animals!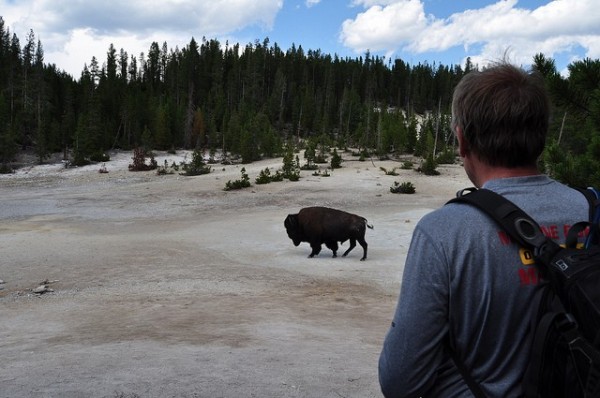 Lodging
Another highlight of traveling with Austin Adventures is being able to stay within Yellowstone at Old Faithful Inn or Snow Lodge, Canyon Lodge, and Mammoth Hot Springs Hotel. During your time in Grand Teton stay in the heart of the park at Jackson Lake Lodge and right at the doorstep of the park at the Rustic Inn. The lodgings outside the park are just as fantastic including time at Chico Hot Springs providing an opportunity to take a dip in a hot spring pool, at 320 Guest Ranch relaxing in your cabin just off of the Gallatin River or Grouse Mountain Lodge giving us quick access to Glacier National Park.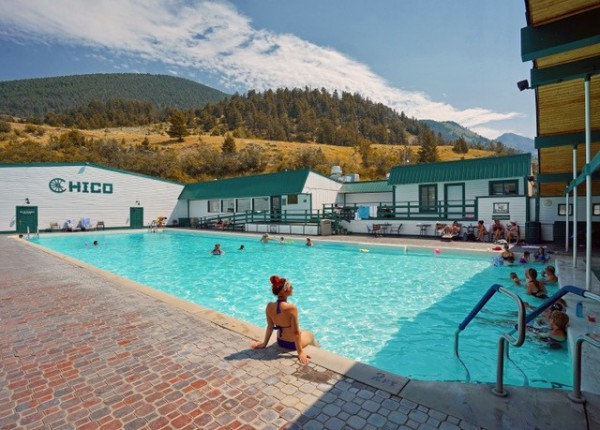 Summary
If you've read through this entire blog, chances are you're now an expert on the differences between our Yellowstone itineraries. While each of these itineraries feature their own special routes, lodging, restaurants and activities, you'll find the perfect trip with the help of your Austin Adventures adventure travel consultant.