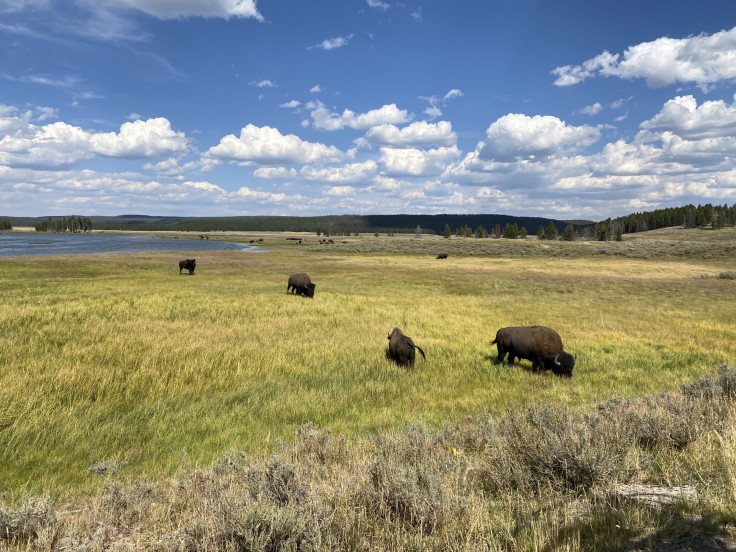 Watching the leaves change is an amazing experience no matter if you're in the mountains of the Appalachians or the Rockies in Colorado. But the experience that the fall brings in Yellowstone National Park is most definitely different and in the best possible way. Vacationing in Yellowstone National Park is a new experience each and every time you visit all depending on the time of the year.
While you might focus on white water rafting in the summer and campfire cozying in the winter, the fall vacation in Yellowstone brings out the best that the whole year has to offer. And Austin Adventures brings every aspect of the Yellowstone Park experience together and will whisk you away on that cool, autumn breeze.
What Makes Fall in Yellowstone Different?
The weather. First and foremost, the weather makes all the difference in the world for a fall vacation and the autumn weather is what makes Yellowstone the best fall vacation.
The average temperature during the day is mild to cool which makes your daily adventures such as picturesque hiking to dozens of waterfalls or horseback riding through the mountain trails so much more enjoyable. And when the sun begins to set and the temperatures drop, it's time to snuggle up around that warm fireplace in the lodge and enjoy the being exactly where you are.
Another great aspect of traveling to Yellowstone during the fall with Austin Adventures is that there will be fewer people. Why would there be fewer people if the fall is so great in Yellowstone? The simplest answer is that most people travel over the summer. School is out and the weather is hot which is the perfect recipe for crowded tourist spots. That's just not our style. We don't want the hustle and bustle feel. We want you to be able to disconnect from your phone and reconnect with your family and mother nature.
A fall vacation to Yellowstone is the place to do just that.
What Will We Do and What Will We See?
Other than enjoying the many geysers and natural wonders that the first national park has to offer, we will arrange for you to experience the park, unlike anyone else. But of course, that doesn't mean we are going to miss good Ole' Faithful.
As a matter of fact, we'll try to get you front row seats to watch the geyser erupt under the starlit sky! Your days with us will be filled with hikes through the canyons and hiking trails visiting waterfalls, geysers, and lakes.
We'll guide you down to Artist's Point which is so picturesque, it will take your breath away. Wanting some solitary time? Then perhaps you'll be found in your waders standing in the river enjoying some world-class fly fishing.
If you're bringing the kiddos along, we cater to their intrigue and curiosity in the most engaging way possible teaching them about, history, land formations, and wildlife making the trip unforgettable for your children.
Believe me, they'll thank you for not taking the bus tour.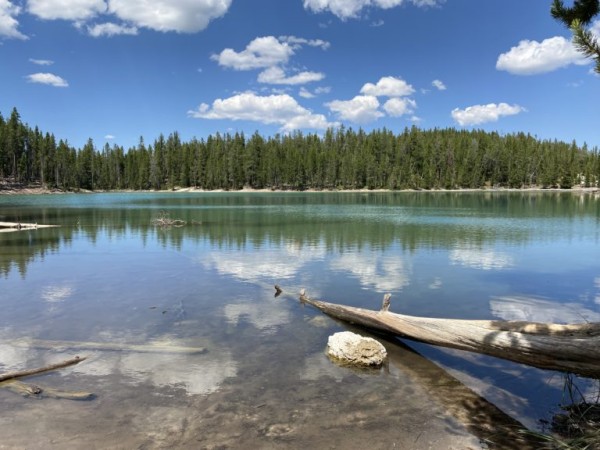 And speaking of wildlife, that's just another great reason that makes Yellowstone the best fall vacation.
During the fall season, the chances of seeing some incredible wildlife are much higher. Mating season is in full swing for both bison and elk, so these amazing creatures are out and about to strut their stuff. Bears are bulking up with whatever nuts and berries the fall has brought for them readying for their winter hiatus.
It's one thing to see these gorgeous animals on TV or in pictures, but it is quite another seeing them in real life and within the beauty of their natural environment. Being lucky enough to spot them is what creates those long-lasting memories and bonding moments and we just might have some secret spots to share with you.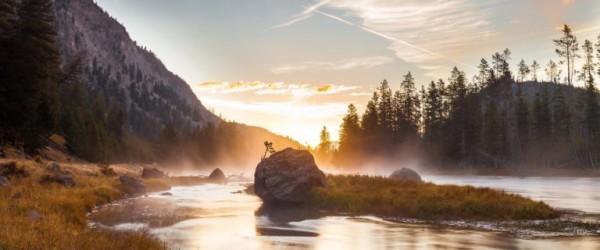 What About Food and Lodging?
All of your adventures will most definitely build up an appetite. While you're out in the middle of a trail and the sun is directly above you, you might start to wonder where the nearest restaurant is. No worries!
Your hunger will be subsided and your tummy content after we provide you an amazing lunch that we'll serve to you and your family without ever having to stop the adventure (and this is not a bologna and cheese kind of operation). Three meals a day and refreshments are taken care of for you so that you can solely focus on the gorgeous area around you.
After your day is over and it's time to sleep, Austin Adventures will tuck you into one of the many beautiful lodges or resorts along the journey. You can choose to partake in some of their amazing mineral water spa services or go shopping in their historic gift shops. Or you can simply take a hot bath and prep for what tomorrow will bring.
Throughout the week we aim at providing you the opportunity to experience more places, adventures, landscapes, and memorable moments than most ever do over their visit to Yellowstone. And because you are choosing to visit Yellowstone for a fall vacation, you'll get to experience the park in the full glory of everything that it offers.
For some, fall is just an inconvenient time and for others, they just don't know what they are missing. So while you are enjoying coffee in the crisp, cool air of the long mornings overlooking the reds, oranges, and yellows of the park, everyone else is planted in front of their computer trying to figure out how to juggle homeschooling three kids while having a Zoom meeting with their boss.
Ready to explore a fall vacation with us to Yellowstone?