Clare
New Zealand Guide
Where were you born and where did you grow up?
I was born in the North Island and grew up in the countryside near Whanganui. I spent my childhood climbing trees, camping in the back yard and hiking in the paddocks. It's no surprise I'm happiest when I'm exploring the outdoors!

What are your hobbies?
I spend a lot of my spare time visiting family all over the country! I have lots of siblings and nieces and nephews. When I'm back in Christchurch I love to explore the city by bike or on foot and play social netball.

What did you do before you became a guide?
I've been a physio, a flight attendant, worked in sales, lots of hospitality roles and managed a co-working space.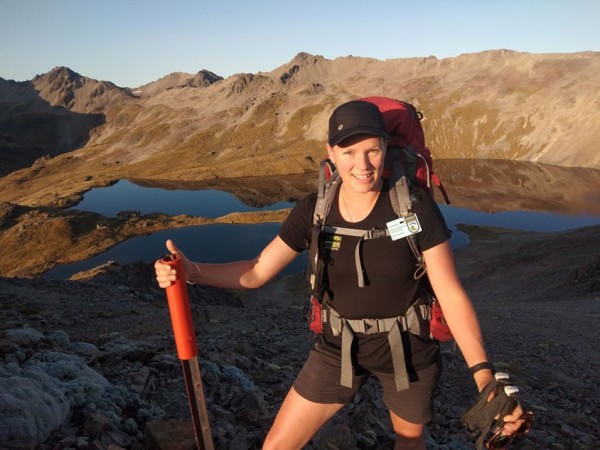 Testimonials
"I really loved Clare; she was relentlessly upbeat without being even a slight bit obnoxious. She was fun to be around and yet so organized and on top of logistics that I felt I could fully relax and trust that the guides were handling everything. I had one particularly difficult hiking day where I came down with a migraine and still had to hike 8 miles (Nelson Lakes day 1). Clare was at the back with me and was so encouraging, so patient, so helpful with distracting me from my pain without minimizing it, and so caring; I was incredibly grateful for her support during that hike. And as soon as we got to the hut, she made sure that I had what I needed to recover. I knew the guides would be good, but the Active guides truly impressed me, through and through. Clare was also great at managing the group dynamics and making a connection with each client individually in a way that felt very genuine. I cannot imagine my trip without her!"
- J. Martin (New York, New York, United States), Rimu November 2019
"Clare's energy and enthusiasm are off-the-charts. Also, her knowledge of the South Island is extensive - from flora and fauna to Mauri legends to small towns to place names and the details of each hike. She's s a TRUE professional, and I am very grateful to have been on a trip with her at the helm. "
- D. Danish (Washington, DC, United States), Rimu January 2020