Canada Guide
Randi grew up in a small city just outside the capital of Alberta, Canada (Edmonton).
Throughout their early life they went camping with their family and dreamed of adventures in the high places of the world. They moved to Calgary in 2014 to complete a bachelor's of Fine Art from ACAD. From there they jumped straight into the degree that led them to their guiding career. Randi earned a bachelor's of health and physical education majoring in the Ecotourism and Outdoor Leadership or 'ETOL' program in 2019.
Now they work year-round as an interpretive hiking and adventure tour guide largely in and around the Bow Valley and Kananaskis country of Alberta. When not sharing a passion for the outdoors with their guests, you can find Randi biking, hiking, kayaking, reading in a hammock set up along the river or wandering the forest looking for cool things to photograph. They also enjoy cross-country and downhill skiing in the winter months.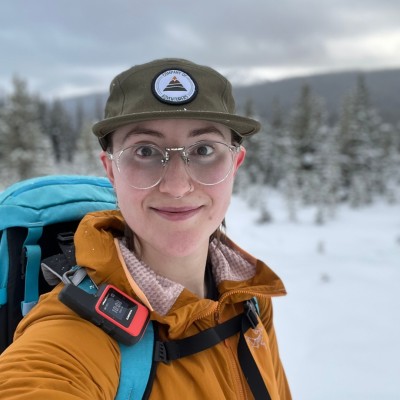 What's your favorite travel destination?
I want to see the rest of my own country more before traveling internationally! Canada has so many amazing gems in such a vast space. But if I had to choose, New Zealand is top of my list right now.
What's your favorite hike & bike ride?
I love the Moraine Lake area, but Kananaskis country is still a local's playground that I could spend a lifetime exploring. I love biking along the extensive pathway system in Calgary.
What's your greatest outdoor adventure?
Driving up to the Yukon and backpacking in Tombstone Territorial Park for 8 days. That or an expedition in the Purcell mountains for 10 days navigating the remote wilderness environment and traversing high mountain passes on glaciers and over huge Moraine fields!
When did you first catch the travel bug?
In 2019 on a field school trip to Norway which was my first international adventure on my own.
What are your hobbies?
Reading in my hammock along the river, backpacking, kayaking and hiking.
Any special talent?
I can touch my tongue to the tip of nose!
Favorite quote?
"Comparison is the thief of joy"