Zacarias
Peru & Patagonia Guide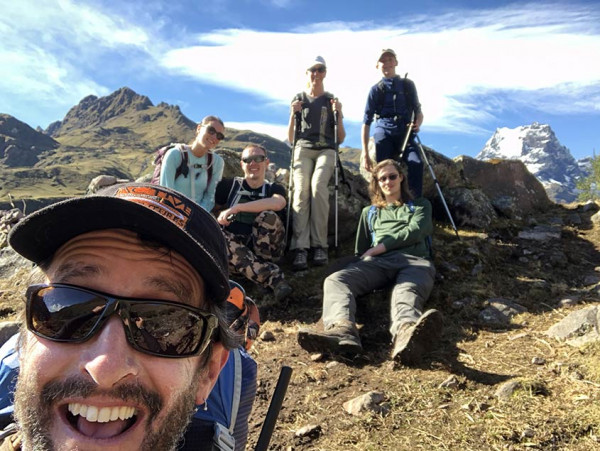 Zacarías was born in Cusco, Peru, in one of the most beautiful neighborhoods of the city called San Blás. When he was very young he moved with his father to the Sacred Valley of the Incas. His father was one of the pioneers of touristic activities in Cusco, such as trekking, kayaking, and river rafting in Peru. There he lived his entire childhood, surrounded by farm fields, the Urubamba River, and many friends with whom he always had a good time playing outdoors, surrounded by Mother Nature. This lifestyle made him decide to study a career in tourism, in parallel with his work as a river rafting guide. Zac has been working in tourism and as a nature guide for more than 20 years, both in Peru and also in other countries such as Bolivia, Ecuador, Chile, and Argentina. He always tries to convey his passion for what he does to visitors, so that it is an unforgettable experience!
Zac lives with his wife in Cusco who is also involved in adventure travel, operating hiking trips on the Lares Trek. They have five children and their love and passion for exploring Peru is infectious!
Zac's favorite travel destinations
Norway, Columbia, and New Zealand.
Zac's favorite adventure activity
Mountain biking, trekking, camping, river rafting, and kayaking.
Most inspiring adventure experience?
As a 9-year-old, Zac went on a trip in the Ocobamba Valley with his Dad, sister, and friends. The 3-day trek turned into 8-days, as the original route was blocked by a landslide. What an adventure camping in the jungle, finding places to shelter, and foraging for food! Zac and his family often talk about that memorable adventure that greatly marked his life.
Zac's favorite Active Adventures trip?
"I really love Northern Patagonia, especially the hike to the base of Lanin Volcano. The reason is because you usually don't see other people around and the landscape is full of Araucaria trees!"
What's top of Zac's Travel Wishlist?
Cambodia, Mexico, Costa Rica, and more parts of Europe.
What else does Zac like to do?
Photography, bird-watching, and jewelry making (a skill his Dad passed on to him and his sister)
Testimonials
"Zac was such a great Trip Leader - I am so glad we had him! He was very personable and always ensured everyone in the group was safe and doing well. It was really great to get to know Zac over the course of the trip. I really appreciated how knowledgeable Zac was of the history of Peru, our surroundings, the Incas and being able to translate in Spanish for us. "
- Alain V. (Bathurst, New Brunswick, Canada), Jaguar October 2018
"Zac is the best guide we have had through Active and we have had wonderful guides. The people are what make these tours memorable. Zac managed to cross the generations of our small group where ages ranged from 26 - 68 and created an atmosphere that was conducive to drawing people together. He was my highlight."
- Derek S. (Altamonte Springs, Florida, United States), Condor November 2017
"Zac was amazing, he went out of his way to give us the best tour ever! Such a lovely, friendly and knowledgeable guy!"
- Liz G. (Bassendean, Western Australia, Australia), Iguana September 2016