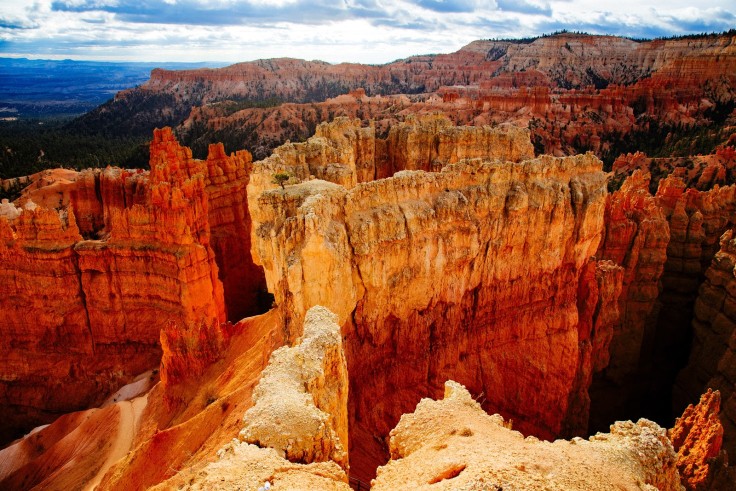 Best Time to Visit Bryce Canyon
If you're thinking of visiting Bryce Canyon National Park—or any other major National Park, for that matter—there's a lot to know to ensure you have a successful, stress-free trip.
One of the biggest questions we see is this one: When is the best time to visit Bryce Canyon? For our money, it's summer.
Austin Adventures offers a number of experience packages for adult couples, groups, or families in historic Bryce Canyon National Park throughout the summer months.
The Bryce National Park experiences tend to be moderately hiking intensive, ensuring ample time and vantages to take in the majestic naturescape. The six-day family adventure begins with you being picked up at your hotel in Las Vegas.
In recent years, Sin City has developed a wholesome side to rival Epcot, so why not plan a little Vegas exploration before you jump into your canyon adventure?
One of the reasons that makes summer the best time to visit Bryce Canyon is that the weather is ideal. It's bright and sunny during the day, and it's perfectly comfortable at night, and rain is much less likely. That also means you're able to get out in the evenings and enjoy the endless clear sky. Get out under the stars among the hoodoos, and explain to your little ones the difference between hoodoo and voodoo.
What are hoodoos?
While they may cast a witchy shadow as the sun goes down, hoodoos are really just amazing ancient rock formations rooted in the basin of the canyon. They're known as hoodoos because of their amazing shape, which sometimes resembles a tall, spindly person with a hat perched on top. Not only are there hoodoos, but Bryce Canyon boasts the largest concentration of hoodoos in one spot! Truly hoodootastic!
During your time in Bryce Canyon National Park, out on the grasslands and taking in some of the least light-polluted skies in the world, your curiosity is sure to be peaked. That's why it's so useful to have a trusty Austin Adventures guide close by. Austin Adventures boasts a number of well-trained, inquisitive, enthusiastic guides, who all have an adventurous spirit and love of nature at heart!
Whether you are transfixed by the beauty of the solar system, or you're curious to know more about the majestic, grazing antelope, your Austin Adventures guide is sure to have some fantastic facts on hand.
Bryce Canyon Accommodations in the Summer
Accommodations located throughout the park are historic, cozy, and almost as beautiful and inviting as the terrain, but there's a catch: they sell out, and fast. In fact, National Park officials strongly recommend that visitors book lodging in Bryce Canyon a full year in advance.
Planning poorly and ending up staying far outside the park takes a ton of fun out of the experience and comes with its own set of new challenges (finding parking, for example.) Needless to say, this is even more important for those coming in the summer, since it's the best time to visit Bryce Canyon. The crowds are summer's major drawback—but they don't apply to us.
Adventure companies like Austin Adventures have lodging arranged well in advance, regardless of when you might book your tour. As long as there's room on our trip, accommodations are lined up, leaving guests free to enjoy a stress-free experience.
Our guests stay in one of the Grand Western Lodges designed by the National Park Service in the 1920s. With an old West meets art deco vibe, you're sure to feel transported to a simpler time, but that doesn't mean you'll be roughing it in terms of comfort or vittles. The dining on this trip is some of the best in Western cuisine.
Luxury Amenities
The Lodge at Bryce Canyon is one of the only lodges from the 1920s of its kind still largely intact. With breathtaking views from every window, and unique suites and cabin spaces, the Lodge offers the perfect balance of luxury and natural appeal. You'll also be spending time at the Bryce Best Western Grand Hotel, with its state-of-the-art pool, hot tub, and private and shared patio areas. Not to mention, the food is delectable and top-of-the-line.
The History of Bryce Canyon
Although little is known about the original dwellers of the land that is now known as Bryce Canyon National Park, there's evidence of human habitation reaching back as far as 10,000 years ago, including evidence of Pueblo basketmakers.
The first European settlers showed up around the mid-1850s, and the park is named after one of these settlers, Mormon carpenter Ebenezer Bryce, who came to the land with his pioneer wife, Mary.
Apparently, the rugged Utah terrain proved a challenge for early settlers, but as geological advancements were made, scientists in the 1870s became fascinated with the area that would become known as Bryce National Park, inspired by the incredible remnants of prehistoric times. Soon, permanent settlers such as the Bryces followed, and the rest is history!
In the 1910s, the public finally became aware of the great treasures of the park through the efforts of J.W. Humphrey, a U.S. Forest Service supervisor who, upon arriving on appointment at the park, was first led to Paunsaugunt Plateau, and was completely blown away by what he saw.
According to the National Park Service website, this is what dear old J.W. had to say about it: "You can perhaps imagine my surprise at the indescribable beauty that greeted us, and it was sundown before I could be dragged from the canyon view. You may be sure that I went back the next morning to see the canyon once more, and to plan in my mind how this attraction could be made accessible to the public." J.W. quickly got to work making the park accessible to automobiles and establishing the lodge and other amenities, including an open-air dance floor, to make the park appealing to tourists.
It is because of the efforts of J.W. Humphrey, and the great National Park Service's history of conservation, that you are able to enjoy the majestic view off of Paunsaugunt Plateau just as J.W. Humphrey first encountered it one hundred years ago.
Wildlife in Bryce Canyon
Bryce National Canyon Park, and Utah in general, is home to an amazing array of wildlife, including prairie dogs and mountain lions. Bird lovers rejoice: The annual Christmas bird count, which happens every December 21st, is a Bryce National Canyon Christmas Tradition.
Spring and Summer are the best times to see the maximum amount of wildlife. Of course, many species give birth in Spring, and by late Spring or early Summer those babies are getting out and about.
Longer daylight hours further increase the likelihood that you'll see some of the park's indigenous wildlife. Here are just a few facts about some of the amazing wildlife that calls the canyon home:
The Utah Prairie Dog is neither a prairie or a dog. It's actually five different species of some of the cutest burrowing rodents you've ever seen. These little critters are incredibly social and live together in colonies, or "coteries," as they're called. Get this: these coteries are matriarchal, and they form around a group of female prairie dogs, or a harem. It's thought that they tend to live communally to protect themselves from predators. Be on the lookout for Utah Prairie Dogs on warm, sunny Summer mornings!
Bryce Canyon National Park is one home for the largest member of the cat family known to North America, also known as the cougar, puma, yellow cat—and our personal favorite, catamount. A sighting of this majestic animal is rare but sometimes occurs along roadways. Human activity has encouraged the mountain lion to retreat to the most rugged of terrain, and due to astonishingly unregulated hunting since the early 1900s, Mountain Lions are actually very few in number today. They are known for their keen eyesight and can weigh up to 276 pounds, although the average catamount is a lithe 75.
So what is it about Bryce?
Bryce Canyon is one of the most impressive parks in the American West, and those wanting a taste of desert country will adore it every bit as much as we do.
Do your homework, make reservations early, and prepare well. Or, better yet, let us do it for you. Our signature brand of thoughtful service ensures our guests never have to worry about anything other than experiencing an unforgettable journey into the Utah wilderness.
The best time to visit Bryce Canyon isn't just the Summer—it's this Summer. Make this year the one you take the leap and go for a big adventure. Join us this year, and make your Summer vacation one for the books.