So, when is the best time to visit Zion National Park?
Zion National Park is undeniably an essential destination to visit if you ever happen to find yourself in Utah; with gorgeous rock formations, sheer cliffsides, and lush valleys, Zion is sure to amaze even the most seasoned adventurers.
The best time to Visit Zion national park depends on your group interest and season. Let's explore that!
If you're seeking an adrenaline-filled Utah Family Vacation with just the right brew of mystery, physical exertion, and unforgettable memories, touring Zion with Austin Adventures will never fail to deliver to your hearts every desire, no matter the season.
When exploring one of Utah's most breathtaking national parks during the spring and summer months, some prefer to take their journey by car in order to cover more ground in a shorter time period. Even from the safety of a motor vehicle, Zion in summer offers majesty beyond compare and stories aching to be told.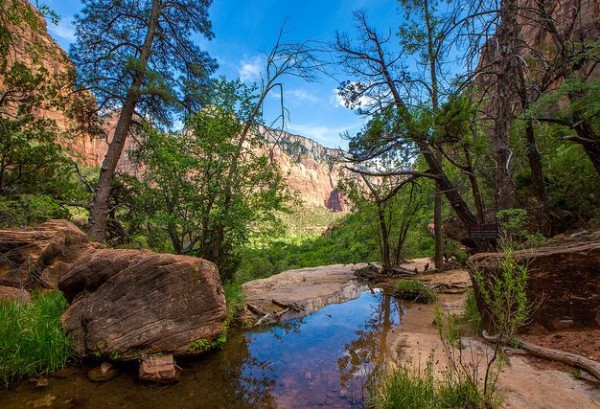 Take, for example, the Zion Canyon Scenic Drive, a local favorite frequented by shuttle buses and family caravans alike. The feature attraction of this route is a stunning overlook of Angels Landing, one of the most popular hiking trails and views in all of Zion.
For those travelers seeking a less populated route, the Zion-Mount Carmel Highway is an excellent alternative. This winding road hugs sheer cliff walls of the canyons and often travels through cooler areas of the park (ideal for those wanting a day of fun without the sweat).
Featured along this route are alluring views, a comprehensive perspective of the canyon from the southern entrance to the eastern exit, and most of all, access to the famed Canyon Overlook Trail.
For those seeking a more active way to explore the inherent attraction of Zion in the cooler months of fall and winter, you will not be left wanting when it comes to hiking trails tailored for every ability level.
For families with children or those seeking a more relaxed adventure, the Emerald Pools trails offer water attractions, shaded walking paths, and excellent opportunities for picnicking and daytime activities; choose between the lower, middle, and upper pools dependent on your groups resolve and energy levels.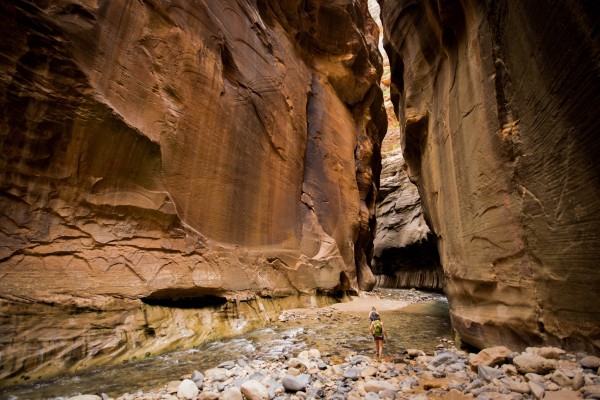 For those seeking a mid-grade workout, the famed Narrows trails provide a perfect amalgamation of adrenaline and tranquil scenery. Bear witness to the historic Temple of Sinawava along Zion's Riverside Walk, and marvel at just how unique Utah truly is as you admire red rocks topped with snow.
Lastly, for those seeking a tried and true Utah challenge, Angel's Landing awaits. Begin your adventure in the Grotto, where you and yours can enjoy a picnic before departing on your exploit by climbing to Refrigerator Canyon (aptly named for its cool atmosphere).
Dare to ascend a set of switchbacks named Walter's Wiggles to picturesque Scout Lookout, which is an ideal place to take a hiatus before the summit. As you reach the lookout point, you'll be able to observe the final challenge which compels you to the top of Angel's Landing; a metal grip chain bolted into the side of the hogs back, allowing for a sense of security as you overlook the sheer drop to Zion's peaceful valleys.
While you may believe you'd be hard-pressed to find a better Utah experience than Zion National Park, Austin Adventures is here to challenge that idea.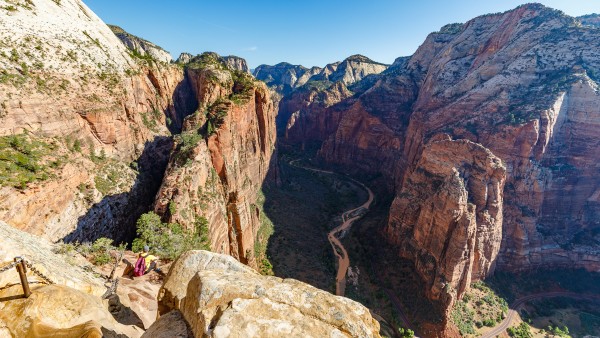 Guests are offered the option to embark on our "Mighty 5" tour, which covers not only Zion, but four other national parks: Bryce Canyon, Capitol Reef, Arches, and Canyonlands.
Explore these five agrarian marvels extensively during this 8-day, 7-night excursion accompanied by the best guides in the business. With the "Mighty 5" tour, guests are not only guaranteed insider views of Utah's premier national parks but Austin Adventure's signature "WOW" factor!
Experience the most comprehensive tour of Utah's voluminous national parks that Austin Adventures has to offer: the "Mighty 5".