This Austin Adventures blog post was written by one of our former guests.
When you start to think about where you'd like to spend your vacation next summer, you might want to consider Bryce and Zion National Parks in Utah.
I've lived in the west for the last 20 years, I'm an avid hiker, and I just visited this area for the first time on my own Utah Vacation. I have to be honest...
I thought both parks would be about the same.... a lot of sandstone with very little diversity of scenery, fauna or flora. Wow! Was I wrong?
The two parks are very different from one another and, on the Austin Adventures trip, you also get to see the Valley of Fire State Park, Snow Canyon State Park, Cedar Breaks National Monument and Dixie National Forest, as well.
The trip was fabulous from start to finish; great food, energetic guides, unique vistas, the right balance of activity and downtime, and exhilarating bike rides, but what outshone everything else for me was the hiking.
On the first day, we warmed up with a short, mile-long hike through the Valley of Fire State Park. Ancient mysterious petroglyphs along the trail make you feel as though you've been transported back in time. Plus, it's an easy hike, with no elevation changes, which is a great way to ease yourself into a week of activity.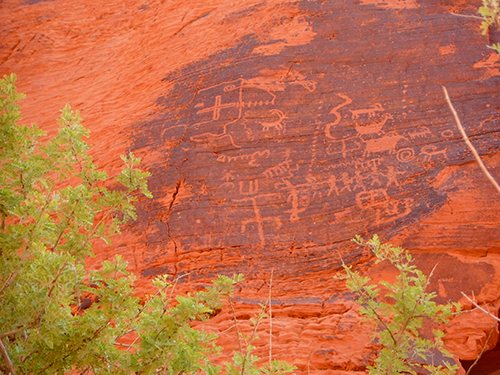 On the second day, we hiked two fairly easy trails, the Timber Creek trail in Zion and the Cedar Breaks trail in the Dixie National Forest. Both hikes are only about two miles each but offer stunning views and a wonderful introduction to what's to come.
The Timber Creek trail has a bit of elevation gain, but would still be considered an easy hike. The trail offers breathtaking views of Kolob Canyon. Kolob reminded me of a scene from "The Lord of the Rings" with sheer rock faces along a stunning canyon. Lush vegetation clings to hanging valleys, which interrupt the sandstone walls of the canyon.
The Zion Hiking Trail
The Cedar Breaks trail in the Dixie National Forest is completely different. The flat trail is at about 10,000ft above sea level. Since I was there in July, wildflowers blanketed the ground on either side of the narrow footpath. Here we got our first look at hoodoos.
The next day we took it up a notch. Bryce Canyon is almost indescribable. We've all seen pictures of Bryce's famous hoodoos and red and orange sandstone walls. But until you've walked through Peek-a-Boo Canyon and Queen's Garden, you'll never really be able to grasp what this place is like. It is a somewhat strenuous hike; with a few steep elevation gains/losses in the form of switchbacks, totalling about 8 miles in length.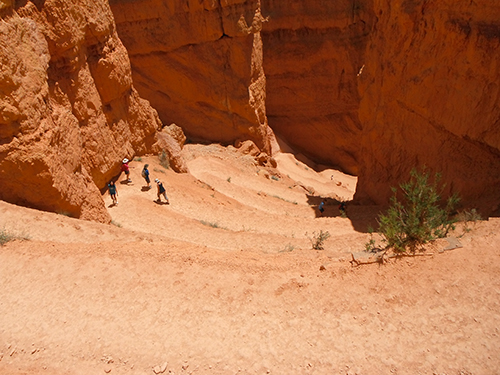 The hike on the afternoon of the fourth day of our trip was like nothing I had ever experienced before. This strenuous four-mile hike up through a narrow canyon in Zion National Park; takes you to the base of the famous Angel's Landing hike.
Only a couple of people in our group actually chose to hike the last mile of the trail; a narrow fin of rock with chains for support. But, the rest of us were deeply impacted by the views even without hiking the last bit of the trail.
The last full day of our adventure was spent in the Narrows of Zion National Park, hiking through steep-walled canyons following the Virgin River upstream. Austin Adventures provides water boots and a walking stick, the canyon provides mind-blowing scenery. This hike lasts most of the day and is about 10 miles round trip.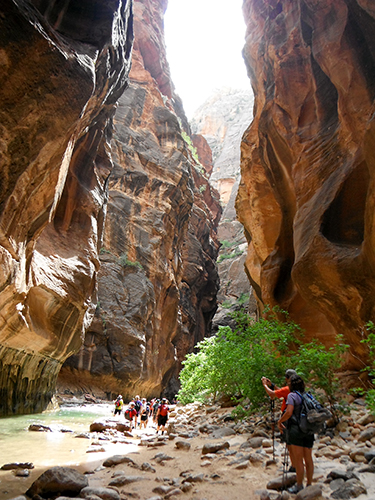 I can't wait to visit this unique and beautiful area again. In my mind, the only negativity that I waited so long to go in the first place!