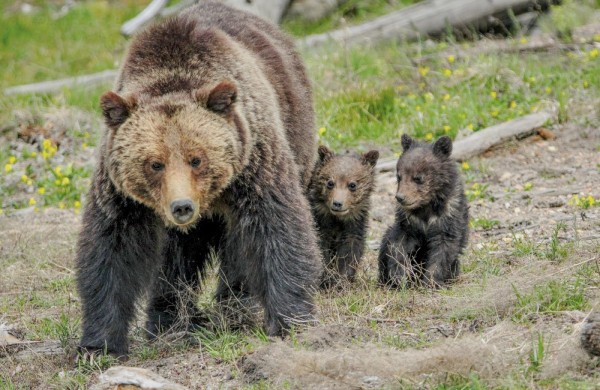 Yellowstone Photography Guide
Our world's first national park—perhaps best known for its geothermal features, abundant wildlife, and postcard-perfect landscapes—is also a photographer's playground.
Whether you're an amateur iPhone user trying to snap your best geyser photo for Instagram or you're a professional photographer shooting wildlife with the highest quality DSLR camera, you've got to know where the places to go for the best Yellowstone photography.
Read on for a local's opinion of the 9 best locations in Yellowstone National Park for nabbing those iconic photos on your Yellowstone Tours, as well as some tips for where, when, and how to nail the colors, timing, and features of this one-of-a-kind place.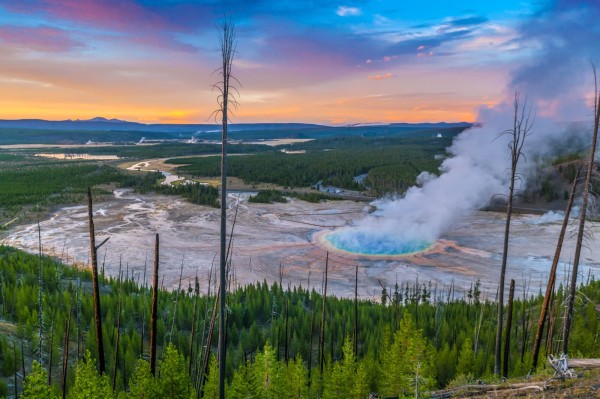 1) Grand Prismatic Overlook
Tip: Get above the steam
When most people visit Grand Prismatic, they head straight to the boardwalk that brings them up close and personal to the world's third largest, fantastically colorful hot spring.
What they don't realize is that they're going to see some color close up and a whole lot of steam! Drive to the parking area about a mile west and hike a half mile to the newly constructed Grand Prismatic Overlook. Once there, you'll understand the scope of this enormous hot spring and ooh and ahh over the pretty colors, as they can only be seen from above! The latter makes this one of the best locations to photograph in Yellowstone.
Visit Yellowstone National Park!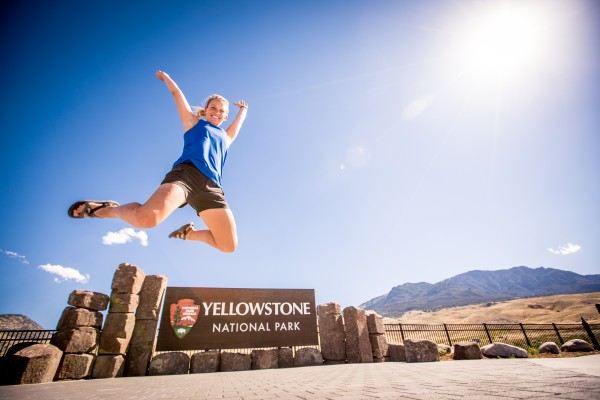 2) Yellowstone Sign
Tip: Head north to Gardiner
There are five entrances to our world's first national park, which means there are also five opportunities to get a classic photo of your group taken with the "Yellowstone National Park" sign. Each one has a different natural backdrop, but four out of the five signs basically feature the classic lodgepole pine trees of Yellowstone as your framework.
If you want a sign setting that will wow your socks off, head up to the North Entrance where you'll find wide-open prairie land with the Gallatin Mountains as a background for your epic Yellowstone sign photo. And bonus – there are actually two signs at Yellowstone's original entrance which gives you double the photo opportunity.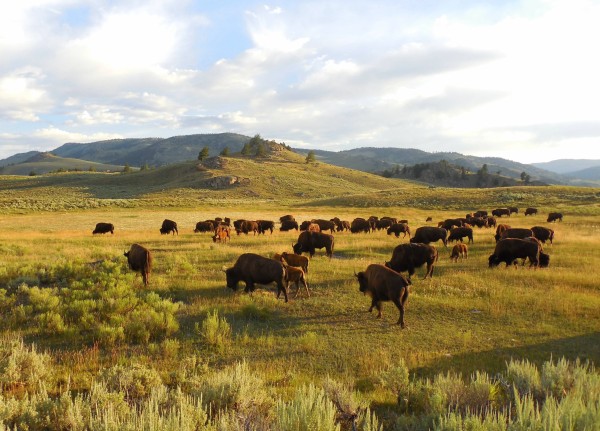 3) Lamar Valley
Tip: Do it for the wildlife
When many people think of Yellowstone, they imagine the plethora of wildlife they're bound to see upon immediately setting foot in the park. And sure, I've had my good days where I spot an animal around every corner, but most of the time, you've got to know where to look for bears, wolves, elk, bison, bighorn sheep, and the like!
Lamar Valley is North America's Serengeti and chances are a drive through this beautiful sagebrush-speckled valley will yield a wildlife sighting or two if you have a watchful eye. Just remember, when snagging wildlife photos, you have to stay 100 yards away from bears and wolves, and 25 yards away from all other animals. That means you're probably going to want to bring along a camera with zoom capabilities or a telephoto lens!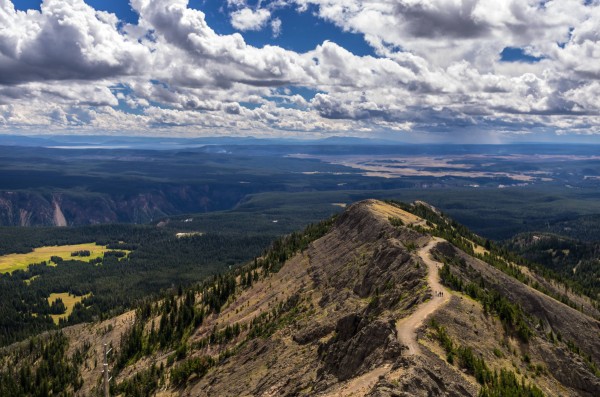 4) Mount Washburn
Tip: Drive up the north side in July to experience flower power
Right around America's birthday every year is one of my favorite times to bask in the sights and scents of the north side of Mount Washburn. Around this time, little mountain sunflowers burst into bloom, painting the entire hillside a brilliant yellow. Patches of pink sticky geranium and purple lupine peak out among the sunflowers providing a color palette perfect for any wildflower photographer, making this one of the best locations to photograph in Yellowstone!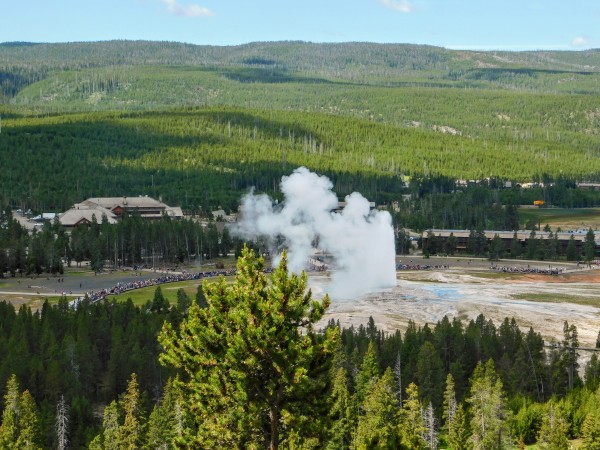 5) Old Faithful
Tip: Escape the crowds at Observation Point
Ninety-nine percent of Old Faithful viewers snap their classic geyser eruption photos from the boardwalk's bleachers directly surrounding the geyser. That's great—if you want to be surrounded by thousands of your new closest friends while experiencing one of earth's most amazing phenomena. If you want to shake the crowds and view Old Faithful from a different perspective, head up the nearby Observation Point trail for a chance to capture Old Faithful from 200 feet above the boardwalks, with a wide angle lens. Just remember to give yourself extra time to trek up the mile-long trail at 7,300+ feet elevation. You don't want to spend all your time sweating your way up this trail only to miss the main spectacle! You can check the timing of Old Faithful's eruptions at the Visitor Center before your hike or by downloading the "GeyserTimes" app on your iPhone.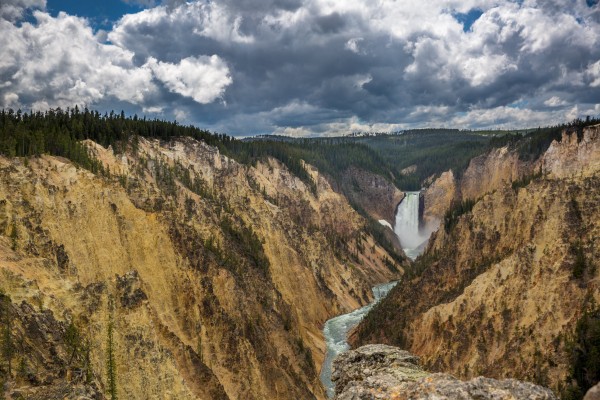 6) Artist Point
Tip: Snap the classic view of the Lower Falls from aptly named "Artist Point"
Inspiration Point, Red Rock Point, Lookout Point, Uncle Tom's Trail, Artist Point: these lookouts all serve as breathtaking viewpoints for the crème de la crème of the park: the Lower Falls of the Yellowstone River.
This iconic waterfall majestically thunders over a 308-foot drop into a canyon so mesmerizing in color, you have to see it in person to believe its spellbinding beauty. Our favorite of the viewpoints, Artist Point, located on the Grand Canyon's South Rim, places you in a direct line of sight of the Lower Falls from a distance away so you not only capture the falls themselves but also the beautiful canyon walls.
We recommend visiting early to mid-morning when the sunrise behind you lights up the falls before you.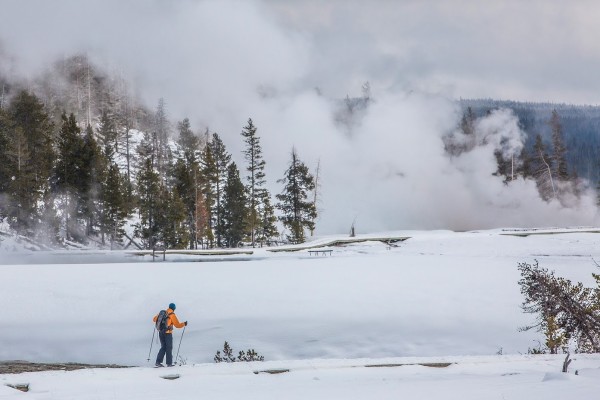 7) Upper Geyser Basin
Tip: Visit the famed home of Old Faithful geyser mid-winter
There's no question about it: Upper Geyser Basin is a zoo in the months of July and August (don't worry – we still love you, Yellowstone!) Want to visit the home of Old Faithful without the crowds? Check out this stunning geyser basin mid-winter. Yes, there is snow. Yes, it's cold. Yes, it's tough to get to. But is it worth it? You better believe it!
The Upper Geyser Basin during the winter is accessed by snowcoach or snowmobile, so you need to plan ahead to arrange your transportation since you won't be able to drive your car to the parking lot. Upon arrival to the Old Faithful Snow Lodge, you can strap on cross country skis for a zip around the snowy woods, rent snowshoes for a walk about the deserted boardwalks, or ogle over the colorful, bubbling hot springs and steamy, shooting geysers – a photographer's paradise!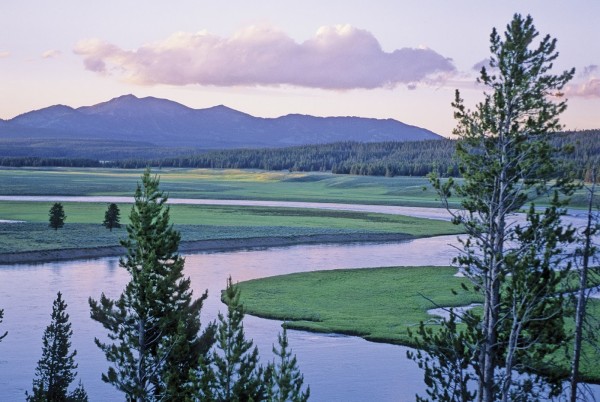 8) Hayden Valley
Tip: Wake early and visit at sunrise
This centrally located valley features rolling, sagebrush-dotted hills, the lazily winding Yellowstone River, and the possibility to see wildlife…lots of wildlife! Arriving to Hayden Valley at dawn not only provides stellar photo opportunities of golden sunrises lighting up gently sloping hillsides, but also an even better chance to spot animals like bears and wolves that are most active in the cooler mornings.
Bison roam the area regularly and are often spotted on or near the road (if they're on the road, you'll soon find out how quickly traffic comes to a standstill in a "bison jam"). If you're keen to snap photos of waterfowl, you'll likely see ducks, Canada geese, pelicans, and sometimes swans swimming or lounging near the Yellowstone River. With plenty of roadside turnouts throughout the valley, you're bound to find countless locations for perfect photos!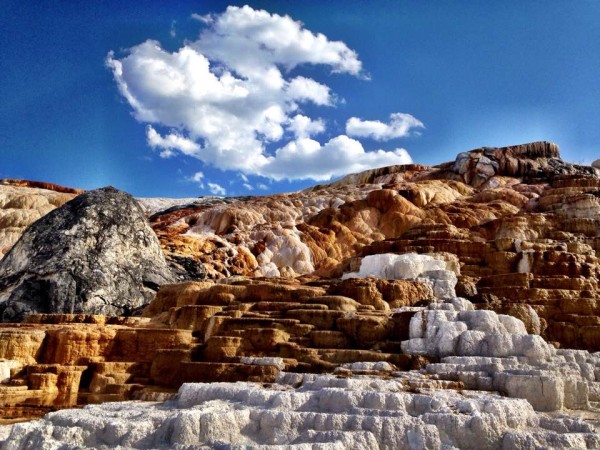 9) Mammoth Hot Springs
Tip: The dead trees and stark colors provide nice contrast
Compared to other geothermal areas in the park, Mammoth Hot Springs is quite unique! Unlike other sections of Yellowstone that are primarily composed of a volcanic rock called rhyolite, the Mammoth area has retained its ancient deposits of limestone, which were left behind by a prehistoric inland ocean that once covered the region. After undergoing a chemical reaction, the limestone is eventually re-deposited as a material called travertine.
The slope of the hillside plays a major role in creating the unique shapes of the terraces, and microorganisms growing in the hot water create the beautiful colors you'll practically be salivating over to photograph. In the areas where the travertine has taken over once thriving forests, you'll find dead, rust-colored trees that stand out starkly against the terraces and the sky behind, which is sure to make for some interesting photographs. For a different look at this kaleidoscope of color, consider capitalizing on the vibrant contrast in the landscape and shooting in black and white.
Yellowstone Photography
Yellowstone's beauty, wildness, and grandeur are sure to inspire any photographer. The above list will launch you on your photographic journey of Yellowstone, but make sure to be tuned into the countless photo ops that exist around each bend in the road, curve in the trail, or turn on the boardwalk. There's a reason this magnificent place was preserved as our world's first national park, and that's because it holds so many special spots you just have to get out there to discover. Bring a camera, a keen eye, and a sense of adventure and you're sure to capture this incredible park and its unique essence.
Is there a best time to visit Yellowstone for photography? It depends on what you'd like to photograph. Usually, the off-season has less crowds. Imagine being able to photograph Old Faithful and not have too many people in your way. Or, what would Grand Prismatic Spring look like in the early morning light glistening off snow? Want to photograph wildlife? Mid-summer may be hard but October and May might just be perfect for you. Give us a call and our Yellowstone Expert guides can help you decide.