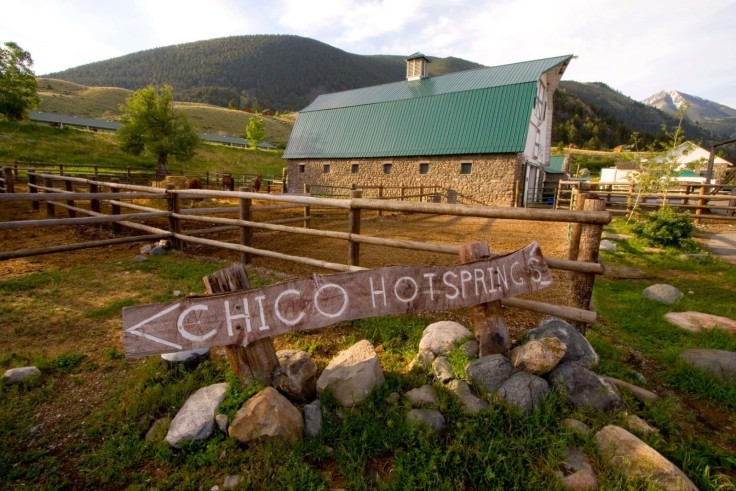 The delicious food hub, Chico Hot Springs resort restaurant.
Bring the taste of Yellowstone home with you with this flavorful dish from our friends at the Chico Hot Springs Resort Restaurant.
One of the best parts of traveling is getting to sample a new cuisine. And nothing beats a great meal after a long day of adventures. At Austin Adventures, we take great pride in the food served to our guests. The renowned Chico Hot Springs Dining Room is the perfect example of rustic, yet delicious food. They are well-known in Montana and beyond for their dishes like Pine Nut Crusted Halibut with Mango Salsa (a guest favorite.) If you've been on our Yellowstone / Paradise Valley Vacation, now is your chance to bring the flavor of the west home with you. Bon Appétit!
Directions:
Pine nut crust 2 cups pine nuts 1 cup breadcrumbs 1 teaspoon salt 1/3 cup parsley Halibut 1 teaspoon olive oil 1 cup buttermilk 1 cup flour 4 6-ounce Pacific halibut fillets Mango salsa 1 mango, peeled, seeded, and diced 1 small red onion, diced 1 red bell pepper, diced 1 bunch chopped chives 3 tablespoons raspberry vinegar 2 tablespoons honey 2 tablespoons chopped cilantro Yield: 2 cups Port wine butter 2 cups port wine 1 cup whipping cream 8 tablespoons (1 stick) butter
Preparation:
Pine nut crust: In a food processor, add all ingredients, pulse until nuts are diced, but not too fine. Remove and set aside. Mango salsa: Mix all ingredients together.
Set aside, or refrigerate. Halibut: Preheat oven to 400 degrees F. Place buttermilk, flour, and pine nut mixture in separate bowls and arrange in a row on the counter. Dip fillets on one side only in flour, buttermilk, then add pine nuts.
On the stove heat a pan with a touch of olive oil (about 1 teaspoon) and with crust-side down, sauté the fish until nuts are golden brown. Place the sauteed fish on a greased baking dish, encrusted side down, and bake in the oven for 10 minutes.
Port Wine Butter: This sauce cannot be reheated or chilled, so prepare it just before the main course is in the oven. Reduce port over medium heat until it forms a syrup, about 20 minutes. When it coats a metal spoon, it is ready. Add cream, reduce until thick. Remove from heat and add butter, stirring constantly until melted and smooth.
Turn heat down to low and use promptly. Presentation: Serve halibut on a pool of sauce topped with fresh mango salsa
Serves 4.