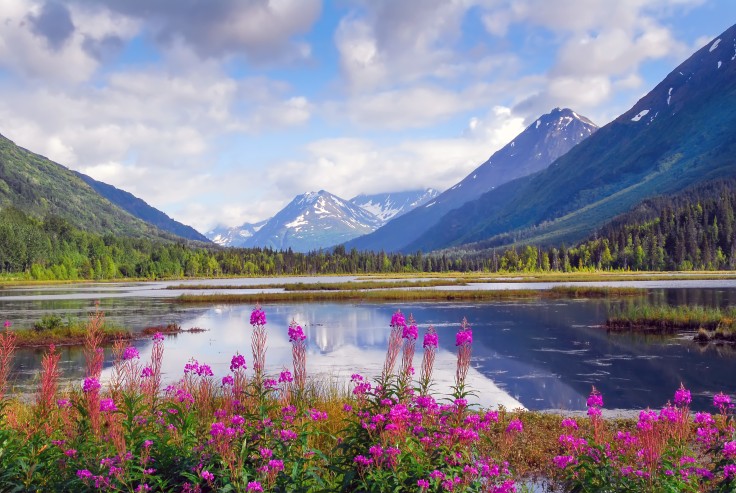 While we believe the best time of year to visit Alaska is during summer, there are upsides to visiting in every season. Each season alters the landscape and the scenery; you could return to Alaska every few months and have an entirely different experience each season.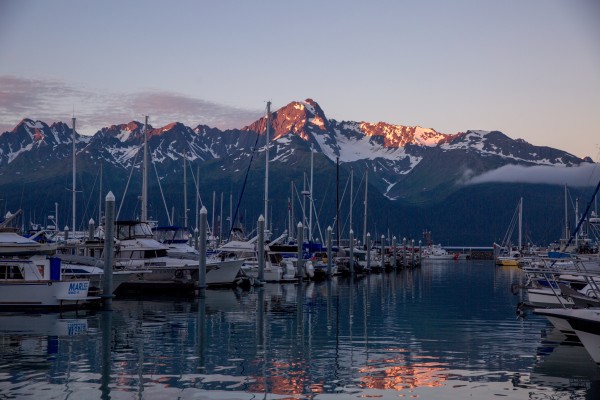 Visiting Alaska In The Spring
Visiting Alaska in the spring is a popular choice for many travellers. While the beginning of the season (March-April) may still be very cold, the weather begins to warm slightly in May as it merges into spring. The temperatures generally sit at around 50-60°F.
A scenic flight is an amazing experience and one of the best things to do in Alaska in spring. You can still see plenty of snow on the tops of the mountains but the days are getting longer and the colors of the landscape more vibrant. May is Alaska's driest month, so if you're considering booking in a scenic flight, you have a good chance of enjoying clear skies!
Visiting Alaska In The Summer
Summer is the best time of year to visit Alaska if you want to truly make the most of your experience. The temperatures are mild, with daily highs of around 63°F and sometimes reaching the 70s. The days are long too; in the Kenai Peninsula—where we host our Kenai Fjords National Park tours—you have an incredible 19 hours of sunlight to enjoy on June 21—Alaska's longest day—before the sun sets not long before midnight. There's always a chance of rain over summer, so make sure you pack some waterproof gear!
There are many things to do in Alaska in the summer. Go whale-watching, go kayaking in Resurrection Bay or hike along the famous Exit Glacier and Harding Ice Field. You can glide through the sky on the world's longest zipline at Icy Strait Point or explore an ice cave. Whatever your idea of fun, you'll find great activities all over Alaska during the summer months.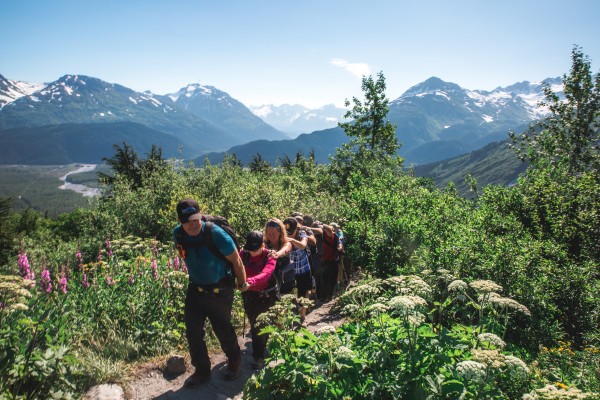 Visiting Alaska In The Fall
Temperatures drop by about 5-10°F during fall, and early fall (September) is still a good time to visit Alaska as the days remain long but the summer rush has eased. We recommend continuing to explore the outdoors while you can – but be prepared for the chance of snow in late fall!
So what are the best activities in Alaska in fall? Why not take a bike ride along thundering waterfalls on the incredible Johnson Trail or marvel at the glorious fall colors on the scenic train ride from Anchorage aboard the famous Alaska Railroad (both included in our Alaska holiday packages). Fish for salmon in one of the many rivers or lakes, take a glacier cruise and see glimpses of the stunning Aurora borealis in Interior and Arctic Alaska.
Visiting Alaska In The Winter
Most people believe that winter is not the best time of year to visit Alaska. But if you're due for a break and Alaska has always been on your bucket list, you might just find that Alaska gives you one of your best holidays yet! The weather in Alaska in winter is cold. Temperatures vary across different parts of the state but average high temperatures in the capital of Anchorage are 5-30°F. And yes, there will be plenty of snow!
If you're the adventurous type, you'll love all the snow sports and activities on offer: dog-sledding, snowboarding, snowshoeing, skiing, ice-skating and checking out all the incredible ski resorts. You'll also have the greatest chance of viewing the aurora borealis – this is one of the most special things about visiting Alaska in the winter.


Alaska Fairs, Festivals And Events
Summer is also the best time to visit Alaska for events and celebrations. Most of Alaska's best annual events and festivals take place in the summer months when the weather is more welcoming and spirits are high.
One of Alaska's best events is the Alaska State Fair. It has been running for over 75 years now and takes place from the end of August to the beginning of September in the Mat-Su Valley, an hour north of Anchorage. You'll find carnival rides, music, entertainment, stalls, displays, food, contests and much more! If you like to experience local art and culture, the Alaska Festival of Native Arts is held in February-March each year, and the incredible World Ice Art Championship at around the same time.
Wildlife In Alaska
The wildlife is a star attraction for many visitors to Alaska—and for good reason! The best time to see visit Alaska for wildlife is from late spring through to summer. During this time you can see land-based mammals, thriving ocean life and hundreds of species of seabirds and shorebirds. Whale species are visible at different times of year: Grey whales begin arriving in April-May, Orcas in May-June, Humpbacks in June-July and Beluga whales can be seen throughout spring, summer and fall. In the summer, it's common to see brown bears fishing for salmon, seal calves along the coast and adult moose taking care of their young.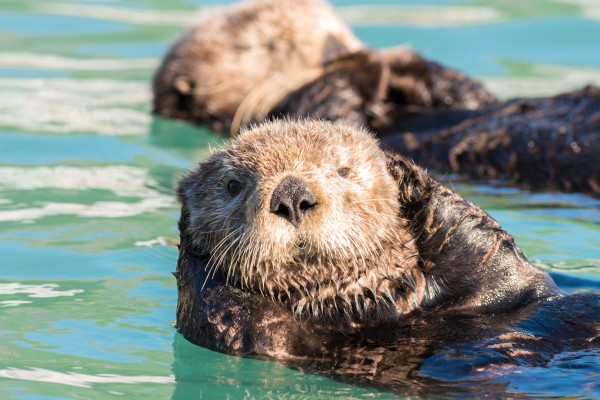 Best Places To Visit In Alaska
There are many great places to visit in the 'Land of the Midnight Sun'. Here are our top five recommendations:
– Denali – Vast national park and the highest peak in North America
– Kenai Fjord – Spectacular glaciers, wildlife, wildflowers and more
– Anchorage – Culture and connectivity to the great outdoors
– Juneau – Ancient glaciers and rich history
– Alaska Highway – The ultimate scenic road trip

Alaska Weather And Climate
The season for travel and outdoor exploration in Alaska is relatively short during the peak summer months of June, July and August, although May and September also similar weather but before and after the peak tourist months of summer. No matter when you go weather is unpredictable ranging from warm sunny days in the 70's or even 80's, to cold and rainy days in the 60's. Always expect and be prepared for cold and rainy weather, but bask in the sun in shorts and t-shirt when the sky clears as it usually does on all trips for varied amounts of time. Due to its high latitude, Alaska offers endless summer days until 11 PM providing plenty of light for hikes, kayaking, wildlife viewing, and enjoying the scenery.
Here we have broken down Alaska's high temperatures (by region) for the most popular months of travel.
Average High Temperatures (Fahrenheit)
| | | | | | | |
| --- | --- | --- | --- | --- | --- | --- |
| Region | May | June | July | August | September | Oct-Apr |
| Southeastern Alaska | 55 | 60 | 64 | 62 | 55 | 37 |
| Southcentral Alaska | 54 | 62 | 65 | 63 | 55 | 28 |
| Southwestern Alaska | 49 | 56 | 60 | 62 | 57 | 30 |
| Interior Alaska | 59 | 70 | 72 | 66 | 35 | 14 |
| Arctic Alaska | 24 | 38 | 45 | 42 | 34 | -4 |
Alaska Travel Frequently Asked Questions
What Month Is the Best Time to Visit Alaska?
The best month to visit Alaska is July. You'll have long days, warmer weather, lots of time in the outdoors and plenty of opportunities to see wildlife in its natural habitat.
What is the Best Time to Visit Alaska to See the Northern Lights?
The best time of year you can see Alaska's northern lights is in March. At this time of year, Earth's magnetic field and the solar wind are in sync making the lights most spectacular. Plus you're likely to have clear skies in the spring offering good visibility.
When is the Best time to Cruise Alaska?
Cruise season is from May-September. During this time, the weather is mild, the wildlife abundant and the scenery incredibly picturesque.
Best Time to Visit Alaska to See Whales?
The best time to visit Alaska for whale-watching is in the spring and summer – but it depends on what species of whale is on your radar! The grey whales arrive first, followed by orcas and humpbacks. Belugas can be spotted any time outside of winter.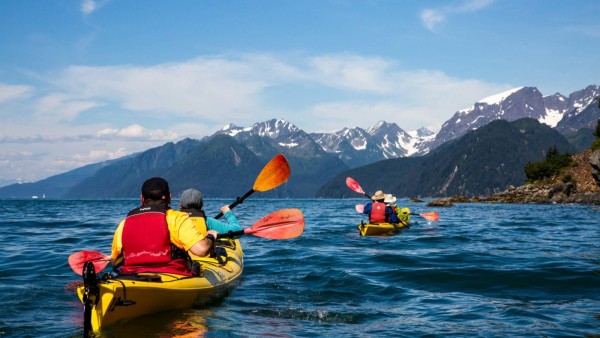 Ask The Alaska Travel Experts
Speak to an Alaska travel consultant for expert advice tailored to your needs and preferences. Experience all the fun things to do in Alaska now!