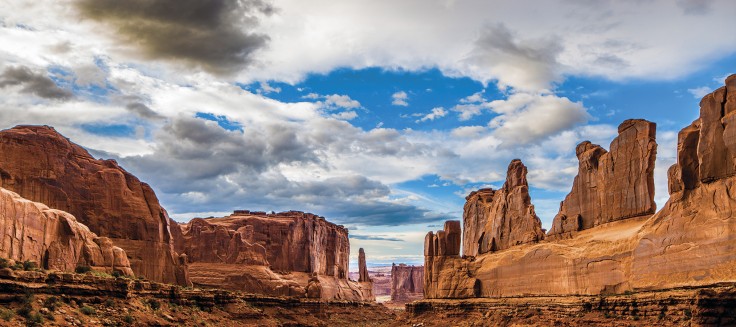 Thinking about when to visit Arches National Park?
Utah holds a title as one of America's most geographically diverse states. From Bryce Canyon to Zion to Arches, the national parks contained in the red rock state are awe-inspiring.
Arches National Park holds incredible sights; fragile sandstone arches reaching high into the sky, expansive desert valleys, and wide-open blue skies among others. However, the park drastically changes over the seasons. To get the most out of your adventure to Arches, you may be wondering what season is best to visit? Not to worry; we're here to help!
Visit Arches National Park In Spring
Arches National Park is picturesque in the spring, with temperatures ranging between 70-80 degrees Fahrenheit. The park receives a fair amount of sunshine during the long days, making sunscreen and proper headwear essential to a fun and safe Utah experience. Visitors can expect Arches to be quite crowded during the spring months. The temperate climate, gorgeous sunsets, and may family-friendly attractions will draw locals and out-of-state transplants alike to this natural wonder. On the bright side, park rangers offer free 1-mile guided day walks at this period! Overall, visit Arches National Park in spring if you don't mind crowds, want cooler temperatures, and need a bit of guided structure in your adventure. As a plus, when visiting in the spring, you'll hit on Americas National Parks Week!
Visit Arches National Park In Summer
Summer is considered by some to be one of the best times to visit Arches National Park. Although visitors should be prepared for the weather. While temperatures can be above 100 degrees Fahrenheit in the afternoon, the mornings can be quite nice.
The attractions are often less crowded due to heat, meaning a more private and serene experience in the park. Park rangers offer free guided walks in the cooler evening hours during the warmest months of the year. As well, if you visit Arches during the summer, you'll also be able to pay a visit to the Moab Music Festival! Overall, summer is the best time to visit if you don't mind the heat, want to avoid crowds, and love a good tune!
Visit Arches National Park In Fall
Fall in Arches National Park is quite reminiscent of spring; there are more massive crowds, cooler temperatures, and incredible perennial scenery. Temperatures average between 60-80 degrees Fahrenheit during the autumn months, which will allow more lengthy day explorations of the park. However, fall is one of the most popular times to visit Utah's national parks. Crowds are unavoidable during these months, and you will come into contact with many other groups and individuals. On a positive note, the Red Rocks Art Festival is occurring during this period! Overall, visit Arches National Park in fall if crowds don't bother you, you're an art buff, and you need cooler temperatures.
Visit Arches National Park In Winter
Guests overlook winter as a time to visit Arches National Park; we're here to tell you that's certainly a mistake! Arches is gorgeous in the winter; the sight of red rocks and sandstone topped with layers of snow is not one that adventurers can forget quickly.
Temperatures will often range between 30-50 degrees Fahrenheit in the coldest months, often accompanied by wind, snow, and occasionally freezing rain. Trails may be closed due to weather during particularly harsh winters for the safety of visitors.
The Moab Folk Festival is also happening during the winter! Overall, visit Arches National Park in winter if you're indifferent to cold, prefer your adventure without any crowds, and enjoy rich local culture and history.
What's on offer with Austin Adventures?
While you may believe you'd be hard-pressed to find a better Utah experience than Arches National Park, Austin Adventures is here to challenge that idea. We offer guests the option to embark on our "Mighty 5" tour, which covers not only Arches, but four other national parks: Bryce Canyon, Capitol Reef, Zion, and Canyonlands.
Explore these five natural wonders extensively during this 8-day, 7-night excursion accompanied by the best guides in the business. With the "Mighty 5" tour, guests are not only guaranteed insider views of Utah's premier national parks but Austin Adventure's signature "WOW" factor!
Experience the most comprehensive tour of Utah's voluminous national parks that Austin Adventures has to offer: the next "Mighty 5" tour departs on August 31st!