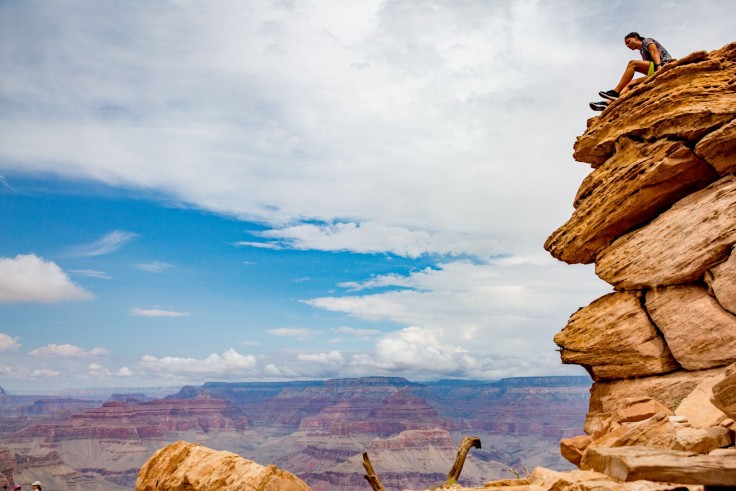 The Grand Canyon is one of those must-see geological wonders of the world, and its breathtaking vastness and beauty have earned it a place among the most well-known destinations on the planet. The best time to visit the Grand Canyon can depend on the season and activities.
With its diverse biomes, expansive canyons and river tributaries, and erosional landforms carved by water and time, it's hard not to fall in love with it. In fact, if you stand on the South Rim and watch the sun dance over Havasupai Point, Phantom Ranch, and the Colorado River, you'll know firsthand there's nowhere else like it on earth.
First, a Brief Overview on the Home of the Grand Canyon
Encompassing more than 1.2 million acres of Arizona's southwestern quadrant the Grand Canyon National Park is part of desert country. One of the best national parks in the US, it's packed with exciting activities from rim-to-rim hiking opportunities and whitewater rafting to donkey rides.
It also has dozens of unique overlooks that offer different views of its uniquely spiritual and ever-inspiring landscape, as well as plenty of animals that call it home. (For the detail-oriented, it's 91 mammal species, 447 kinds of birds, 48 species of reptiles, 10 varieties of amphibians, as well as innumerable insects, butterflies, and other creepy-crawlers.) Without further ado—when is the best time to visit Grand Canyon National Park?
Let's take a look at what's in store from season to season.
Visiting Grand Canyon National Park in Spring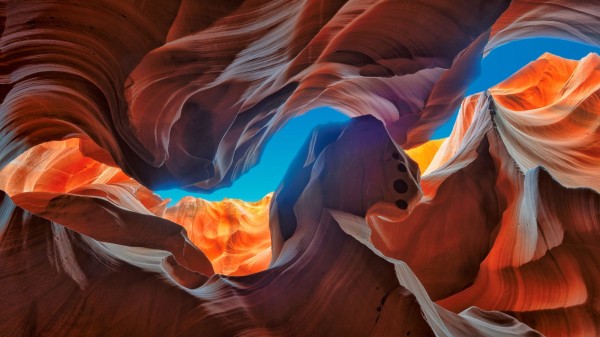 Spring in the American Southwest is a stunning adventure. It's a season bursting with life, from newborn elk calves and brand new fawns taking their first steps to hundreds of floral displays all over the canyon.
White violets, Indian paintbrushes, ground cherry, and evening primroses are all in bloom, adding splashes of color to the Martian red rock. Put simply, spring is a good option for those who prefer solitude to crowds and who appreciate natural beauty above all. Furthermore, if you visit during the spring, you might also catch one of the Grand Canyon's rarest in natural phenomena: total cloud inversion.
Occurring during late winter and early spring, dense clouds fill the canyon's basin, making you feel like you're in an ocean of clouds. Also, because of its location, temperatures are already on the rise in Grand Canyon National Park.
Fluctuating between 50 to 70 degrees Fahrenheit, this is an ideal time of year to go hiking below the rim—a place many call the "Goldilocks Zone"—where you can walk without sweating up a storm or ever getting too cold. So, why not take a Maycation?
Tip: Although temperatures are milder, they can also fluctuate drastically. Be sure to pack plenty of layers! Spring's got its advantages, but it can be unpredictable!
Visiting Grand Canyon National Park in Summer
Bringing about long, sunny days, with soaring Arizona temperatures of anywhere between 40 to 85 degrees Fahrenheit, summer is the most popular time of year to visit Grand Canyon National Park.
Tourists flock to the Grand Canyon in summer, seeking warm temperatures and to finally see the sights they've heard so much about. All of the park's facilities are open, so if you don't mind the crowds (or are avoiding them by traveling with an adventure group), it's a splendid time to visit. Also, if you prefer a quiet walk, we advise hitting the trails before 10 am—if not 9 am.
Longer hikes may become a bit grueling due to the heat, so plan accordingly and pace yourself. One problem you might face when visiting the Grand Canyon in summer is misjudging just how strong the sun is. Canyon breezes tend to hide its rays, making it much more difficult to realize whether you're being burned or not. We strongly advise you to bring a good hat and a metric ton of sunscreen to survive the dry heat.
Tip: If you want to visit in summer, it's worth booking your lodging at least 6 months in advance. People love Grand Canyon National Park in the summer, and that's what causes some of the "cons" of traveling in this season (difficulty booking lodging, crowded tours, etc.), but it's worth noting that if you're traveling with an adventure group like Austin Adventures, you'll sidestep all of those little annoyances.
Our itineraries take into account the best conditions for enjoying each activity the park has to offer, our groups are small, our guides are the best in the industry, and we take care of the little nuts and bolts concerns like lodging and food.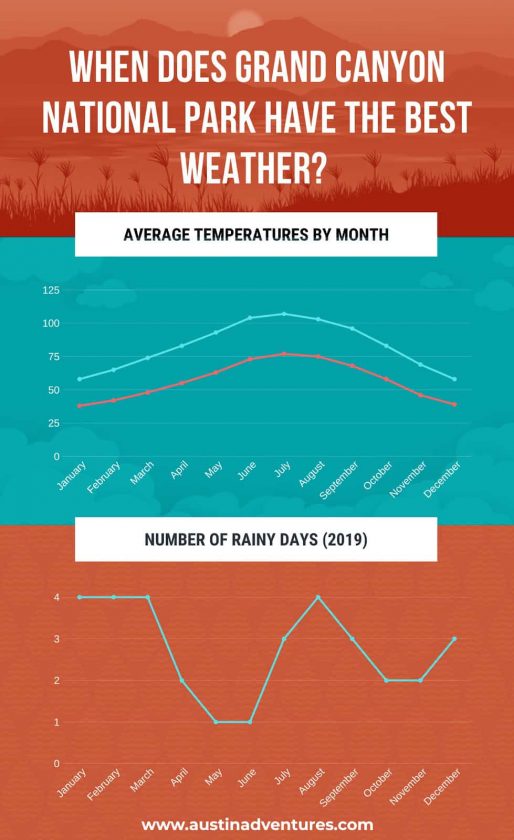 Visiting Grand Canyon National Park in Fall
Autumn is arguably the best time of year to go hiking or backpacking in the forested areas of the park, with temperatures middling anywhere between 20 to 70 degrees Fahrenheit, yet no signs of snow.
Trails and facilities are still open all around the park, and otherworldly views from the North Rim have never looked better with aspen, birch, and oak trees donning the golden colors of fall across the canyon.
The Grand Canyon in the fall is also a strong contender if you're a fan of wildlife. Not only is it the rutting season for elk, but bison, mule deer, bighorns, and javelinas are all dotting around the park in preparation for winter. Bird watchers will also be in their element with chances of seeing California condors, yellow-billed cuckoos, willow flycatchers, and bald eagles hunting trout on the sparkling Colorado River.
Tip: October evenings can get too cold to camp, but you shouldn't have trouble finding somewhere to stay at this time of year.
Visiting Grand Canyon National Park in Winter
The park might be in Arizona, but that doesn't mean winters aren't biting. Frosty temperatures are common from November, ranging between 20 to 40 degrees Fahrenheit, and the canyon can be wet and icy, making hiking at higher elevations pretty dangerous.
That said, winter is known as the park's secret season for a reason. Winter is when the skies are the bluest, the sun always comes out, and if you're lucky enough to see the snowy tips of the canyon's ridges, you might just be stunned to silence.
Fittingly, the canyon does the same. Winter is the quietest and most peaceful time of year to visit and is the only time you can head up the scenic 8-mile road to Hermit's Rest.
In short, don't write it off, but it's more of a niche season to visit. Visiting Grand Canyon National Park in the winter might be a great option if you've already visited the park before and want to see it in a new light.
The Best Time to Visit Grand Canyon National Park
Most people prefer to visit Grand Canyon National Park in the summer or spring. For our money, we vote summer or early fall—and that's because traveling with an adventure group negates all the crowd-related frustrations and ensures you don't go out hiking at the wrong time of day or on an unexpectedly grueling path. Our family groups run during the summer, and our adults-only trips head out in September.
Spring's a good option too, usually from March to May, if you're opting not to go with a group (which we don't recommend.) But for fall groups, temperatures are more or less mild, and there are fewer people on the trails, leaving you what feels like the whole park to yourself—just you, the sun, and the song of the canyon wrens.
Ready to Head West?
If you're ready for the trip of a lifetime, why not take it with us? We have several Grand Canyon National Park vacation packages and, more importantly, we never get tired of looking at this gloriously sacred land.
For decades we've been exploring its crags and winding passages, learning all of the territory's hidden gems—and we're ready to share them. Explore our Grand Canyon Trips here.