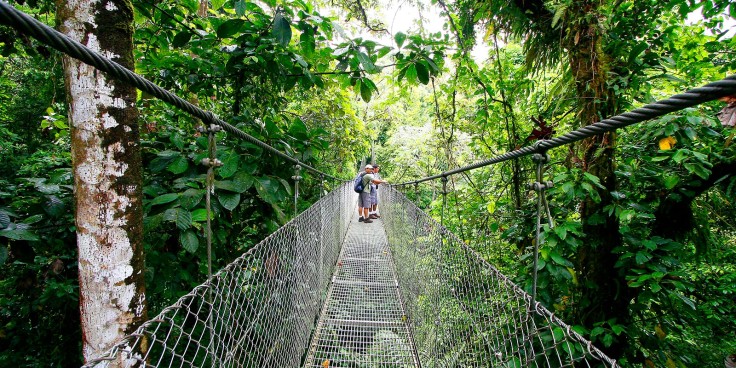 Perhaps you already know the popular things to do of the Costa Rican attractions, such as:
But if you haven't been there already, we highly recommend shuffling this trip to the top of your bucket list.
Now, assuming you've taken our expert advice to heart and are ready to think about your next great Costa Rican adventure, let's talk about the best time to visit Costa Rica along with the various ways you can approach the trip.
(..and Pssst! You can experience all of the above and more first-hand with one of our Costa Rica Vacation Packages)
When Is The Best Time to Visit Costa Rica?
Each of the 12 months offers something truly special and plenty of things to do in Costa Rica. Depending on the type of vacation you're looking for and the activities you'd like to partake in, the best time to visit Costa Rica will differ from one traveler to another. Here's a look at what you can expect during each season:
Costa Rica Rainy Season: May - November
The rainy season in Costa Rica lasts from early May until about mid November, with rainfall at its heaviest in September and October. Contrary to what you might think, this can actually be a very beautiful time of year to visit. Travel Impacts & Considerations Rain will hold you back from very little in Costa Rica, except for perhaps travel into the most remote areas of the country where dirt roads pose a problem.
During the wet season, you can expect that the sun will be shining in the morning, but will be followed by some clouds and showers in the afternoon. It's a rinse, wash, repeat kind of thing. You'll absolutely have an amazing trip during the rainy season - you just have to be okay with (no surprise) rain! If you're the adventurous type that's willing to get out and explore despite the dampness, then worry not, because this is the best time to visit Costa Rica for you. During Costa Rica's rainy season, you'll enjoy:
Lush greenery that is at its prime; there's no other time of year to experience the beauty and serenity of Costa Rica

More alone time; i.e., there will be far fewer tourists than usual and you won't need to worry about capturing unwanted strangers in your trip photographs!

A reduced rate - travel packages and tours can typically be purchased at a fraction of the price as this is not what's considered to be Costa Rica's peak season
Costa Rica Dry Season: November - April
The dry season in Costa Rica - often referred to as the country's peak season - lasts from late November to early April. If you're worried about the rain impacting the activities and sights you've chosen to explore, you likely want to aim for your visit to fall between these months. Travel Impacts & Considerations During the dry season, you'll enjoy:
Full access to the country of Costa Rica, including remote areas like the Nicoya Peninsula, if desired

Dry, warm weather for outdoor activities like rappelling, hiking, ziplining, kayaking and more (if you're into these activities, check out our Costa Rica vacation packages!)

The hustle and bustle of many other travelers doing the same thing you are: exploring the beautiful and bountiful Costa Rica
For a look at just how lush and beautiful the forests in Costa Rica really are, take a look at this short video featuring Dan of Austin Adventures ziplining high above the treetops!
Holidays & Religion in Costa Rica
Costa Rica is primarily a Catholic country, and most of their 15 public holidays are religious. On holidays, you can expect that some (if not all) goods and services, including public transportation, will be closed. Some of the religious holidays in Costa Rica include:
Holy Week (April)

Easter (April)

Corpus Christi Day (May)

Saint Peter and Paul Day (June)

Virgin of the Sea Fiestas (July)

Virgin of Los Angeles Day (August)

Christmas (December)
How & When to Experience Costa Rica
When you start planning your trip to Costa Rica, begin by considering whether you'd like to plan the trip yourself, or if you'll use the services and company of a guided trip with a tour operator. Hint: you won't go wrong with either one! There are so many things to do in Costa Rica, it can be difficult to narrow it down!
Guided Costa Rica Tours & Trips
Guided trips are known for taking the stress and worry out of traveling. Instead of focusing on where to stay, safety concerns, or how you'll get from one destination to another, guided trips help you focus on what's really important during travel: seeing, experiencing, and learning as much as you can about your destination.
Your main responsibility is getting yourself to and from the airport on time, and beyond that, having as much fun as possible! Best Time to Visit Costa Rica on a Guided Tour If you opt for the guided experience, try traveling in March; it's toward the end of the dry season, when you'll be assured to have sunny days, warm weather, and lots of fun things to see in the water and in the parks.
And let's face it: for those of us that live in cold weather climates, the idea of a bathing suit and beach towel sound pretty great for this time of year! Due to spring break, March is traditionally a busy time of year for traveling within Costa Rica, but you can rest assured knowing that your guides will help you navigate the hustle and bustle.
It can be a very exciting time to be a visitor in Costa Rica, and reputable guides know the area, as well as the ebb and flow of the season, helping you have the best trip possible. Adventure Travel Companies Most tour companies will have many scheduled departures to choose from during this popular travel time.
Check out a few of our tips for choosing a travel operator to help you find the right travel partner for you.
Do-It-Yourself Costa Rica Vacations
If you are a do-it-yourselfer and you want to be able to play it a little more by ear, that's great too! February is a great time to go to Costa Rica if you are planning the trip on your own. It is in the middle of the dry season and is also in between the peak times of Easter/spring break and Christmas/New Years.
In February, you'll experience peak season weather without peak season rates and crowds. Waters are clear for snorkeling or diving and national parks are free for hiking and exploring.
Custom Costa Rica Vacations
Does February sound like the right time to travel, but you don't have time to manage all that goes into planning a vacation to see and do things in a place you have never been before? Customizing a trip is always an option and can allow you to have the perfect trip with minimal hassle.
However, and whenever, you choose to travel, you'll find countless places to visit in Costa Rica from pristine beaches to beautiful national parks. Have fun and travel safe, friends. Learn more about Austin Adventures Costa Rica vacation packages and start planning with experts today!