With unmatched panoramic views and magical vistas of jagged, winter sun-kissed mountains and icy, turquoise lakes, Banff National Park is a fairytale destination come to life.
Look, it's no secret we love Alberta. Indeed, with Cascade Mountain standing prominently over the park and its picture-perfect eponymous town, Banff is truly the jewel of the Canadian Rockies.
A haven for photographers, skiers, rafters, and hikers alike, there's no limit to the adventures that the park holds in store for visitors.
So when is the best time to visit Banff National Park? The good news is that you've got options depending on what you're looking for.
Banff National Park: Canada's First National Park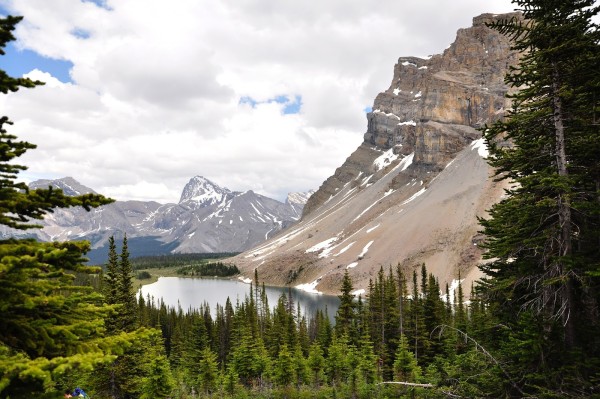 First up, a little background. Established in 1885, Banff National Park was Canada's first. Even now, it's the Great North's most visited, seeing a whopping 1.4 million visitors every year.
Initially created with tourism in mind, Banff has always been considered an area of natural beauty, providing exceptional views not even the best imagination could dream up.
Be it spring's bustling wildlife season, fall's golden foliage as seen from the summit of Sulphur Mountain, or the blue and seemingly bottomless Moraine Lake, Banff has no shortage of mind-blowing scenery or things to do. But, when is the best time to visit Banff National Park? Here's a look at the pros and cons of each season.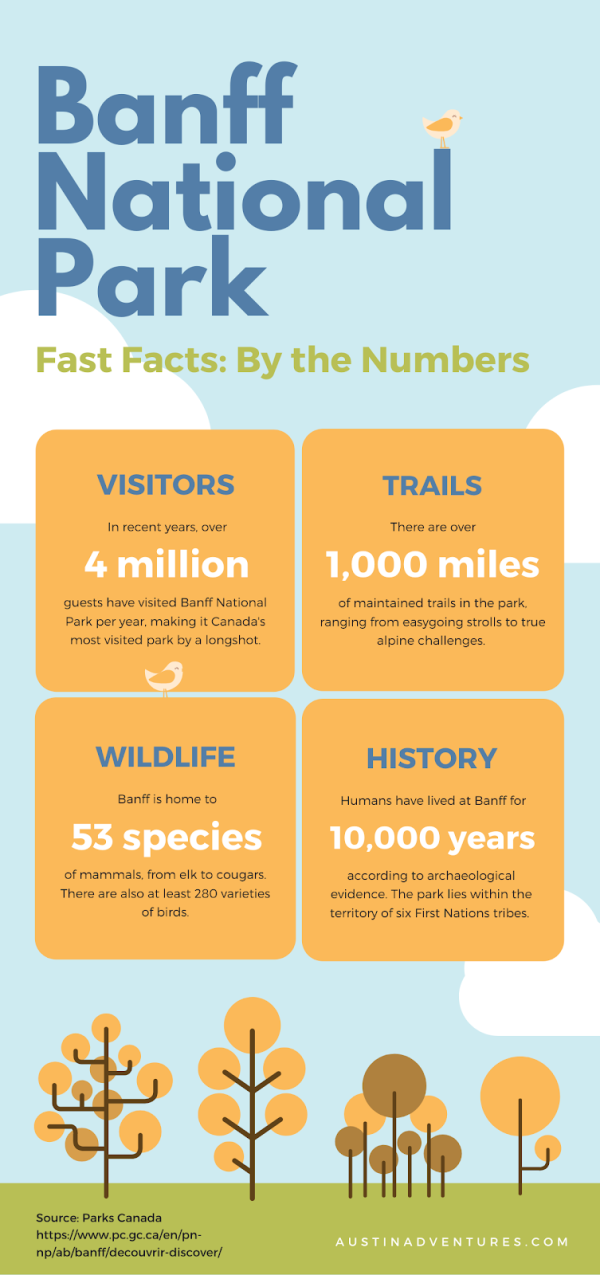 Visiting Banff National Park in Spring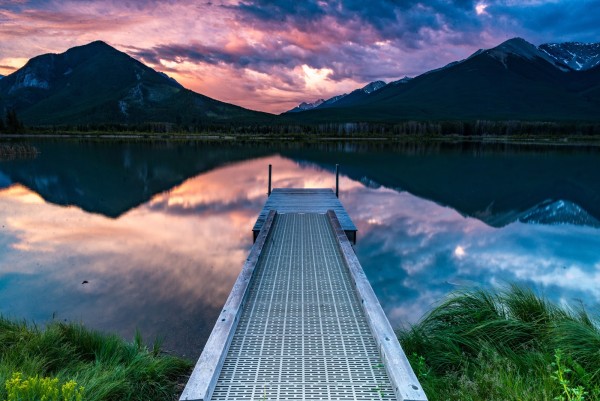 Spring is slow to arrive in Banff National Park. A shorter season spanning April through June, you'll be privy to all kinds of weather from the warmth of the sun—spring sometimes sees highs of between 50 to 60 degrees Fahrenheit—to biting blizzards.
As the temperature slowly climbs, the snow starts to thaw. This not only means that ski season is coming to a close, but that bears and other animals will be coming out of hibernation. Animal lovers have the best chance of seeing wildlife. As well as having the chance to see bears—you'll have the most luck in late spring, early in the morning—you'll also get to witness the calving seasons for elk, deer, and even bighorn sheep.
Although hiking access is limited to lower elevations, there are still plenty of trails for hikers to discover. Furthermore, once June hits, meadows in the lower valleys will be painted with wildflowers and the boat tours are ready to begin. Just be sure to pack a rain jacket: June is also the park at its wettest.
Visiting Banff National Park in Summer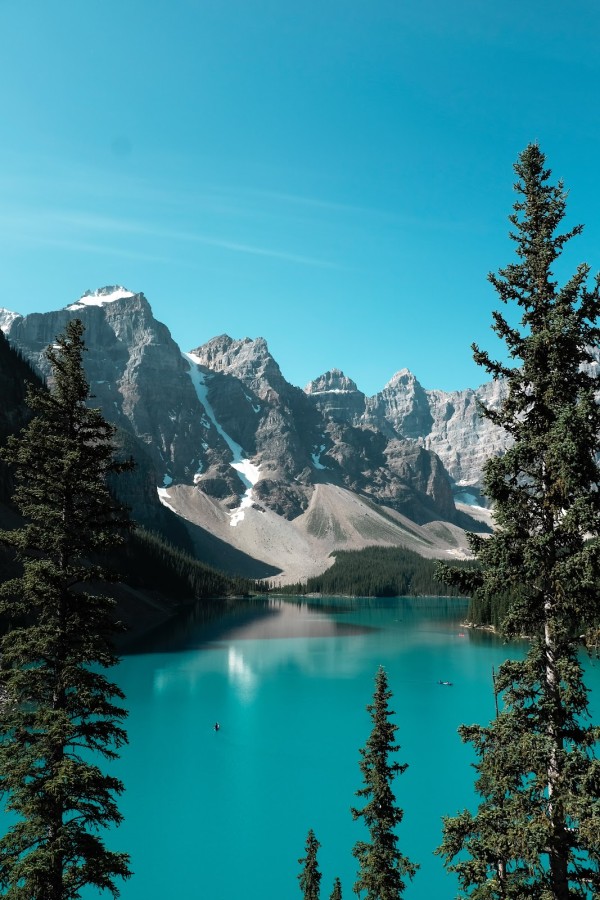 The summer months are a mixed bag of the warmest temperatures and the most tourists. Though, with temperatures ranging anywhere from 40 to 70 degrees Fahrenheit and up to 16.5 daylight hours, it's not difficult to see why.
Summer is also a great time to go hiking in Banff National Park. It never gets too hot to walk here, and the mountain lakes—Lake Minnewanka, Maligne Lake, Lake Louise, and Moraine—are at their glacial-azure best. If you ask us, seeing these next to their snow-capped mountainous backdrop is one of the most life-changing views in the entire park.
The sub-alpine Sunshine Meadows are also at their wildflower peak from July to early August. Additionally, the park is alsopacked with fun activities for people of all ages. From canoeing and fishing to horse riding and scuba diving: You want it? In summer, Banff has probably got it.
Best of all: if you're traveling with a seasoned adventure travel group like Austin Adventures, you can side-step the crowds, difficulties booking lodging, etc., and get all the highlights of the season's spectacular weather without the drawbacks.
Visiting Banff National Park in Fall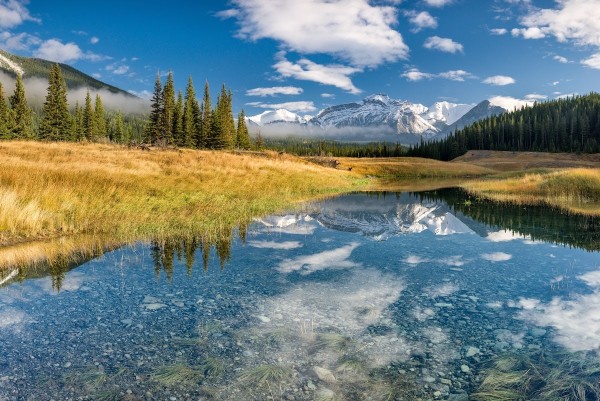 Fall in Banff National Park is a mishmash. Visually, it's one of our favorites. However, when it comes to fluctuating temperatures, you'd best prepare for blizzards if you plan on going in October.
That being said, if you pack well and are used to cooler times, fall is a viable time to go sightseeing. Mid-fall is the perfect time to see the park in all of its autumnal glory with the golden-yellow shine of the grasslands, larch, and aspen at their best in late September.
Another excellent part of fall is the decrease in crowds. Hiking trails are still accessible until early October, August's pesky mosquitoes have all but disappeared, and accommodation decreases in price. It's also the elk rutting season, and on your hike, you might even see the bighorn having their headbutting competitions. Romance at its finest.
Tip: If you want to visit Banff National Park in the fall for its colors, check out Larch Valley near Lake Louise. Trust us now, thank us later.
Visiting Banff National Park in Winter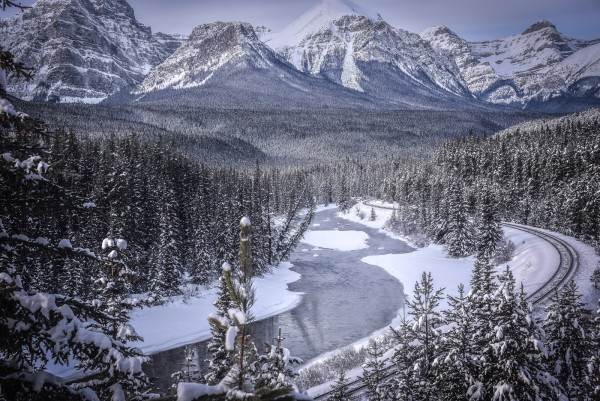 Winter in Banff National Park is pretty much set aside for skiers, snowshoers, and those who thrive in single-digit to subzero temperatures. Basically, mountain winters are long, cold, and fully dependent on the peak on which you're staying.
Most hiking trails are also closed because of avalanches, including Columbia Icefield and Moraine Lake. You won't find many campers during this time, and for good reason. Although, if you're an experienced alpine adventurer, there's a bunch of winter camping options for you, too.
One thing you'll need to keep in mind if you're planning on heading to Banff National Park in winter, though, is the skiers. With so many of them flocking to the slopes, you'll need to book a hotel well in advance. Or, just come with us on a Banff winter adventure.
It's the perfect way to access Banff in the gorgeously white winter season without the challenges. By day you'll ice skate frozen lakes, cross country ski through moose country, and explore ancient cave systems. By night you'll return to the best authentic mountain lodging in the region for amazing local cuisine and, of course, a steaming mug of hot chocolate.
The Best Time to Visit Banff National Park
Overall, the best time to visit Banff National Park is during the summer. If you don't mind being around a lot of other tourists, the summer months are the warmest and it's the best time to see one of the park's main attractions: the lakes. And to reiterate, if you're going on an adventure tour with us, the crowds aren't an issue anyway.
There's a ton to see, even more to do, and you won't need to worry about crossing paths with a grumpy bear. That said, if you're opposed to being around too many people and love hiking, we highly recommend September, too.
Ready to Head North?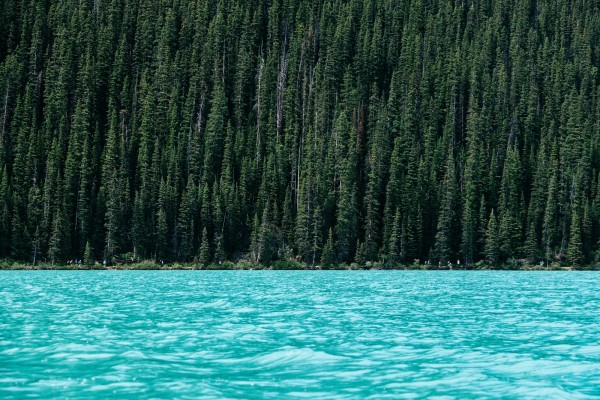 Whether you're a skier lusting after Alberta's winter slopes or a hiking sightseer lusting after its natural beauty, we have plenty of Banff National Park vacations for you.
Indeed, if you're ready to visit Banff off-the-beaten-track, to mix action with reaction, or simply avoid the crowds and have the adventure of a lifetime, you'll be in good hands.