Nothing can make you feel more alive than the rush of adrenaline when you jump off a waterfall or trek through steep canyons to reach the Havasupai base camp.
Adventure vacations for couples are designed especially for those looking for a getaway from routine life or those looking to make that special connection like honeymooners.
Wouldn't it be great fun to face your fears with your partner and spend the night at the foot of a canyon? This beautiful and spiritual experience so close to nature adds a touch of romance to your adventure-filled trip.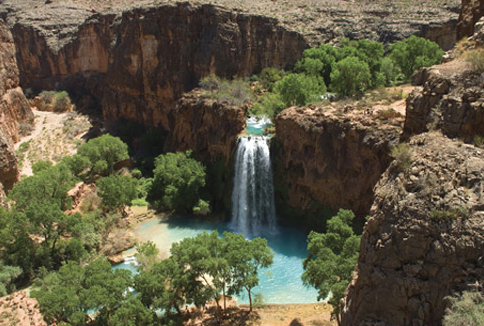 The long and arduous hike down the mighty cliffs and through the staggeringly beautiful canyon will be well rewarded once you reach below the falls.
Swimming and playing in the cool waters of these gorgeous pools are truly worth the effort. Photographers are treated to so many spectacular vantage points in, around and above the pools, it really is the dream shoot location.
The pools at night almost glow beneath clear skies and vast canopies of stars. With the falls no less deafening at night, it's easy to escape the group for an intimate moment alone together by the water. It's perhaps not surprising that many partners choose Havasu to propose...
Make plans now to explore this Arizona treasure and celebrate with your loved one by booking your adventure online today.