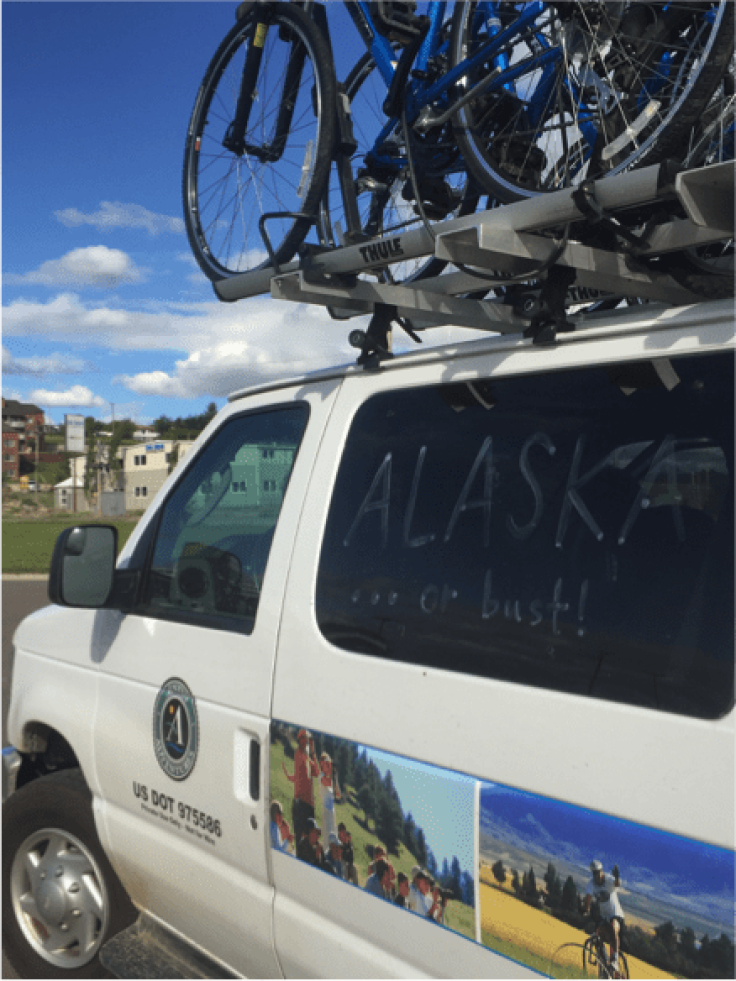 Driving the Alaska Highway…The Ultimate Road Trip to begin your Alaska Family Vacation!
by Adventure Guide Sheri
For the past years, I have had the honor of blogging fun extensions to your Austin Adventures Alaskan holiday. If you're searching for information about driving to Alaska, hear me out! This year, I thought I'd expand on the idea of road-tripping to The Great Land and give you a play by play of the drive to Alaska, in hopes that you may take that couple of extra weeks off of work.
Just tell the kids that loading up the Griswold family truckster taking a gool-ole fashioned family road trip to the last frontier is way-y better than playing with their friends or going to camp and this will be a trip they will remember for the rest of their lives. Because this is what dreams are made of. Just ask anyone who has driven the Alaska Highway and you will surely elicit a smile.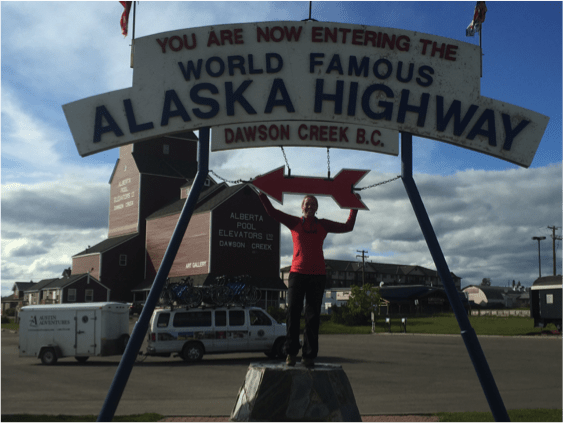 The Mission
This is my fifth time making the trip, the first time was back in 1997 with a few college friends road-tripping in a 1966 Volkswagen bus. Now that the adventure is my job, the parameters have shifted a bit.
We are transporting the van and trailer, loaded up with 18 bicycles and enough gear for 12 Alaska Adventure trips and driving the 3,000 miles from Austin Adventures Headquarters in Billings, Montana to Alaska's Kenai Peninsula.
The Time Frame
Because we are working and on a mission of efficiency, this is an expedited trip at the end of May. We have just 6 days. If we were traveling sheerly for fun, surely we would take our time and stop to smell the flowers. A 2-week trip driving to Alaska in the middle of summer would be ideal. Destinations along the journey worth the stay a little bit longer are notes in italics.
***The Ultimate Adventure: If you are really ambitious, take 3 weeks and travel on the Austin Adventures Montana Adventure of Glacier Adventure then drive to Alaska for the Austin Adventures Kenai Peninsula Adventure)!
The Weather
…Can be variable. In Alaska, we always expect a lot of liquid sunshine. The weather on the drive, however can vary quite a lot in just a couple of weeks. Last year, we traveled the Alaska Highway the second week of June. We are on the road about a week and half earlier this year and have noticed much lighter traffic and a lot more snow. We experienced everything from sun to rain to hail to snow to snow again.
The Vehicle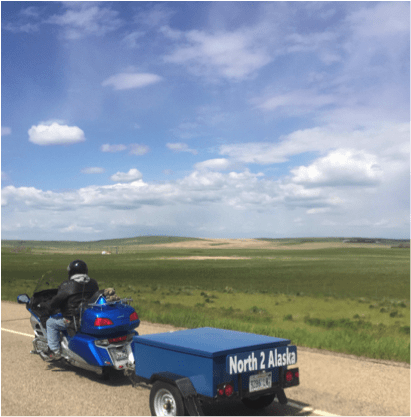 As far as vehicles are concerned, there are lots of options: motorcycle, recreational vehicle (RV) but I would suggest a versatile vehicle that offers bit of protection from the elements and one that is camping-compatible so that when you find that perfect place to spend the night at Lake Kluane, you can comfortably stop and enjoy it.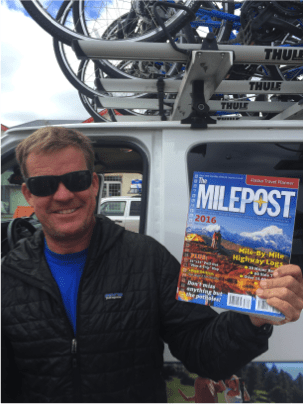 The Road
All of the Alaska Highway is paved but there are areas where highway improvements and construction projects may mean gravel sections of road and travel delays. Fuel stops can be few and far between so be sure to plan ahead.
Where the Rubber Meets the Road
Our route and trip itinerary is pretty well planned out. Binoculars, cameras, snacks, water, coffee, bug spray and bear spray are all within reach. The co-pilot is ready to go with I-pod play lists, a library of natural history reference books, a copy of John McPhee's "Coming into the Country" for pleasure reading, Alaska scout notes, trip notes, DOT drive logs and other preliminary office paperwork, supplies to prepare the AA-patented potty packs (any Austin Adventures alumni reading this will nod their head in recognition of a hiking day pack essential), and the quintessential Milepost, the ultimate guide to driving the Alaska Highway (order a copy at your local bookstore or download the app at www.themilepost.com).
Day 1: Billings, Montana, U.S.A. to Calgary, Alberta, Canada
Distance = 570 miles. Drive time = 11 hours Route: Billings - Great Falls - Shelby - Sweetgrass - Lethbridge - Calgary On the Road:
What a gorgeous drive. Marvel at the wonders of everything Montana: barns and prairie and wild rivers, gorgeous lakes, emerald forests and big mountains. Cross the border into Alberta's Canadian prairie home where grain silos and old barns dominate the landscape.
We simply found a place to eat, sleep and re-fuel in Calgary but spending a day in Alberta's prairie capital will give you one last urban thrill before heading up into the Canadian Rockies.
Lodging: Restaurant and lodging options in Calgary are endless, ranging from budget to plush. Extensions: Visit the Winsport Canada Olympic Park, a training center for athletes (and famous site of the 1988 Winter Olympics) and a place to stop for mini golf, zip line, mountain biking bobsleigh and luge rides. You could also visit the Aerospace Museum or take the family to the Heritage Park Historical Village, Canada's largest living history museum. Plan your visit to Calgary for the second week of July and you'll be right on time for the annual Calgary Stampede, a legendary event with parades, rodeos, and music concerts known as the "Greatest Outdoor Show on Earth" Or if you want to continue on to Banff National Park or Canmore, Alberta, geographically, you will optimize your wildlife viewing opportunities for tomorrow's drive. Do be aware that lodging in the park can be a bit more challenging and fill up quickly. For budget/ hostel accommodations, try the Lake Louise Alpine Center. The weather in May can be quite variable so booking a hotel or lodge is a good idea! Later on in the summer and early fall, tent camping at Lake Louise Campground is terrific.
Day 2: Calgary, Alberta to Fort St. John, British Columbia.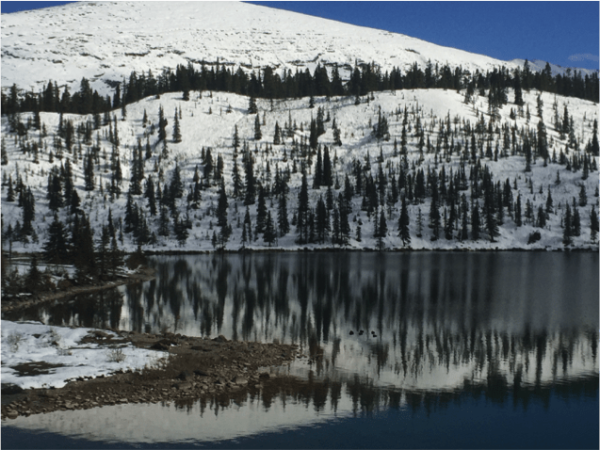 Distance = 650 miles. Drive time = 12 hours. Route: Calgary - Banff - Lake Louise - Jasper - Grand Prairie - Dawson Creek - Ft. St. John On the Road:
Start at dawn so you can enjoy one of the world's most beautiful highways. Be sure to take the Columbia Ice fields Parkway route through the Central Canadian Rockies and experience the spectacular display of nature showcasing Banff and Jasper National Parks. Marvel at the Athabasca Glacier, one of the many glaciers that flows off of the largest icefield in Canada. The Columbia Icefield is the source of drinking water for millions of people. It is called a hydrological apex- water flows to three different oceans from here: the Pacific (via the Columbia River), the Atlantic (via the Saskatchewan River) and the Arctic (via the Athabasca River). Wow! The drive then drops down to the Canadian Prairie for more big sky and open country inspiration into Ft. St. John
Day Hikes near Lake Louise: Lake Agnes Tea House is a wonderful place to hike to lunch!
Day Hike near Jasper: The short and beautiful hike to Edith Cavell Glacier with a polar bear swim in the adjacent lake is a memorable side trip.
Sunwapta Falls and Bow Lake are nice places to enjoy a scenic bathroom and leg-stretching stops.
Beaver Lodge, B.C. hosts the world's largest beaver…statue. The 15' sculpture was built in 2004 to help celebrate the town's 75th anniversary. Definitely a great roadside attraction!
Dawson Creek, B.C. : A cairn and arch mark "Mile "O" or the start of the Alaska Highway.
Lodging: Holiday Inn Express in Ft. St. John is a mid-range budget accommodation with a pool for the kids, free wifi, and a sauna to soothe your sore muscles from driving all day.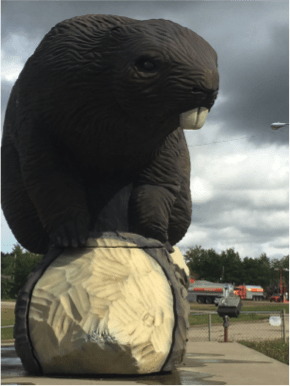 Day 3: Fort St. John - Liard Hot Springs, British Columbia
Distance= 450 miles. Drive Time= 10 hours Route: Ft. St. John - Charlie Lake - Sikanni Chief River - Fort Nelson - Muncho Lake On the Road:
The drive to Liard is relatively short (8-9 hours) so take your time and enjoy the ride. Highlights of our day included driving through northern forests characterized by permafrost: Aspen, cottonwood, black spruce and white spruce were a few of the trees we saw along our route. We also sighted a red tailed hawk, 2 moose, a Roosevelt elk cow, white-tailed deer, 2 black bears and lots of snow along the roadway.
The spectacular Summit Lake and Muncho Lake are worth a polar bear and photo stop as you capture majestic mirrored reflections of snow-capped Peterson and Tabletop mountains!
Marvel at the picture-perfect hues spring and emerald greens as the great northern forest grows with vitality and literally spring to life!
Upon arrival at Liard Hot Springs Campground, set up camp, then grab your swimsuit, towel and water bottle and head for the springs. Sit back and enjoy a well-deserved soak in one of North America's finest springs. Watch for Canada Geese and Moose as you follow the boardwalk back to camp then enjoy some smores around the campfire.
Lodging: Liard Campground has a few dozen drive through campsites that are clean and comfortable. There is alternative lodging at the Rocky Mountain Lodge at Muncho Lake, just about 15 minutes away.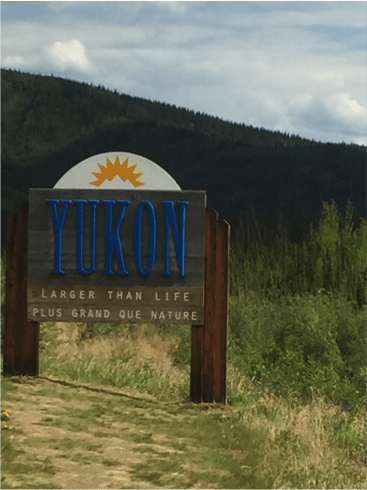 Day 4 : Liard Hot Springs, British Columbia to Teslin Yukon Government Campground, Yukon Territory
Distance= 304 miles. Drive Time = 7.5 hours Route: Liard Hot Springs - Teslin - Whitehorse - Haines Junction - Kluane Lake- Teslin Yukon Government Campground On the Road:
Watson Lake Sign Post Park - This roadside attraction boasts thousands of signs that travelers have been bringing from their hometown signs to post here since 1942!
Wake up early and head back to the springs for a sunrise soak. Savor the moment among the spruce and poplar and crystal clear waters you have all to yourself. Then, enjoy a home cooked camp breakfast as the morning dew drops evaporate from your tent.
Teslin Tlingit Native Heritage Center - check out native carvings and admire bear, beaver and raven totems you will never forget.
Lodging: Just a few minutes down the road from the native heritage center is Lake Teslin Yukon Government Campground. After an exhausting drive, we decided to pull off the road a bit earlier and only drove until 5:30 p.m. The campground offers 27 drive-through sites, fire pits and site # 27 offers a foot-trail down to the lakeshore. Fortunately, you're in the land of the midnight sun, so you'll have a few hours to enjoy the scenery in the daylight throughout the evening.
Day 5: Teslin, Yukon Territory to Tok, Alaska
Distance = 500 miles. Drive Time: 11.5 hours Route: Teslin- Johnson Crossing - Whitehorse - Haines Junction - Kluane Lake On the Road: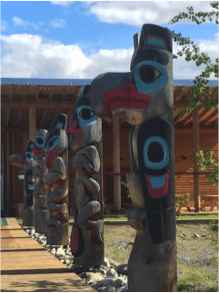 Drive through the northern boreal forests where permafrost rules the landscape.
Be sure to stop for a home-cooked breakfast at Johnson's Crossing. They also have a great gift shop showcasing local Yukon artists.
Whitehorse is the capital of the Yukon and a very fun place to visit. Definitely stop for lunch on the Yukon River or spend a couple of days…
Sight the Kluane Mountain Range and Wrangell St. Elias range as you come into Haines Junction. Now there are some mountains!
Keep your eyes open for wildlife as you pass the Tetlin National Wildlife Refuge!
Extensions: If you have some time to spend in Whitehorse, Yukon, there are lots of great places to stay but reservations must be made in advance. Spend a couple of days checking out the waterfront of the Yukon River, exploring the S.S. Klondike National Historic Site or visiting the cabin of Sam McGee (the Robert Service legend). Paddle the Yukon river with local outfitters, embark on a guided day hike with Yukon Conservation Society, or visit the Yukon Wildlife Preserve. Takini Hot Springs is another great place to stay just a few miles up the road (Highway 2) to Dawson If you time your trip just right, you can visit for the annual Yukon River Quest Canoe and Kayak Race. July 1 is Canada day so there will surely be lots of fun events and entertainment in town that day! And for the adults, take a tour of the Yukon Brewery and try some award winning beers from Canada's only brewery north of 60 degrees!
Day 6: Tok, Alaska to Girdwood, Alaska
Distance= 391 miles. Drive Time= 9 hours Route: Tok- Glenallen - Palmer - Anchorage - Girdwood The final push into the tent city of Anchorage! What a beautiful drive. On the Road:
Definitely stop at the Matanuska Glacier overlook for a photo stop and read the interpretive signs to learn about glaciation.
Look for moose as you follow the mighty Matanuska River and gawk at giant mountains in the Alaska Range.
Stop for a bite to eat in Palmer then make your way on to beautiful Anchorage!
Extension: If you happen to be coming through in August, stop at Palmer for the Alaska State Fair where you can see some of the largest prize-winning produce in the world! Lodging: We are headed home to Girdwood for the summer, but you will most likely call it a night in Anchorage, so we recommend staying at the Captain Cook Hotel!
Smile! You Made It!
Now wasn't that a trip of lifetime?! Upon arrival in Anchorage, take a stroll along the Tony Knowles Coastal Trail and sit along the breathtaking Cook Inlet as take a moment to breath to welcome this moment of arrival to Alaska. This is Alaska in all of it's grandeur, wild and free. You made it! Now, sit back and get ready for the incredible Austin Adventures Alaska Adventure Tour and Peninsula trip that awaits you!
Species Sighted:
No wilderness adventure would be complete without a wildlife species list. In addition to the cattle, horses, sheep, and llama we saw along our journey, here are a few of the wild critters we saw heading up the great Alcan Highway:
American Crow
Prairie Dog
Common Raven
Cliff Swallow
Canada Goose
Mew Gull
Red-tailed Hawk
Northern Flicker
Red-Winged Blackbird
Ring-neck Pheasant
Quail sp.
Mule Deer
White-tailed Deer
Stone Sheep
Black Bear
Moose
Cottontail Rabbit
Roosevelt Elk
Common Loon
Sandpiper sp.
Red Fox
Arctic Ground Squirrel
Red Squirrel
Trumpeter Swan
Grizzly Bear
Arctic Tern
Glaucous Gull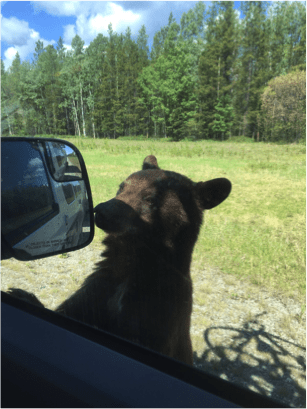 I hope that anyone reading this will consider the ultimate road trip to Alaska. The surprise of wildlife, the ever-changing beauty of the landscape, the moments lived and memories made with your traveling companion(s) and the time on the road to reflect on it all….well, this never gets old.
The grand show is eternal. It is always sunrise somewhere. The dew is never all dried at once, a shower is forever falling, and vapor is ever rising. Eternal sunrise, eternal sunset, eternal dawn (and twilight) on sea and continents and islands, each in its turn, as the round earth rolls on. – John Muir