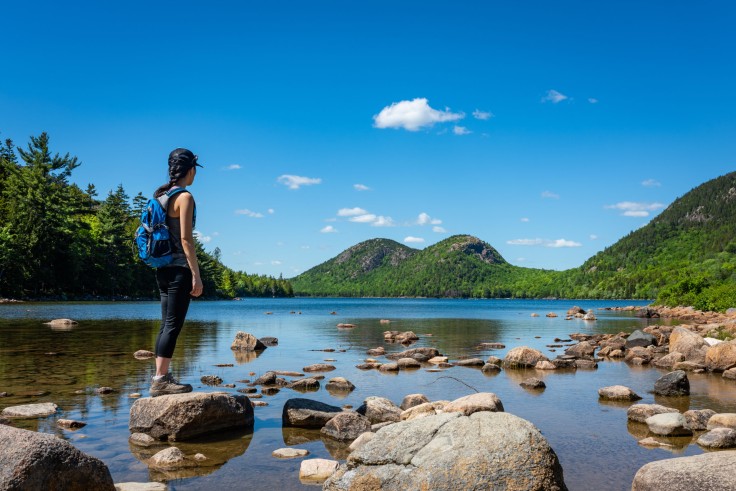 So you're considering a visit to Maine—the popular U.S. coastal destination famous for its lighthouses, lobsters and landscapes… Maine is great at any time of year, with each season bringing its own beautiful scenery and fun things to see and do. If you're wondering about the best time of year to visit Maine, it probably depends on your choice of activities!
If you're a keen swimmer or kayaker, you might want to visit when the temperatures are warm and the waters calm. But if you love skiing, a winter visit to Maine would be perfect for you!
Read on to find out all about the best time of the year to visit Maine and the best things to see and do in Maine over all four seasons.
The best time to visit Maine is between June and August
Many believe that the best time of year to visit Maine is at the end of spring or start of summer, between the months of June and August. The mild weather means there are plenty of opportunities to get outdoors and explore the scenic natural wonders that Maine is famous for!
Coastal breezes, clear skies and glistening harbor views... There's a lot to love about Maine in the summer. Whether you're visiting with your partner, family or a group of friends, you'll find plenty of activities to keep you entertained and help you create lifelong memories.
Places To Visit in Maine in the Summer
There are sights to be seen all across the state, from the mountains down to the beaches. But in summer, we recommend focusing your time on coastal Maine.
Did you know that there are a whopping 65 lighthouses along Maine's coast, inlets, and islands? If you're looking for some insta-worthy content, we recommend checking visiting a handful of these! There's Marshall Point Lighthouse from the movie Forrest Gump, Cape Neddick Lighthouse, perched on a picturesque island off York, and Owl's Head Light in Rockland with its spectacular ocean views.
If you're more city-slicker than lighthouse-chaser, it goes without saying that a visit to Portland should be on your radar. The best time to visit Portland, Maine, is in the summer; you can spend hours strolling through historic neighborhoods, drinking and dining 'el fresco' and getting out on the water on Casco Bay.
Things to Do in Maine in the Summer
In summer, you really do have your pick of the activities! But no visit to Maine is complete without a day on Bar Harbor, whether you're powering your own kayak or relaxing on an authentic sailboat. And it will come as no surprise that the best time to visit Bar Harbor Maine is when the sun is shining and the weather is warm! Other nice things to do in Maine in summer include biking tours, hiking through Acadia National Park and reaping the rewards of visiting during Maine's peak lobster season. Fresh seafood picnic, anyone?
Maine weather in the summer
Temperatures in Maine over the summer reach an average high of 70 degrees Fahrenheit. Depending on where you're coming from and what temperatures you're used to, this may be t-shirt weather or you might need to pack your warmest gear! Coastal Maine doesn't see a lot of rain over summer but there's always a chance, so pack your raincoat too!
Visiting Maine in the Fall
Fall is another special time of year to visit Maine. It's not too cold yet and the summer crowds have dispersed, but visitors get all the advantages of experiencing the beautiful, rugged natural surroundings in all the colorful fall glory.
Places to visit in Maine in the Fall
Of all the places to visit in Maine in the fall, you just can't go past Acadia National Park. Many people plan their visit to Maine at the best time to visit Acadia National Park with its spectacular fall foliage. You could spend days in and around the park hiking, cycling, taking photographs and simply enjoying the glorious fall colors which peak at the end of September and beginning of October. Wildlife lovers are in for a treat too; you can spy bears and moose in the mountains and whales and seabirds in the harbor below. Fall is also the perfect time of year to head to Maine's northernmost town of Fort Kent. Explore the North Maine woods, stay in the fishing and logging village and try your luck at hooking a fish in one of the abundant rivers or lakes.
Things to do in Maine in the Fall
Another Maine 'must-do' is a hike along Sand Beach Boardwalk and visit to the iconic Thunder Hole. The Sand Beach trail is not safe all year round but is generally navigable without issue until the end of October. The 1.7 mile trail will take you up to Thunder Hole, named for the deafening and thrilling sound of the water as it is forced to shoot up to 40 feet in the air. The trail continues up to Otter Cliff and boasts unbeatable views of the surrounding coastline. Another great thing to do in Maine in the Fall is to pay a visit to Moosehead Lake. You can take a scenic cruise on an old steamboat, take a seaplane tour of the region, go on a moose-spotting tour by lake or land or try white-water rafting!
Maine Weather in the Fall
The average high in Maine over the fall is about 65 degrees Fahrenheit. It's still warm enough to get out and about and enjoy the outdoors, but evenings are beginning to cool down and there can be some chilly sea breezes.
Visiting Maine in the Winter
Because of the climate, winter isn't the most popular time of the year to visit Maine. But it can be a great option if you don't mind the cold and you're happy to venture out and about in your winter gear to enjoy all the best local activities.
Places to visit in Maine in the Winter
Sugarloaf mountain is a great spot for avid skiers and snowboarders and those wanting to spend some time on the slopes at one of Maine's biggest ski resorts. With over 60 miles of trails, there is plenty of space to explore! If seeing the Northern Lights is on your bucket-list, you'll want to pay a visit to Aroostook County. With next to no light pollution, the Aroostook National Wildlife Refuge on the U.S. – Canada border is a great spot to set up camp in the hope of seeing the aurora borealis—a once in a lifetime experience for many! Winter is the best time to see the Northern Lights in Maine.
Things to Do in Maine in the Winter
Don't let the cold stop you from enjoying all the things to do in Maine in winter! There's dog-sledging, snowshoeing or ice-fishing on one of the many lakes (you can hire a guide to help!) Just make sure you dress as warmly as possible with appropriate footwear and exploring the Maine outdoors in winter can be a real adventure! And when you need a break from the cold and want to spend some time indoors, the Maine Art Museum Trail is another great thing to do in Maine in winter. You'll visit the nine best art museums in the state which are all within a day's drive of each other.
Maine Weather in the Winter
In winter, the weather in Maine is cold. Highs don't reach beyond 40 degrees Fahrenheit and lows sit at around 12 degrees. There's plenty of snow around too – so be sure to pack accordingly! It's not for everyone, and if you're looking for a warmer destination whilst you wait for a Maine spring, summer or fall, perhaps check out Costa Rica, the Galapagos, or even New Zealand?
Visiting Maine in the Spring
Spring is another excellent time of year to visit Maine. One of the great things about visiting Maine in the spring is that you can time your visit to coincide either with the end of the ski season or the beginning of summer recreational activities.
Places To Visit in Maine in the Spring
Spring is a great time of year to visit Maine's many coastal towns and picturesque beaches. Take a drive through Kittery, York, Ogunquit, Kennebunkport and Old Orchard Beach. Spring is also often considered the best time of year to visit Portland Maine - check out the city's best restaurants or do a bit of shopping before the summer visitors arrive in droves.
Penobscot Bay is known as one of the most scenic waterways in Maine. And if you don't want to see it via boat, you can explore the bay by bike instead! Hire a bike and cruise around the many bays; you'll see seaside villages, tiny islands, wildlife, lighthouses, landmarks and some awe-inspiring scenery. You can also bike along the Penobscot River trails, stopping in huts along the way to warm up if it's a particularly chilly spring day.
Things to Do in Maine in the Spring
Spring is the best time to visit Maine for whale watching as they arrive to feed in the abundant waters. And what makes whale-watching here even more special is the number of species to be spotted – there are humpback whales, pilot whales, minke whales, finback whales, sei whales, sperm whales, right whales and even orcas! You can spot the creatures from land (a set of binoculars will help) or book yourself into a whale watching tour for an up-close look. You might even see other sea life while you're out there!
Spring is also a lively time in Maine with many festivals celebrating all types of occasions. Parades, markets, brunches and concerts can all be found as locals and visitors gather together to celebrate the beginning of the warmer seasons.
Maine Weather in the Spring
Spring in Maine is known for being a little unpredictable, weather-wise. Temperatures during the day will sit somewhere between the low-40s and high-60s (degrees Fahrenheit) with snow, rain and sunshine all a possibility! We hope you now have enough information to plan your amazing Maine adventure and don't hesitate to get in touch with our Maine experts to get started.