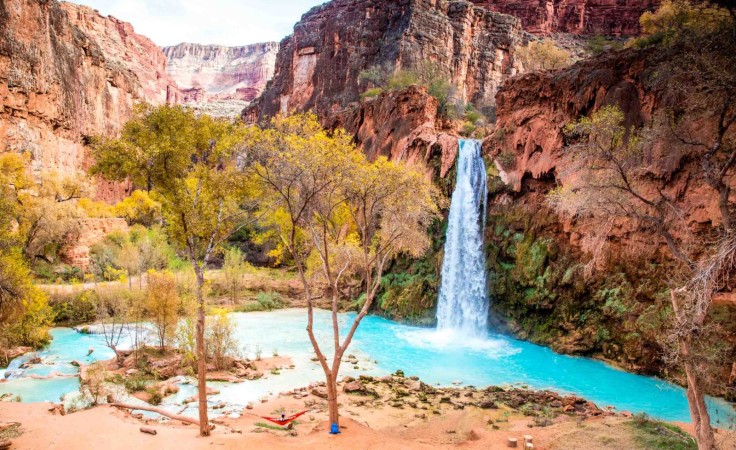 The Grand Canyon is easily one of the most iconic family vacation destinations in the US.
It's a visual history lesson with millions of years of geological change that lay right before your eyes in a horizontal show of deep red and orange rock. The Grand Canyon is on many people's bucket lists as it's unlike any other formation in the world.
It makes a great family vacation because it has it all, history for dad, peace and quiet for mom, and plenty of fresh air to burn off the kids' extra energy.
Did you know that the Grand Canyon is home to some of the biggest waterfalls in the US?
To top it off, these waterfalls crash into sparkling turquoise pools that only a select few who find them get to see every year. Imagine the cooling spray of waterfalls cascading into travertine pools spring fed with pure water surrounded by lush vegetation.
An almost tropical paradise sits right there in the midst of the Grand Canyon where only those with the courage to strike out on foot will ever have the opportunity to see. Being surrounded by warm breezes over a majestic expanse of thousands of years of rock and sand is so awe-inspiring that travelers will quickly forget the stresses of real life.
The name of this wondrous place is Havasupai Falls.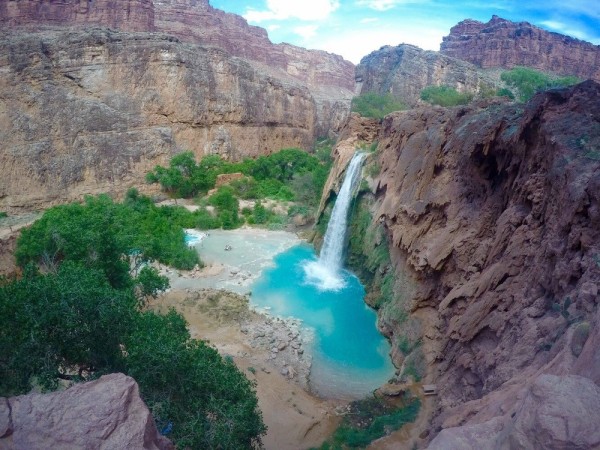 Havasupai Falls For those guided by experienced trekkers, there is a secret paradise in the Grand Canyon where family adventure vacations start. Havasupai Falls is located within the Havasupai tribal lands along Havasupai Creek.
These falls are one of the Grand Canyon's most iconic (but secluded) waterfalls. The near 100-foot falls crash into vivid blue-green travertine dams. The bright turquoise color of the water is characteristic of limestone's chemical makeup, calcium carbonate.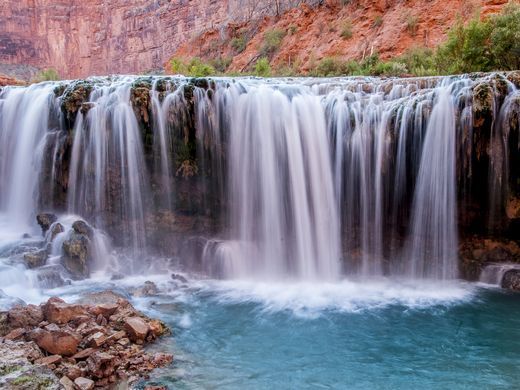 These falls are a sight you won't want to miss as they are constantly changing. This oasis in the Grand Canyon was once called Bridal Veil Falls because of its continuous flow over a shelf-like formation (like an infinity pool).
As the travertine formations erode, they take on a new shape, appearing to flow in one stream through a notch in the limestone. The Grand Canyon is one of the fastest evolving landscapes in the world, making it quite literally different each and every day. Whether you've been before or you're looking to book your first trip, this oasis in the Grand Canyon is a must-see.
The Havasupai People & Their Lands The original inhabitants of this segment of the Grand Canyon are the Havasupai People, who have lived here for almost 800 years. These people have long been referred to as the people of the blue-green waters. These world-renowned waters are turquoise in color all along Havasu Creek.
In the southwest corner of Grand Canyon National Park is Coconino County, where the Havasupai Reservation is now located. The Havasupai Tribe's primary industry is tourism. We are thrilled that the locals are willing to share this lush destination with us.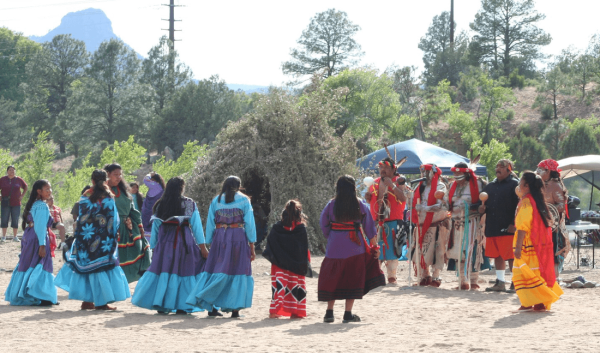 How to Get There
Arizona's major airports are in Phoenix and Tucson. It's not too far a drive to the more mountainous area of AZ, Flagstaff. From Flagstaff, you'll take Highway 40 to Peach Springs. From Peach Springs you'll head northwest to Hualapai Hilltop to park at the trailhead.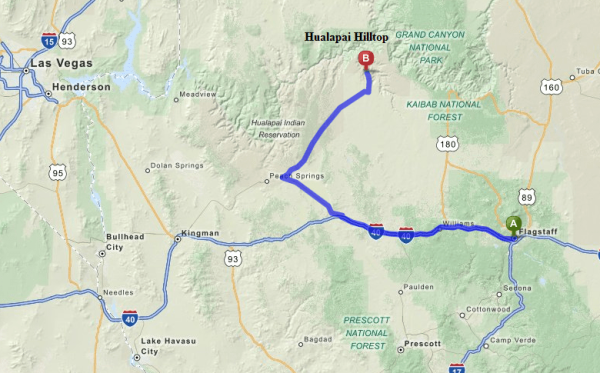 The first day of this gorgeous hike is the most strenuous. The jaunt begins at Hualapai Hilltop Parking Lot and descends 8 miles to Supai Lodge and then just 2 miles further to Havasupai Falls Campground.
You can spend the next few days hiking shorter distances around the area to some of the Grand Canyon's most recognizable waterfalls!
| | |
| --- | --- |
| Destinations | Miles |
| Hualapai Hilltop Parking Lot to Supai Lodge | 8 miles |
| Supai Lodge to Havasupai Falls Campground | 2 miles |
| Hualapai Hilltop Parking Lot to Havasupai Falls Campground | 10 miles |
| Havasupai Falls Campground to Mooney Falls | 0.5 miles |
| Mooney Falls to the Colorado River | 8 miles |
Don't let the distance from the parking lot scare you!
These views are worth the miles.
To aid you in bringing the right equipment and minimize the chances for blisters, we'll give you our list of essentials to stuff into your pack. Depending on your travel company and what they provide for you, here is a list of the items you won't want to forget: How to Pack for Havasupai
Camera + Wide angle lens - these are BIG views!

LED flashlight or headlamp - great for locating your items inside the tent.

Travel size personal items - you don't want to carry any extra weight around.

Ziplock bags - you'll need to remove all your trash from camp.

Polyester/moisture-wicking clothing - short, shirts, bathing suit

Hat - protect your money maker.

Socks - go for quality if you want to avoid blisters (no cotton).

Flip flops/Chacos/water shoes - great for protecting your feet while cliff jumping.

Snacks - you'll burn tons of calories on this trip.

Rain jacket - the Grand Canyon is prone to flash flooding.

Camelbak/hydration bladder - you'll work up a thirst.

Sunglasses - just remember to take them off when you're jumping in the water
A Hidden Oasis in the Grand Canyon
While the Grand Canyon provides its travelers breathtaking views, it is in fact, the desert. Havasupai will take you out of the desert and into a tropical oasis. It's tropical-like waterfalls, and pristine pools will blow you away.
The rugged 10-mile hike from the parking lot to the falls offers travelers the well-deserved reward of the Grand Canyon's most appreciable waterfalls. Though this trip is a great option for anyone looking to see pictographs from ancient cave dwellings and the desert's vivacious wildlife, it is a bit of a jaunt from the parking lot. Its exclusivity, however, is what makes it such a special trip. Visitors to the area are required to reserve a permit before entering the Havasupai Indian Reservation.
Expert trekkers and novice hikers alike will enjoy the mile-deep chasm that makes up the Grand Canyon today. Significant geographic features you might see along the way include the Coconino Plateau and The Great Thumb. These features alone are thrilling, but once you've seen this secret paradise in the Grand Canyon, you'll be running down the canyon to take a swim beneath the waterfalls of Havasu Creek.
The Havasu Falls are also known as Havasupai Waterfalls, where travelers go to experience world-class hiking, incredible geographic and cultural history, and spectacular views of the Grand Canyon. Enjoy learning about the culture of the Havasupai Indian Tribe while exploring the village of Supai.
You can expect to see the best of what Arizona has to offer in waterfalls aplenty. Along the Havasu Creek, you'll see Rock Falls, Fifty Foot Falls, Havasupai Falls, Mooney Falls, and Beaver Falls. Mooney Falls is the largest in the canyon, boasting a 200-foot drop from its breakpoint to its deep turquoise pool.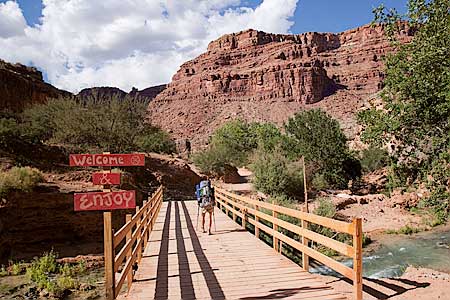 Tips for Having a Great Time at Havasu
Drink plenty of water. You'll be surprised how quickly the desert heats up. All that heat can leave you dehydrated if you're not careful.

Get your last tech fix, update your status and Snapchat the scenery while in the Supai Indian Village, this will be the last opportunity to access wifi.

Bring your camera! Views this gorgeous should be recalled to friends and family at home with actual evidence.

Durable and well-fitting shoes will make a world of difference on a hike this strenuous. Take time to find the right pair for you and make sure to break them in before you hit the trail. You'll be so disappointed if you're missing the views while looking down at your aching feet!
Whether you're visiting the southwest for the first time or the tenth time, the breathtaking views of Havasupai will wow you.
There is so much to see in the Grand Canyon, but it would be such a disappointment to miss out on Havasupai Falls.
Let us help you find the secret paradise in the Grand Canyon!
Spend time hunting for fossils, exploring a Native American village and relaxing in nature's own mineral water spa. This magical experience begins in Scottsdale, Arizona at the end of March and continues throughout the summer.
Call (800) 661-9073 to book your trip to the Arizona Rim & Havasupai.
Visit the Grand Canyon!