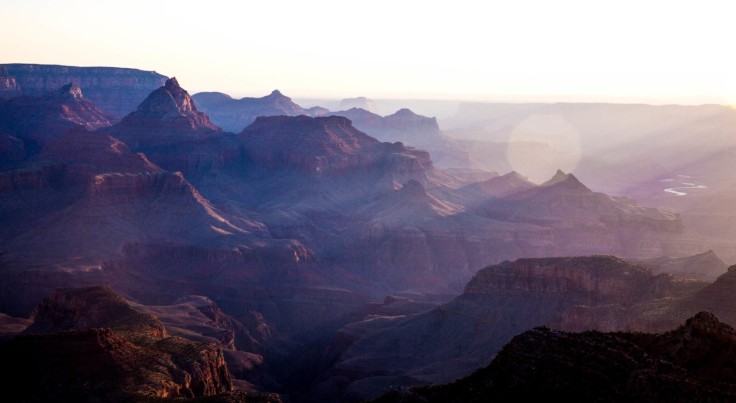 It's no secret that we, at Austin Adventures, love national parks. After all, each and every one of our domestic adventure vacations include national park tours. But do you know what else we love? Fun facts.
Our vacation planners love to talk with guests about a park's history and unique highlights when consulting about vacation options. Here's our list of top 10 national park facts to consider before booking your next national park adventure.

1. The most popular National Park is...
The Great Smoky Mountains National Park (pictured above) is the most visited national park in the United States – attracting more than 11 million visitors in 2018. That's almost twice the number of visitors as the second most popular national park. Located in Tennessee and North Carolina, the Smokies are known for their great biodiversity and spectacular firefly displays in the late spring.
2. How Grand is the Grand Canyon?
An estimated 5.9 million people visit the Grand Canyon each year, making it the second most visited national park behind the Great Smoky Mountains. We know a ton of Grand Canyon national park facts. Our guests often ask about the size, age, and location of this stunning national park.
Believe it or not, the Grand Canyon is located entirely in the state of Arizona covering 277 miles in length with canyons over a mile in depth. The beginnings of the Grand Canyon, however, are much debated by scientists. Did the Colorado River carve the whole canyon or was there an ancient gorge already waiting for the new river over 6 million years ago? Learn about Grand Canyon Vacations & Tours

3. Calcites
Yellowstone was the first national park in the United States, created in 1872 and signed into law by President Ulysses S. Grant. It is considered the worlds first national park and also the oldest national park. Additionally, wind Cave National Park in South Dakota is the first cave to be named a national park in the world. In addition to its length (currently sixth longest in the world), Wind Cave is known for its calcite formations known as "boxwork." About 95% of the world's boxwork is found in Wind Cave.
4. ... and Geysers
Another Yellowstone fact, the National Park is home to more than 500 active geysers (more than half the world's geysers). The Yellowstone Caldera, in Yellowstone National Park, is a super volcano that is responsible for three of the world's six biggest volcano eruptions. It is on pace to blow about 100,000 years from now. So come see it while you still can! Learn about Yellowstone National Park Vacations

5. Largest and Smallest National Parks
At 13.2 million acres, Alaska's Wrangell-St. Elias National Park & Preserve is the largest national park in the United States. It's larger than Yellowstone, Yosemite, Grand Canyon, and Death Valley combined. In fact, Alaska is home to 7 of the 10 largest national parks in the United States. One of the largest and most beautiful national parks is Alaska's Glacier Bay National Park and Preserve – best known for its awe-inspiring tidewater glaciers. It's a must see on any trip to Alaska.
6. The smallest national park, if we're talking natural, is Hot Springs National Park in Arkansas coming in at about 5,500 acres. Truly the smallest National Park is the Thaddeus Kosciuszko National Memorial. Learn about Alaska Vacations & National Parks in Alaska

7. State with the most National Parks
California has the most national parks with nine, followed by Alaska with eight. California national parks can be quite stunning given the state's extreme geographical diversity with beaches, mountains, deserts, and dense forests. With its striking rock formations and towering waterfalls, Yosemite National Park is California's most popular national park with 4 million visitors annually.
8. Hottest and dryest
Death Valley National Park has the distinction of being the hottest, driest and lowest place in the United States. Temperatures often soar past 120 degrees Fahrenheit. The park has the lowest elevation in the U.S. at 282 feet below sea level and the highest point in the contiguous U.S. at 14,505 feet. Learn about Yosemite National Park Vacations for Families and Death Valley Tours
Best National Parks for Kids

Okay, we admit our list of best national parks for kids is a matter of opinion. But our opinion is based on a few key facts about summer vacations in the great outdoors.
The most beautiful national park trails can become a real drag for both parents and kids during periods of extreme summertime heat. And while the parents may appreciate the geological rock formations and history, the kids may quickly lose interest with the lack of landscape diversity.
Here are two national parks we believe should be at the top of your summer vacation list:
9. Hoodoos
The southwest can be sweltering in July and August, but at an average elevation of 8,500 feet Utah's Bryce Canyon National Park stays relatively cool with temps in the 80's during the day and 50's in the evenings. The Rim trail and Navajo trail are fantastic hikes with the kids featuring spectacular canyon views of the hoodoos and forests peaking through red rock formations.
10. ...and wildflowers
For breathtaking landscapes and great weather, it's hard to beat Glacier National Park in Montana. The kids will love the rugged mountains, jagged glaciers, rafting, turquoise-blue alpine lakes and wildflower-studded meadows. This UNESCO World Heritage Site has it all - hike, bike, raft, and ride – you'll never run out or things to do or see. Learn about our Bryce Canyon Family Vacation and Glacier National Park Family Vacation
The National Parks!
Considered to be one of America's greatest national treasures, the National Park system with over 80 million acres of land offers adventure travelers limitless opportunities to explore. From the highest snowcapped glacial mountains and volcanoes to the lowest scorching valleys and canyons; America's National Park system has something to offer everyone.
We hoped you enjoyed our park facts!