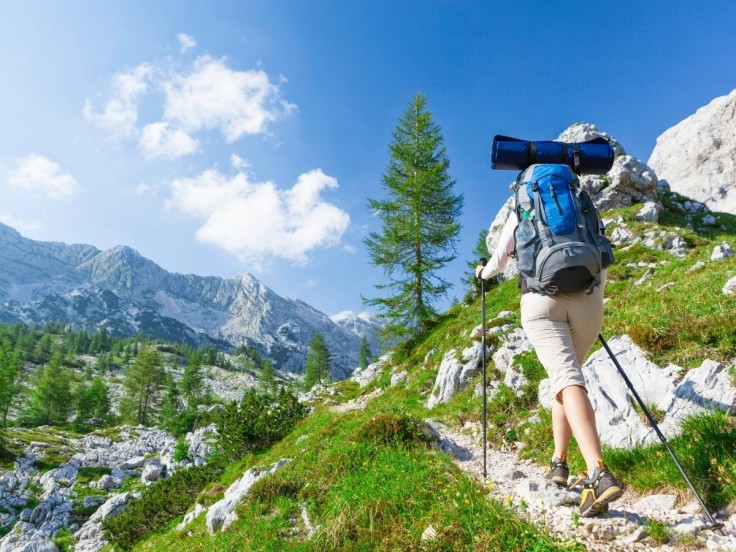 Whether you're heading out for an hour or a couple of days, knowing what to pack for your National Park hiking trip is of utmost importance. Your comfort and safety are in the hands of a few essential items. Forget the sunscreen and insect repellant, and your exciting adventure may turn into a big disaster.
Not to worry, though. On all Austin Adventure trips, our guides will pack all the essentials and then some.
Even so, it's always good to know what to bring along, so we sat down with Kasey Austin-Morrissey, an avid hiker and Director of Operations and President USA of Austin Adventures, to learn what she packs for a day hike in the National Parks.
Pack Like a Guide For Your National Park Hiking Vacation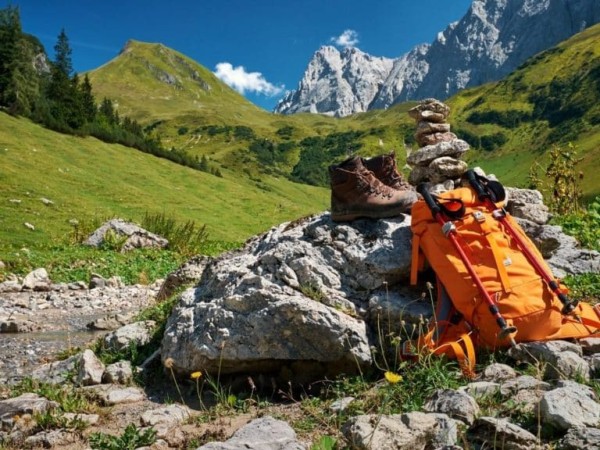 Photo by Thomas-Soellner
Without further ado, here's what Kasey Austin-Morrissey packs when she heads out on a day hike: "I've guided many guests on day hikes in Yellowstone over the years, and I always pack the same "stuff" in my backpack. While this isn't a comprehensive list of what goes in my pack, it's pretty dang close. I'm not sponsored by any of the below brands, I just love their products enough that I think they deserve a shoutout." - Kasey.
Backpack
If you ever looked at my basement, I'd be embarrassed by the number of backpacks my husband and I have hanging from the ceiling in our gear room… After many years of trying out many different packs, I just can't get over how much I love the Osprey brand. Osprey carries packs in all different sizes ranging from the smallest of day packs to the largest of backpacking packs…but I tend to bring along either my 26-liter pack for short hikes or my 36-liter pack for longer day hikes. With all sorts of different features to choose from, including color, fit, pockets, and straps, it's easy to find the perfect pack in Osprey's wide selection.
Lunch, Water & Snacks
If you're like me, you can't go for an hour without thinking about your next meal. I'm a snacker while hiking, so I like to bring a lot of little things to snack on throughout the day like apples, cheese, PB&J, crackers, nuts, and granola bars. Oh – and gummy bears or jelly beans for a sugar bump if I'm feeling a bit low on energy. Also, be sure to bring a receptacle or two for water (like a Camelbak reservoir or Nalgene bottle), so you don't run out. Guide tip: Add electrolytes (like Nuun tablets) into your water for the day to keep you extra hydrated.
Sunscreen & Insect Repellent
While these items serve two very different purposes, one doesn't make its way into my pack without the other. We've all forgotten the sunscreen or bug spray at some point, and just didn't enjoy the time on trail as much as we could have. So, I definitely consider these essentials in my pack! My favorites: Sun Bum & OFF! Deep Woods with Deet. Guide tip: Pack your sunscreen and insect repellent in a Ziploc bag in case they leak or accidentally set off on their own.
Rain jacket
"If you don't bring it, it will rain," – a direct quote from my dad growing up any time we'd go hiking, and I still use it to this day. I have several different raincoats and which one I pack depends on the weather. If I'm in a warmer climate, I bring my lightweight/packable rain jacket – the Outdoor Research Women's Helium Rain Jacket. If I go hiking in a colder climate, I bring my Arcteryx Beta Jacket. Expensive? Yes… but the perfect shell to wear over a layer and keep me completely dry in a downpour. Guide tip: You don't need to spend a lot of money on a rain jacket, but I advise not to go the cheap poncho route!!
First aid kit
Again, a non-negotiable for a trip into any national park – your very own first aid kit. My favorite is the Adventure Medical Kits which are ultralight and watertight. Got a blister? No problem! A bug bite? Easy days. A headache? It includes Ibuprofen and Aspirin. I like to customize mine with extra bandaids and Neosporin – the stuff I tend to use more of on trail. Guide tip: Don't forget to replace items as they get used, so your first aid kit is always up-to-date.
Binoculars
Whether I'm looking at a grizzly bear in the foothills of Lamar Valley in Yellowstone or viewing the people above me who've already summited Angel's Landing in Zion, I love having a solid pair of binoculars with me on the trail. There are many different brands out there, but I prefer Vortex Optics for the price vs. performance ratio. They come in all different sizes (I like a small pair for hiking), provide crystal-clear viewing, and have an unlimited lifetime warranty.
Trekking Poles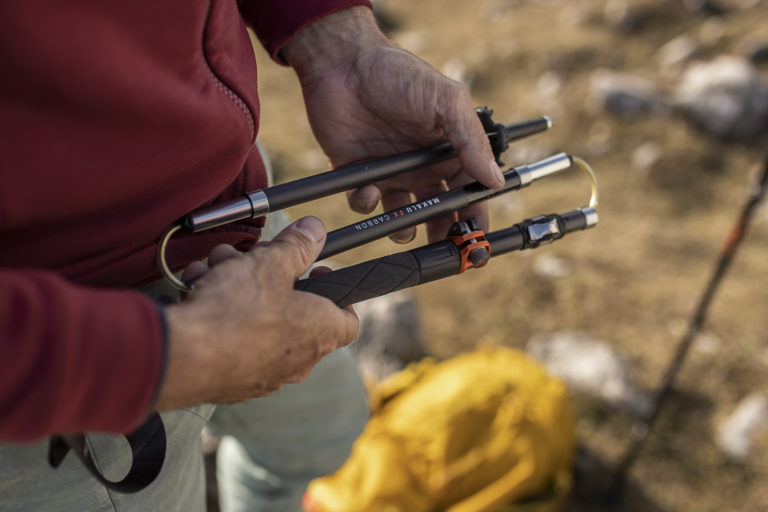 If there's going to be any up or downhill on my hike, I always bring my trusty trekking poles along for the ride. Not only do trekking poles save your knees on the downhills, but they also help provide support & balance while wearing a backpack. I like poles that are adjustable, lightweight, and fold up quickly to go in or out of my backpack. It can be a pain to lug around heavy trekking poles when you're not using them. My go-to's are the Leki Cressida FX Carbons. Guide tip: Take 20% OFF + free shipping when you purchase your Leki hiking poles here.
Lightweight hat
I've never been a "wide-brimmed hat" kind of girl (but more power to you if you like that style). What I do tend to get drawn towards is anything lightweight that keeps the sun off my face. I love the HeadSweats brand as they have all kinds of outdoorsy styles of hats (race hats, truckers, visors, crusher hats, cycling, etc.) that are extremely lightweight, can be crushed into a backpack over and over, yet maintain their shape, and never lose their eye-popping colors, even if you tend to sweat a boatload.
Cell phone
To each his own on which brand of cell phone you like (I'm an iPhone girl for the Airdrop photo sharing feature alone), but a cell phone these days is a no-brainer to bring along due to the many services it can provide while out hiking. Usually, my phone is on airplane mode while out I'm out hiking the trail. But when I get back into service, my phone is my research tool, my weather checker, and my go-to source of information for whatever national park I'm in, My favorite outdoorsy apps:
NPS App - Great interactive maps and touring information. Content can be downloaded in advance for offline use.
PictureThis - My go-to plant identifier.
AllTrails - Awesome for researching trail in my area and around the world.
Potty pack
I've guided many people who've used the "loo with a view" for the first time, and if there's one thing I've learned, there is no greater tool than a homemade potty pack. Take 5-6 sheets of toilet paper (folded nicely to fit) and one individually wrapped antibacterial cleansing wipe (like WetOnes) and place them into a snack-size Ziploc. Since WetOnes come in boxes of 24, I make 24 of these at a time for storage in a gallon-size Ziploc and grab a few out every time I go hiking "just in case." This is an easy way to carry used TP out of the backcountry and clean your hands after using the "facilitrees." Just pack what you use back inside the Ziploc and throw it away at the nearest trash receptacle post-hike!
Plan Your National Park Hiking Vacation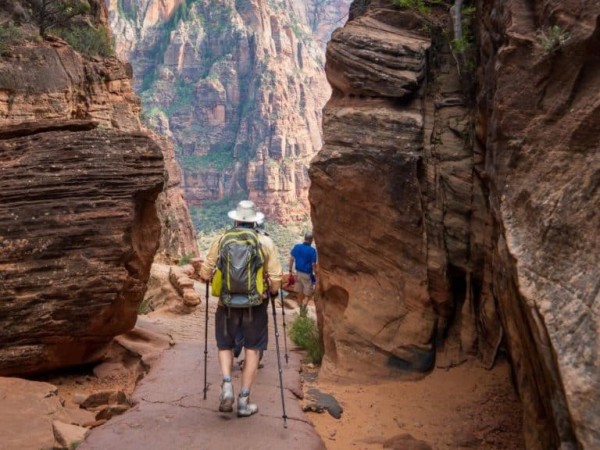 Whether you're heading out for an hour or a couple of days, knowing what to pack for your National Park hiking trip is of utmost importance. Your comfort and safety are in the hands of a few essential items. Forget the sunscreen and insect repellant, and your exciting adventure may turn into a big disaster.
Now that you now know the ins and outs of what to pack for a hiking vacation in the National Parks, it's time to start planning your next big adventure trip. Discover Austin Adventures small group National Park hiking trips here, and before you know it, you'll be indulging in your favorite snacks mid-hike, happy with your packing decisions!