Europe was the hot ticket for traveling families this summer. Sure, Italy and France are fine. But as you plan your next family vacation, consider exploring Croatia with kids instead!

After spending 10 days this summer in Croatia, we're here to tell you that it's the place to be for families.
Stunning Scenery
Let's face facts: Croatia is a stunner. Although it's a small country, there's just a lot to see and do.

There are the old cities to explore, like Split and Dubrovnik. They're well-preserved and picturesque.

Inland, there's the gorgeous Plitvice Lakes National Park. This is Croatia's largest national park with more than a dozen turquoise lakes, waterfalls, and trails.

And then there are the islands (hundreds of them), all surrounded by the stunning blue Adriatic sea. While you'll find some sandy beaches in Croatia, most are rocky, cliff ledges. You can island hop via ferry to experience more of Croatia.
Lots of History
History abounds in Croatia; you don't just experience it through stuffy museums. The country has ten UNESCO World Heritage Sites.
When in Split, you'll want to go to Diocletian's Palace, completed in the 4th century A.D. No, this isn't a formal European castle. It's a complex of Roman structures that today serve as the heart of the city, filled with shops, restaurants, and history. Step back, look up, and you'll see what we mean. Amidst the modern-day hustle and bustle, you'll see the old walls, structures, and statues dating back centuries.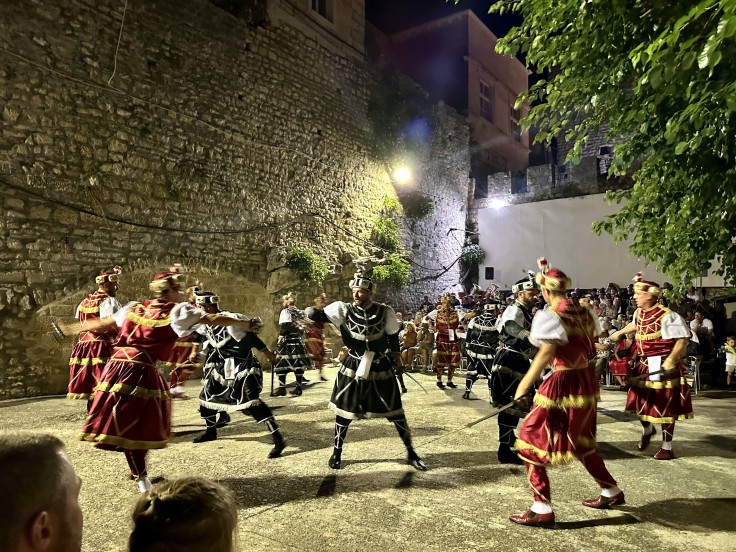 The island of Korcula claims to be the birthplace of explorer Marco Polo, so you'll hear about him a lot. In Korcula, there's the famous (and truly unique) Moreska Sword Dance which tourists can see performed at certain times of the year. The dance dates back hundreds of years.

Another island, Hvar, was a historically important center for trade. But beyond its pretty port, there's agriculture, like olives and lavender, maintained by families over generations. The Stari Grad Plain has been cultivated since the 4th century. Plots of land are delineated by ancient rock walls.

In Dubrovnik, there's the Old City and its ancient walls. Walking the walls is an incredible experience that shouldn't be missed. We did it in a downpour and we'll never forget it. The walls were built between the 11th and 13th centuries to protect the city from war. As you walk the walls, stretching over a mile, you'll be blown away by the views of the sea and old structures. The Old City itself is full of charm. And yes, you can get the Game of Thrones experience here, too.
Variety of Activities

Because of the varied landscape, there are plenty of outdoor activities to keep your family busy. There's hiking, biking, kayaking, snorkeling, and diving, to name a few. If you're extra adventurous, you can also drive dune buggies, and go zip lining. Trust me, there's no time to be bored in Croatia.

Packing tip: sunglasses are a must! That beautiful sparkling water can be blinding. We forgot a pair for our son but purchased some at a souvenir shop. You'll also want water shoes to protect your feet when wading on the rocky beaches.
There's another activity we'd recommend for parents - wine tasting! Croatian wine is amazing. There are red, white, and even orange ones. There's also wine aged undersea. It's wild. If you haven't had Croatian wine before, there's a reason. Most Croatian wines never leave the country. They just don't make enough wine to export it so most of it gets consumed by locals.
Great Food Scene
The food scene is fresh. As in fresh off the boat seafood served on your plate.

You'll see dishes like mussels, octopus, black risotto, and fisherman's stew on most restaurant menus. Ham, cheese, brined fish, and bread are often served as a starter.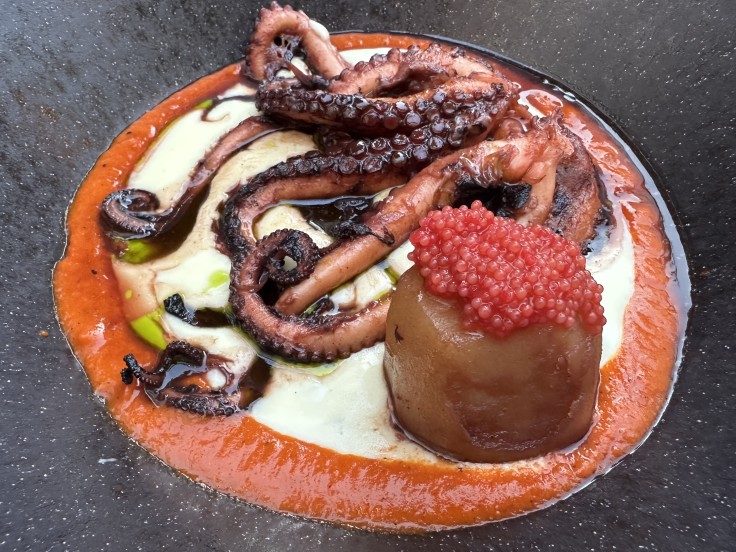 There's a famous style of cooking called "under the bell." Food is cooked under a terracotta or iron lid over burning embers. Different types of meat - lamb, chicken, fish, octopus - are cooked alongside potatoes and vegetables.

If your kids aren't super excited about seafood, many restaurants also offer pasta dishes. We found some pizza, too! If all else fails, there's gelato. That can count as a fruit right? Gelato is everywhere and we enjoyed it often.

Consider doing a food tour. We joined the Dubrovnik Food Tour which was a fun way to try local dishes and learn some history, too.
More Affordable
Just this year Croatia switched to the Euro (from the kuna). Locals told us that things had become more expensive as a result.

However, anecdotally we felt Croatia was more affordable than the other European countries we visited this summer (Finland, Germany, Greece, Italy, and Spain).

Hotels, however, were quite expensive. We recommend making reservations early, especially in popular cities like Split and Dubrovnik. We booked our Dubrovnik hotel months in advance, but then as the trip got closer, we needed to extend our stay by an extra night. The room rates had doubled!
Most places accept credit cards, but we encountered some small shops and street vendors who only accepted cash. Have some Euros in your pocket.
Less Touristy
Joining the Eurozone made travel to Croatia easier for tourists. The country expects 2023 to be a record year for tourism.

While it's certainly grown in popularity, in part due to its prominence in Game of Thrones, Croatia didn't feel too crowded. Especially when compared to places like Italy and Spain.

We might have gotten lucky with our late June/early July timing, but we felt it was easy to get around. Split and Dubrovnik were busy, but not bad. Islands like Hvar and Korcula were quieter.
Authentic Experience
We worked with the experts at Austin Adventures for a genuine Croatian experience. Our guides grew up in Croatia and knew all its nooks and crannies. They took us to locations and restaurants that would be exclusive or "off the beaten path" for most tourists. The experience was so much more authentic than we would have had if we had traveled on our own.

With the Austin Adventures Croatia Family Vacation, everything was taken care of. It was an essentially all-inclusive vacation experience. Accommodations, activities, and all meals (except for one) were included in the cost of our vacation.

We met our group in Split, traveled to Hvar, then Korcula, and ended our trip in Dubrovnik. To maximize the experience we extended our stay in Split and Dubrovnik, at our own expense.
We highly recommend traveling with Austin Adventures. We joined three other families on the trip. We started out as strangers, but left as friends, bonded by our weeklong trip. Our activities included cycling, kayaking, hiking, and more. You can read the details of our journey on KidTripster.
KyAnn Lewis is an award-winning journalist. She's the Editor of KidTripster, a travel website offering inspiration and information to families. KyAnn and her family traveled with Austin Adventures in the Summer of 2023 on the Croatia Family Vacation.